Surveying the Canadian pool/hot tub industry
April 20, 2018
By Jason Cramp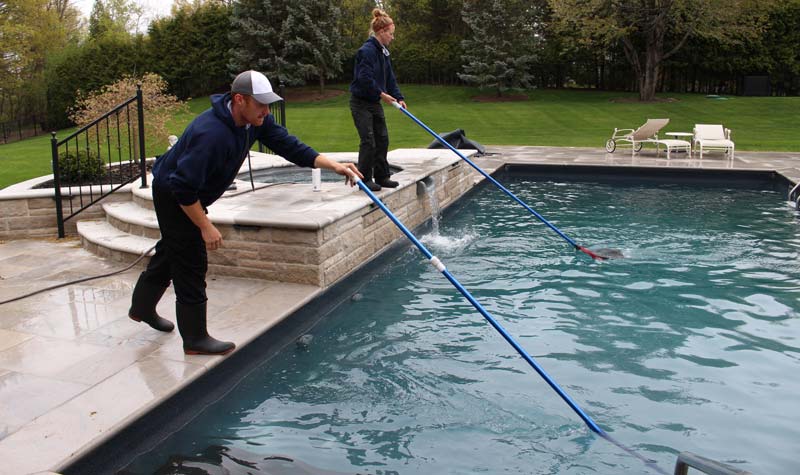 [1]For nearly a decade, Pool & Spa Marketing has conducted an annual salary survey, publishing industry feedback in the issue coinciding with the annual state of the industry report, which provides a season-to-season comparison of the pool industry based on the number of permits for residential pools for all census metropolitan areas across Canada.
In canvassing the aquatics industry, we asked a number of questions ranging from industry experience and education, job satisfaction and income to social media, average project values, and annual revenues. Your answers offer insight on the current state of the country's pool, hot tub, and landscape design/build and retail markets, as well as provide foresight into the coming season and years ahead.
General representation
Once again, responses came in from coast-to-coast. (Ontario led the pack, followed by British Columbia and Quebec.) The survey continues to show the industry is dominated by men, representing more than three-quarters of all responses. In fact, the same percentage of men and women who responded to this year's survey matches to the year prior. More than half of all respondents are over 50, while only 12 per cent are under 35. Industry experience is also reflected in this age gap, as almost half of all respondents have been in the business for more than 25 years, while 38 per cent said they have been in the industry between 10 and 24 years. This is a decrease of more than 14 per cent in this demographic.
The relation between experience and career path
The data from this year's survey shows the continuing progression of industry veterans retiring (13 per cent) or taking on a consultant role (10.5 per cent), as these respondents either sell or pass down the business to younger family members. This is also reflected by the fact those with more than 30 years industry experience represent the single largest demographic (31 per cent), while those who have been in the industry between 10 and 29 years make up 50 per cent of all respondents. Once again, career longevity remains to be another indicator that this type of business succession is occurring, as those respondents who have been with their current company between two and 14 years (43 per cent) continues to climb. Another indicator that respondents are "in it for the long haul" is the fact 47 per cent are planning to stay in their current position five years from now.
Who are you?
Pool & Spa Marketing is dedicated to providing leaders in the pool, spa/hot tub and landscape industry with the latest news, products, services and techniques. The magazine has a huge following—from builders/contractors and service professionals to landscape architects/designers, retail sales managers, manufacturers and suppliers. Once again, the largest number of respondents selected 'business owner' as their job description, followed by 'residential builder/contractor.' Additional popular occupations included retail sales manager, service technician, aquatic facility manager/supervisor, and landscape/architect designer.
Who makes what?
As described earlier, the respondents to this year's salary survey represent various sectors within the pool and hot tub industry and, as such, depending on your job description (e.g. full-time versus part-time), and the number of hours you work, your pay scale can also be reflected by your education and the responsibilities required of your position. According to Workopolis, the average wage for Canadian employees in 2017 was $986 a week (just over $51,000 a year), which represents a 3.1 per cent increase over the year prior. When look at the survey results, those working in the aquatics industry are doing quite well, as 41.5 per cent of respondents earn an annual salary between $60 K and $100 K. In fact, 24.5 per cent made more than 100 K.
While many seem to be compensated well, more than half of all respondents (54 per cent)—for the third consecutive year—did not receive a raise. Also consistent with previous survey results, 35 per cent got a cost-of-living increase (between one and five per cent).
Education
Just over half of all respondents (53 per cent) have earned a degree, but only 7.5 per cent are related to the aquatics industry. Nearly one sixth of all respondents (27.5 per cent) have some college education, but no degree. Those respondents who hold a degree that are unrelated to the pool and hot tub industry (92.5 per cent) are consistent with previous surveys.
For those employed in this trade, their education and education continues to come from within the industry, as 59 per cent of respondents said they have participated in specific manufacturer/dealer training courses. Thirty-six per cent said they have taken the National Swimming Pool Foundation's (NSPF's) Certified Pool Operator course and 25.5 per cent (an increase of five per cent year-over-year) have participated in courses through the Pool & Hot Tub Council of Canada (PHTCC).
Working hours and benefits
Due to the nature of this seasonal business, the unpredictability of the weather, and the deadlines for numerous projects, working long hours in the pool and spa/hot tub industry is the norm. In fact, 33 per cent of respondents (the largest group) say they work more than 41 hours per week, while another 24 per cent are on the job for more than 51 hours. Considering the fact only 20 per cent of respondents put in a typical 35-to-40 hour work week, while another 16 per cent work 61 hours or more, highlights the challenge some pool and hot tub employees have in finding that perfect work/life balance.
What is the biggest frustration with your job?
"Finding good, qualified employees."
"Motivating employees to take initiative."
"Customers not understanding what jobs truly cost, as they do not know what work is really involved on a project."
"Dealing with customers who do the pay, or ignore your experience or advice."
"Running into contractors with insufficient training and understanding of the industry."
"Individuals that do not perform tasks within scope of responsibility."
"Trying to get enough work to keep key people employed year-round."
Company profiles
Survey respondents' companies were just as diverse as the professionals they employ with respect to business size and average project value. Economic uncertainty and the unpredictability of the weather can take its toll on the pool and hot tub sector; however, the industry remains optimistic. When asked how profitability had been over the last five years, 64.5 per cent (5.5 per cent more than the year prior) said it had increased, while another 21.5 per cent said it had remained the same.
Social media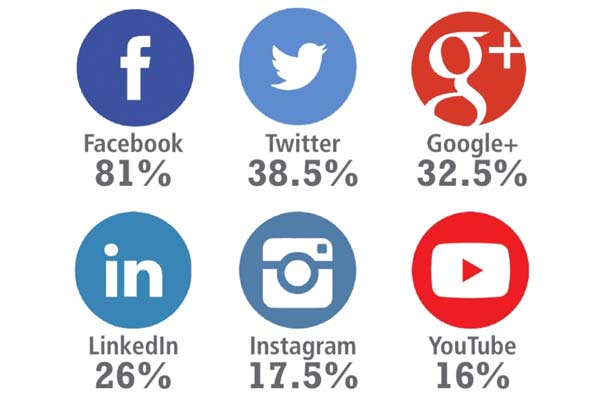 Social media platforms such as Facebook, Twitter, YouTube, and LinkedIn have become huge marketing outlets for businesses and are no longer optional. The analytic tools these websites and applications offer provide businesses with valuable information about their clients and potential customers and this has not gone unnoticed by those in the aquatics industry. Depending on the platform, in most cases, marketing campaigns can be set-up easily and for free. For the second consecutive year, Facebook leads the way, as 81 per cent of all respondents are using this social networking service. Twitter remains second at 38.5 per cent.
Looking into the future
There are many variables for pool and spa/hot tub businesses going into each season; therefore, predicting how successful they will be can be difficult. Despite this uncertainty, survey respondents are extremely confident in their businesses, along with the projects they build and products they sell, as 98 per cent said the next five years will be better than (60.5 per cent) or the same (37 per cent) as the previous five.
Weather/economy
Due to the nature of the products the industry offers consumers, the economy and weather are the main factors between a good, bad, or mediocre year. Take for instance a wet, cool spring like last year, which delayed the start of the pool building season (not to mention prevented current pool owners from swimming) could affect how many pools a builder can install in a given year. That said, poor weather combined with a bad economy can disrupt business success. While most large pool and spa/hot tub firms have survived many of these economic and weather-related ebbs and flows, depending on how severe they are, it is the smaller companies, or new start-ups that typically get hit the worst. When asked which has a more negative influence on business, 51 per cent said the economy (up seven per cent from last year), while 44.5 per cent said the weather, up 0.5 per cent year-over-year.
Industry associations
Professional associations help to connect similar businesses in the aquatics industry which all abide by a set code of ethics. These not-for-profit groups promote the safe enjoyment of pools and hot tubs by sharing their knowledge with others by providing its members with insight, guidelines and, in some cases, industry best practices and/or standards. Members include builders and contractors, retailers, service providers, manufacturers and distributors. Not surprising, 51.5 per cent of respondents (2.5 per cent more than last year) belong to the Pool & Hot Tub Council of Canada (PHTCC), while 28 per cent are members of The Association of Pool & Spa Professionals (APSP). Twelve per cent said they are members of the Association des commerçants de piscines du Québec (ACPQ), which is up five per cent year-over-year.
Crowning achievement
A year after one of the best seasons the pool industry has experienced in quite some time, when those in the field expressed an increased satisfaction with their careers, this year's survey revealed 46 per cent of respondents are 'more satisfied' with their job. This remains consistent with last year's survey, which reflected a 14 per cent increase over the 2015 survey. Another 43 per cent said they were 'equally satisfied,' which makes for a grand total of 89 per cent of all survey respondents who are happy with their current career. Only 11 per cent were 'less satisfied,' which was the same as the year prior.
Further, when comparing this year's trends to the responses we received five years ago (2013), just as the survey asks, the number of respondents who said they were "more satisfied" increased by eight per cent, while those who were "equally satisfied" also increased by eight per cent. Those "less satisfied" dropped by 15 per cent respectively.
What single thing will have the biggest impact over the next five years?
In addition to weather and the economy, respondents had several other opinions on what may or may not influence the pool and spa/hot tub industry, including:
"Better hiring."
"New technology development."
"Online sales, in-store displays, and training."
"Vehicle maintenance costs."
"Brick-and-mortar retailers have to learn to adapt to online competitors."
"Interest rates and housing market values."
"The affect of the minimum wage increase."
"Global economy and focused marketing efforts."
"Ability to attract and retain employees."
Endnotes:
[Image]: https://www.poolspamarketing.com/wp-content/uploads/2018/05/IMG_4661.jpg
[Image]: https://www.poolspamarketing.com/wp-content/uploads/2018/05/14-Social-Media-1.jpg
Source URL: https://www.poolspamarketing.com/trade/surveying-canadian-pool-hot-tub-industry/
---