The benefits of building homes and pools concurrently
June 19, 2017
By Michael Willis
Outdoor landscape designers/contractors, architects, and pool builders all play vital roles in creating today's masterpieces. For these professionals the medium differs than that of a traditional artist, as the canvas comprises a yard full of grass and soil.
The reason why homeowners decide to invest in outdoor living spaces can vary greatly between clients. There are obvious reasons, such as entertaining family and friends, while the desire to have a place to relax after a long day at work is also high on the list. Whatever the reason, a project's design should reflect the homeowner's individual taste and style, be built with quality materials, and engineered to last.
That said, taking someone's vision from a piece of paper to a constructed physical space is a remarkable experience for many builders/contractors. Backyard landscapes have evolved far beyond the simple pool, patio, and garden. Today, it is common to see extravagant watershapes surrounded by intricate patios that are furnished with fire elements and water features. It is not unusual to find flat-screen televisions, extensive night lighting, and outdoor cooking spaces, either.
For most landscape projects, designers and builders must work within the constraints of an existing yard. In these cases, the project features (e.g. pool, patio, or deck) need to be designed around the home's physical footprint (i.e. foundation). The property's elevations and grading will have already been established and all features will be locked to this. Ideally, the project features and components should be positioned in the most functional way in relation to the home's interior layout. Although an established house and yard cannot be altered drastically to accommodate the landscape project, working with the space provided is part of the challenge.
However, if the entire outdoor landscape can be planned in unison with the design of the home, floor plans could be tweaked to maximize functionality between the interior and exterior layouts. Every feature would be more thoroughly integrated, extending the home's living space while also allowing for much more design freedom. All of this might sound ideal, but keep in mind building a landscape project in tandem with the construction of a house does involve some unique challenges.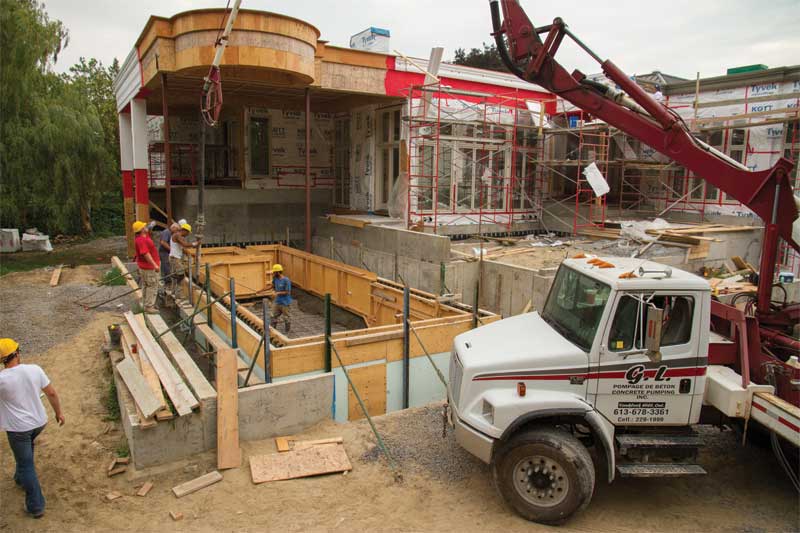 Any large-scale job requires detailed designs, extensive planning, diligent organization, as well as methodical project management. Jumping right into a project without dealing with all of these elements properly will create costly errors, budget overruns, unexpected delays, and all-out chaos. Nothing is worse than having a great project turn into a nightmare, especially when the goal is to create a place to relax, refresh, and rejuvenate.
Discover the vision
Some client's will already have a clear vision of what they would like to achieve in terms of the design of their house and landscape. They have already visualized their dream home and backyard, complete with all the bells and whistles. Other clients may not know what they want, giving carte blanche to the design team. In most cases, however, the planning phase is a collaborative effort between the client and the designers. During this phase, discussions should take place to discover the client's needs and wants, and research should be performed to determine the key project components that are to be incorporated in the design.
Today, many sources are available to designers/builders to conduct this research, including magazines, websites, blogs, social media, and design specific apps. It is not uncommon for this phase to take months before a shovel hits the ground. Once research is underway and countless images and information is stocked, the initial design phase can commence.
Case Study 1: New custom home with a vanishing-edge concrete/vinyl hybrid pool
This pool and landscape installation was designed in unison with the house and backyard landscaping. Having a large-sized estate property, this client desired a unique watershape that would accentuate the natural calmness of their property, as well as provide an ideal blend of indoor-outdoor living. The design of the house allows for easy access between key rooms of the home (e.g. master bedroom, kitchen, covered breakfast nook, and screened-in porch) and the outdoor pool, spa/hot tub, patio, and cabana. The aquatic design included a vanishing-edge pool with a dramatic waterfall.

This was one of the most important design elements for this client; therefore, the 8-m (26-ft) spill-over edge, which looks to pour into the wooded backlot of the property, was designed to standout. In actuality, the water flows over a limestone weir wall, 0.7 m (2.5 ft) into a lower water reservoir. The weir wall is faced with stone veneer.

Depending on the volume of water being pumped over the vanishing edge, different variations of sound and appearance can be achieved. For instance, the sounds of a gentle cascading waterfall to a classic sheer curtain waterfall can be replicated to add tranquility to the space by silencing the hustle and bustle of the outside world. The use of sedimentary rock can be found throughout the landscape as the pool area is surrounded by large limestone retaining walls (armourstone) and the deck is finished in square-cut limestone.

The 7.3- x 11-m (24- x 26-ft) freeform pool—a combination of a custom vinyl liner with steel walls and cast in place concrete walls—is bordered by sandblasted (Eramosa) limestone with a bullnose-profile edge.
The design team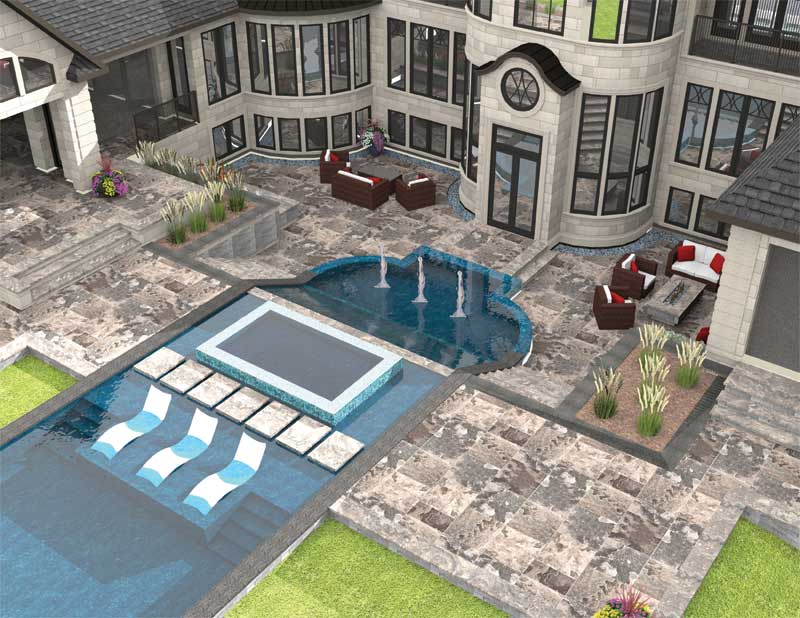 The key to creating a true backyard masterpiece is having the right design team. These projects typically involve many different professionals, such as architects, house designers, structural engineers, interior designers, landscape designers, landscape architects, and aquatic designers.
The design team should also communicate directly with the general contractor, pool contractor, landscape contractor, and other key sub-trades for the duration of the project. Constant interaction, communication, and collaboration amongst the entire team are a must to keep the project on schedule, on budget and, in the end, more productive and profitable for everyone. The design phase can be separated into four segments:
The conceptual design
The house design
The aquatic design
The landscape design
1. The conceptual design
An initial conceptual design should be created to illustrate how key project components will coincide with one another. This concept should include a layout of the complete property with the location of the house, pool, patio, decks, terraces, etc. Details and sketches of ideas relating to the project should be included as well.
Narrowing down what a client envisions with a concept design can eliminate wasted time and money towards revisions of plans and engineered drawings. A concept design usually will provide enough information to establish a rough project budget for the client. Some may have a budget in mind beforehand, but seldom do they understand what the true cost of their project will be. With a budget in place, an initial estimate can be prepared based on the features that are described in the concept design. This estimate should be solely for budgetary purposes since concepts usually lack sufficient detail to provide an accurate final estimate or quotation.
2. The house design
The house is typically designed and drafted by an architect or house designer. The plans will comprise the necessary details to construct the house. A typical set of house plans will include many details such as the foundation, framing, utilities (e.g. electrical, plumbing, gas), heating and ventilation (HVAC), floor plans, and room dimensions.
Plans will also include many construction details and cross sections to illustrate engineer-specified detail, construction techniques, and installation methods. Most plans are two-dimensional computer aided designs (CAD) from an overhead perspective. Today, 3D renderings have become prevalent for most upscale projects and are highly recommended. Most homeowners cannot visualize or associate a flat 2D drawing to what is being proposed and ultimately created. The design and construction process can be simplified for all involved if the client understands exactly what the end product will look like. This not only helps the client to visualize the project, but also aids the associated trades in understanding the vision of the design team. With most details completed, the house design is submitted to the municipality for approval and issue of permits associated with the project.
3. The aquatic design
An aquatic designer or pool builder has the knowledge to prepare a proper design which will include structural details, hydraulic engineering, equipment/mechanical specifications, utilities/ conduit locations, and material options/selections. Generally, a pool is the main component of this design, but it may also include a spa, water feature, or pond. The extent of details in the design will vary greatly depending on the design and type of pool.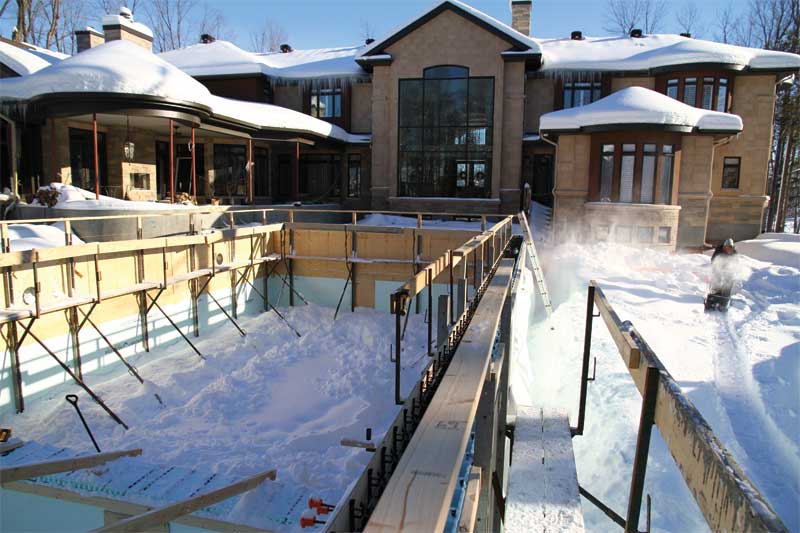 A concrete pool (e.g. gunite, shotcrete, or cast-in place) requires a more detailed design and engineering compared to a pre-fabricated kit pool (e.g. vinyl liner or fibreglass). Suspended pools or those that share a foundation or other structural details with the home require substantial structural engineering. Proper expansion joints and isolation between the house and pool is important to protect the two structures from any damage that could be caused by seasonal expansion and contraction.
Since concrete is permeable, proper waterproofing of the entire pool structure should also be completed to protect the home from potential seepage and leaking of the pool shell. Indoor pools require many of the same construction details as an outdoor pool, but in addition will have significant mechanical, HVAC drawings produced. These details are required to properly handle the concerns of moisture and dehumidification within the indoor pool area.
Any watershape with complicated edge details such as an infinity pool, or perimeter overflow pool may require significant cross sections and 3D renderings to convey the vision. It is also advisable to use 3D renderings for any project involving multiple pool levels and grade changes.
Case Study 2: Custom home renovation with infinity concrete pool installation
Set above a sandy beach section of the Ottawa River, west of downtown Ottawa, the locale of this pool installation lent itself well to an infinity pool design. A difficult waterfront location, with the backyard dropping 4.5 m (15 ft) to a sandy beach below and, therefore, had to be retained with a large, natural stone wall. To accommodate the needs of local environmental agencies, the walls of the terrace and 11- x 4.5-m (36- x 15-ft) cast-in-place concrete pool, were extended 2.4 m (8 ft) below grade to serve as a second retaining wall.

The home underwent an extensive renovation, basically stripping it down to its original framing with the interior and exterior construction scheduled to take place at the same time. This proved to be quite a challenge due to the limited accessibly, material storage, and numerous sub-trades working simultaneously.

To maximize the indoor-outdoor concept of the home, a 6-m (20-ft) bi-folding wall was installed to allow the living room of the home and pool deck to become one giant area. To further emphasize the 'infinity' view of the pool from all rooms on the home's main floor, sections of the pool were raised, creating the illusion of the waterway being right in the backyard. This also enabled the installation of multi-level sitting areas, including a lower-sitting bar section with a 2.4-m (8-ft) linear fire trough, outdoor kitchen and barbecue, and another area with bench seating and a 1.2-m (4-ft) linear fire trough.

When it came to the pool's interior, iridescent glass-mosaic tile was used to line the pool as well as to finish a sunken lounge area, while flamed, black-granite coping and terrace borders help co-ordinate everything with the home's colour scheme.
4. The landscape design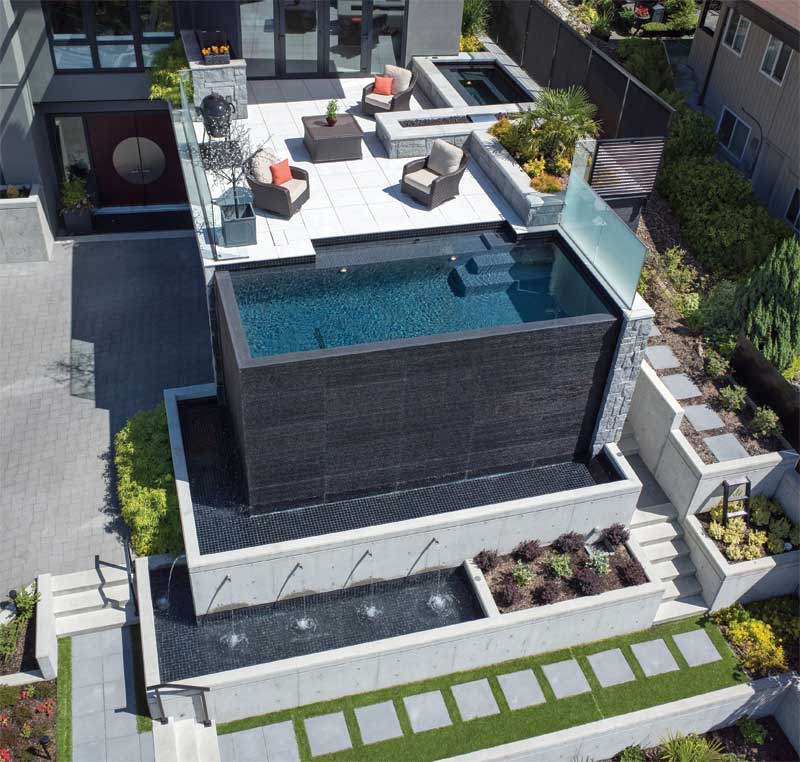 The landscape design should comprise an overview of the client's entire property and illustrate all of the project's main features, including the location of the home, pool, spa, water features etc. Grading and drainage details should also be noted along with any setbacks, easements, or right of ways located on the property.
The location of hardscape elements (e.g. driveways, patios, walkways, terraces, and retaining walls) and softscape elements (e.g. plants, shrubs, flowers, trees, and grass) should also be indicated.
Garden beds should be outlined and include a planting schedule that shows the location where each item will be planted. With the garden bed locations established, a water irrigation design may be included that indicates the location of buried water lines, sprinkler heads, drip lines, and control boxes. Night lighting may also be noted to show the location of buried low-voltage wires and the placement of light fixtures.
Engineering
Depending on the scope of work involved with a project, structural engineered drawings may be required. An engineer will specify the requirements and details for construction which is usually required when applying for permits. A contractor or builder should follow all specified information, and in doing so will be protected in the case of any structural failure.
In short, liability lies on the shoulders of the engineer, which protects the contractor and homeowner. Engineering can range in cost depending on complexity and the amount of detail required, but it is well worth the expense. Geo technical engineering should be carried out for all projects to determine if the soil is a suitable substrate to support the structure of the house, pool, and landscape. Limiting factors such as bedrock, poor soil bearing capacity, and groundwater will be outlined in the engineer's report. With this information the budget and design can be tailored to accommodate any additional costs or design alterations that may be required.
Permits
A permit is required for the new construction of a building more than 10 m2 (108 sf) and for most renovation and demolition of existing buildings. The permit protects the interests of individuals and the community. By reviewing and approving a design before work has commenced it ensures the proposed construction complies with local building codes and zoning bylaws.
Building codes are an enforced standard to govern proper construction in relation to health and safety, fire protection, accessibility, and conservation. Zoning bylaws vary from region to region, but typically include setbacks, easements, minimum distance from septic fields, well heads, gas and hydro utilities, and adjacent properties. If the project resides in close proximity to waterfront, streams, and flood plains, certain requirements under the Environmental Protection Act (EPA) may need to be achieved, along with approval by a local conservation authority.
An enclosure permit is required for any pool, spa, water feature, or pond. Again, this bylaw tends to be specific to the region, but will follow similar guidelines and restrictions. This permit requires the erection of a fence to protect the general public and to deter young children from gaining access to the pool/spa area.
For all permits issued, it is the responsibility of the permit holder to contact the municipality for an inspection. An inspector will examine each major phase of construction set out in the building code. Once approved, permission is granted to progress to the next phase of the project.
Proper planning and project management is essential
The cost of a backyard project can be mind boggling and, in combination with the construction of the house, project costs can easily escalate. Therefore, designers, contractors, and builders need to be extra cautious and diligent in their planning and organization because as the budget increases so does the liability.
Yet, with such a grand investment, it is astonishing how many projects are poorly planned. Every project component should be analyzed and even the smallest detail should be taken into consideration. Any minor details that are overlooked could be catastrophic to the project's schedule, budget, and overall client satisfaction. Should a project go awry, whoever is in charge will feel this weight on their shoulders, so plan accordingly.
The project manager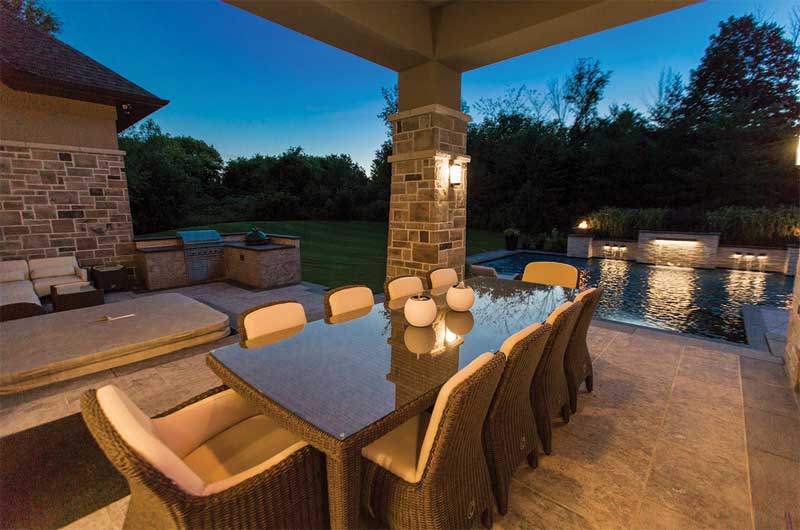 A dedicated project manager becomes a necessity on large-scale projects. At any given time there can be dozens of sub-trades on-site and keeping them all on task and avoiding schedule conflicts can be a challenge.
A project manager keeps the daily logistical issues under control, making sure the appropriate trades and contractors are on-site when they are supposed to be. Progress phases need to be adhered to and the schedule needs to be thoroughly planned in advance along with contingencies in place should any issues arise, as it is almost guaranteed they will. Depending on the scope of the project, timeframes can vary drastically, with some lasting a few months and others lasting years. It all comes down to the scale of complexity and how efficient a project is orchestrated.
Another common hurdle is dealing with design changes. These modifications are due to many factors, but most commonly involve the client changing their mind about a given feature. Taking any aspect back to the drawing board can be a frustrating process for all involved, especially if work has commenced on those features. Contractors and builders should be prepared for this event by having additional time available to allocate to their scheduled task, as well as a great deal of patience.
Along with inevitable delays, contractors and builders should be prepared to be on- and off-site for considerable amounts of time. One recommendation is to have small projects lined up and prepared to be squeezed into the schedule in case of any delays on another project or while waiting for other trades to complete their work. No contractor wants to send his/her crew home sitting idle, waiting for other project components to be completed.
It is highly advisable to have conditions such as this listed within the project contract. It should be stated that, during any unexpected delays other projects may be commenced and a return to site would occur upon completion of the other project. Otherwise, the general contractor or project manager will expect the crew to return to the site the instant the delayed portions are completed.
Mechanical and other nuts and bolts
With all projects, service utilities are required for the landscape, pool, and home (e.g. electrical, gas, plumbing, and drainage). A great benefit to constructing a home and landscape in unison is the possibility to thoroughly plan and install these services ahead of time, which also alleviates wasting funds to complete duplicated labour and material costs.
If a home's domestic hot water is to be heated using a gas-fired boiler, tapping into this to heat the pool and/or spa water can alleviate purchasing a separate standalone heater. The same applies to indoor radiant in-floor heating systems. When installing these, consider installing runs in the exterior decks and patios to create a warmer walking surface on cooler nights or to melt snow during the winter. Home automation systems are another example. This technology has grown rapidly over the last few years with some allowing clients to control their entire home from their smartphone. The same is true for outdoor landscape and pool automation. Nearly every project component can be integrated and controlled with a home automation system.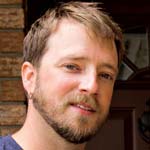 [7]Michael Willis is an aquatic designer and partner at Roger Willis Contracting Ltd., an Ottawa-based pool builder specializing in unique, custom aquatic projects. He works in various fields—from project design to completion—and builds throughout eastern Ontario and the Caribbean. Willis is a member of the Master Pools Guild, Pool & Hot Tub Council of Canada (PHTCC), and Landscape Ontario Horticulture Trades Association. He can be reached via e-mail at michael@rogerwilliscontracting.com[8].
Endnotes:
[Image]: http://poolspamarketing.com/wp-content/uploads/2017/06/Fitzgerald-Construction2.jpg
[Image]: http://poolspamarketing.com/wp-content/uploads/2017/06/IMG_4271.jpg
[Image]: http://poolspamarketing.com/wp-content/uploads/2017/06/Sicard-Fullsize-Render1.jpg
[Image]: http://poolspamarketing.com/wp-content/uploads/2017/06/IMG_2661.jpg
[Image]: http://poolspamarketing.com/wp-content/uploads/2017/06/2016ALKA190716gb.jpg
[Image]: http://poolspamarketing.com/wp-content/uploads/2017/06/Donaldson2014-1.jpg
[Image]: http://poolspamarketing.com/wp-content/uploads/2017/06/Willis_Headshot.jpg
michael@rogerwilliscontracting.com: mailto:michael@rogerwilliscontracting.com
Source URL: https://www.poolspamarketing.com/trade/the-benefits-of-building-homes-and-pools-concurrently/
---