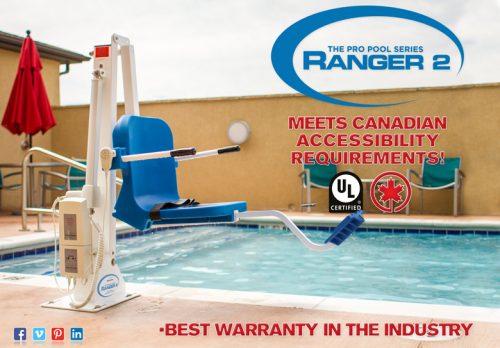 The Ranger 2 is the newest version of pool access equipment manufacturer, Aqua Creek Products' popular lift.
The Underwriters Laboratories (UL) certified lift features a 158.8-kg (350-lb) weight capacity, updated footrest design, and a 355.6-mm (14-in.) deck to water draft.
The Ranger 2 upholds the same standards for durability and reliability as all Aqua Creek pool lifts. It is designed to be independently operated by the user, allowing full control of the lift with an easy-to-use two-button handset.
The Ranger 2 is ideal for hotel and motel pools. It is also a great choice for backyard pool enthusiasts.
Like all Aqua Creek lifts, The Ranger 2 is constructed completely of stainless steel with a durable and protective powder coat finish in colours such as standard white, grey, or tan. Seats and footrests are also available with options in standard blue, white, grey, and tan. Flip-up armrests, water-resistant handset, and a rechargeable battery with wall-mount charger are also included.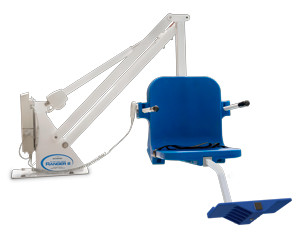 Unique to Aqua Creek Products is a solar charging station, which will provide a steady stream of low-voltage power to the battery. The accessory extends the life of the battery and reduces the need to remove it each night for replenishing.
One can also add a protective cover to help safeguard the lift from harsh elements. Aqua Creek offers one of the best warranties in the industry, with a five-year structural and five-year pro-rated electronics warranty.
The item ships fully assembled and ready to install. It has standard anchors with 101.6-mm (4-in.) and 203.2-mm (8-in.) inserts for use with pavers, and a wood deck anchor application.
The company also offers a comprehensive line of aquatic training and exercise equipment options for a wide range of users—from novice swimmers to aquatic therapy patients, with versatile items designed for individuals recovering from surgery or looking for a low-impact way to get fit.
Aqua Creek is constantly evolving and changing as it improves quality, features, and performance of its products. Aqua Creek has a solution to make a facility, backyard pool, or spa accessible.
"Sponsored" material is supplied by the sponsor. The publisher cannot assume responsibility for any errors of relevance, fact or omission. Hosting sponsored material does constitute endorsement of the sponsor.