Two lifelong friends position Highbury Pools for future growth
September 2, 2015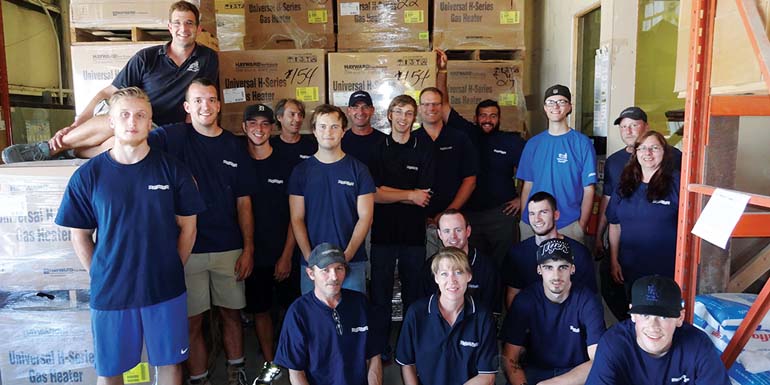 By Jason Cramp
Brian Jewell and Dan Hendriksen, owners of Highbury Pools Ltd., in London, Ont., not only grew up together, but were also groomed for the pool industry at a young age. Best friends since the age of five, both men, now in their 40s, were always at the shop restoring their first cars—Brian's '74 Volkswagen Bug and Dan's '84 Suzuki Samurai. Soon after, Gary Jewell, Brian's father and former owner of the company, offered Dan a wage to work for Highbury. His first job was breaking up the concrete floor in the shop to accommodate a large brake press to fabricate steel pool panels and coping as the market was starting to heat up.
Dan, who has always been considered a son in the Jewell family, apprenticed the steel-pool wall trade under Gary and after graduating from college, he took over operations of Highbury Pool's manufacturing business.
Naturally, Brian also grew up close to the pool industry and helped in the shop as a youth, building panels for his father. Later in life, his education and work experience had been in engineering until 10 years ago, when he too joined Highbury Pools. As Dan had the steel business running successfully, they decided to add a new element to the company—fabricating pool liners.
Pool & Spa Marketing recently sat down with Brian Jewell to discuss how the company has evolved over its 42 years in business and where he sees it heading in the future.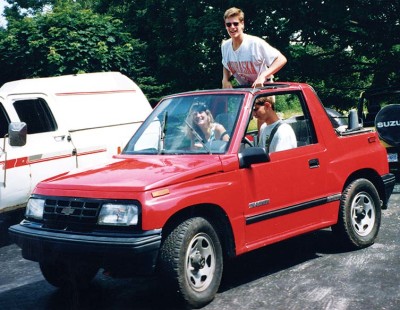 Pool & Spa Marketing: How long have you been with Highbury Pools and what is your position with the company?
Brian Jewell: I joined Highbury in 2003, while Dan started in 1991. Just after I started, Dan and I launched a new company, 'Highbury Products,' which eventually received the original Highbury Pools' name in 2010.
Although Dan and I are involved in all aspects of the business, often changing roles in some cases, Dan primarily oversees the steel shop (panels, stairs, and coping), sales, and product distribution. I primarily manage the liner shop, and other technical aspects and systems through the company. We don't have rigid positions. Everyone here, including Dan and I, jump in as needed, and are all very well-rounded to complement all aspects of the business.
PSM: Describe a typical day for you.
Jewell: A typical day at work usually involves verifying customer orders and working to get them shipped. There are often orders in several of our divisions that need to be shipped together, so a lot of co-ordination is involved. And, of course, in the pool industry, there are always a few last minute rushes that need to be added to some shipments.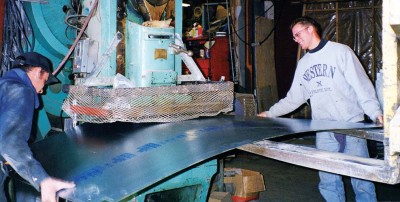 PSM: How was the business started? What is the company's history in the pool industry?
Jewell: Gary Jewell, my father, was a sheet-metal worker by trade. With his experience fabricating precision and specialty metal parts, he, along with a friend and another co-worker, started building pool panels. When Highbury Pools first opened its doors in 1973 there was four people involved. The key personnel were my father, the president/owner, Goldie Simpson, his business partner, and my mother, Cathy. She handled most of the bookwork—especially during the first 15 years. Originally, the company was a retail business and fabricated steel pool walls for its own use and installation. Later, the company stopped performing pool installations and sold its product to the do-it-yourself (DIY) market. It wasn't until approximately 1989 when products were sold to pool installers.
About 10 years ago, when Dan and I took direction of the company, we stopped marketing our products to the general public and sold it exclusively to pool companies and installers. We've also grown our manufacturing capabilities from just pool panels to include liners, stairs, and coping. Thanks to this growth, depending on the season, we employ between 12 and 24 people.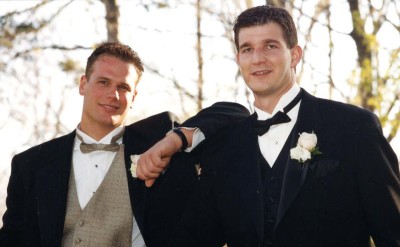 PSM: How has the company grown over the years?
Jewell: Over the years we have grown our manufacturing capabilities to include a variety of products specifically concentrated on inground pool manufacturing and supply. By focusing on inground pools, we have been able to become an industry leader in providing great products to our customers, including inground panels with an encapsulated top rail (2001), seamless liners (2008), 1321-mm (52-in.) onground pool panels (2009, 2011), and an innovative system for measuring pools for vinyl liners (2013). Our best-selling products are the 1067-mm (42-in.) inground pool kits, vinyl liners, and in-wall pool steps.
Currently, we are located in London, Ont., however, the business has moved twice since its inception. This was mostly due to space constraints in our previous facilities. As we expanded the business and our product offerings, we required more manufacturing and warehouse space. Warehousing is crucial to our business as we serve customers coast-to-coast from one location.
PSM: Is the business open year-round?
Jewell: Yes. During the off season, we focus on getting ready for the following year and work on efficiencies within the company to help improve our products, services, and innovations to help set our nationwide dealer network apart from the competition.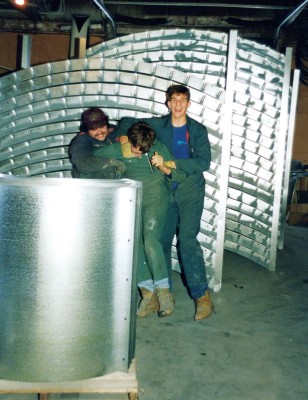 PSM: Do you face a lot of competition in the industry? If so, how have you differentiated the company from competitors?
Jewell: Every business faces competition; it keeps them healthy. We are flattered when big 'corporate-American' competitors try to emulate us. When these companies are on our heels, it forces us to push on and stay ahead. We are proud to be one of the few small Canadian-owned and operated companies that still values quality products and not compromising on materials.
Our fast turnaround and response to our customers' needs is probably one of our biggest assets. When a customer needs a steel kit or liner delivered the next day, we can usually accommodate.
The market for our product has been good over the past five years. The strong housing industry, low interest rates, and good summer weather have helped the industry in general. Our business has seen nothing but growth since the start.
PSM: How do you promote your business?
Jewell: Traditionally, Highbury Pools has always grown through word of mouth. However, we also participate regularly in pool/spa trade shows and advertise in industry magazines. Currently, we are working on a direct-consumer marketing initiative to help our dealer network compete. We are also continually expanding our line of tools to help set our dealers apart from their competitors.
PSM: Do you intend to expand your business in the next few years?
Jewell: We are young and ambitious and are constantly looking into new innovations to help grow and promote our company within the industry. We are also looking at new product lines to expand the business.
PSM: What are the major contributors to your company's success?
Jewell: Our staff. Everyone is close and isn't afraid to discuss any issues so they can be cleared up quickly. We have a lot of fun here. Fun helps make the work environment pleasurable, which trickles down to the staff who takes pride in our products and services. This leads to our frontline advantages of quick turnaround time, and product quality.
We also know our customer's individual preferences. We are small enough to care and truly value all of our dealers, yet large enough to service them in a very timely fashion.
Endnotes:
[Image]: http://poolspamarketing.com/wp-content/uploads/2015/09/DSC03495.jpg
[Image]: http://www.poolspas.ca/wp-content/uploads/2015/09/briananddanintracker.jpg
[Image]: http://www.poolspas.ca/wp-content/uploads/2015/09/old-picture-Dan-in-Shop.jpg
[Image]: http://www.poolspas.ca/wp-content/uploads/2015/09/briananddanweddingpic.jpg
[Image]: http://www.poolspas.ca/wp-content/uploads/2015/09/briananddanhorseplay.jpg
Source URL: https://www.poolspamarketing.com/trade/two-lifelong-friends-position-highbury-pools-for-future-growth/
---