Unique ways to sell hot tubs and create customer loyalty
October 1, 2014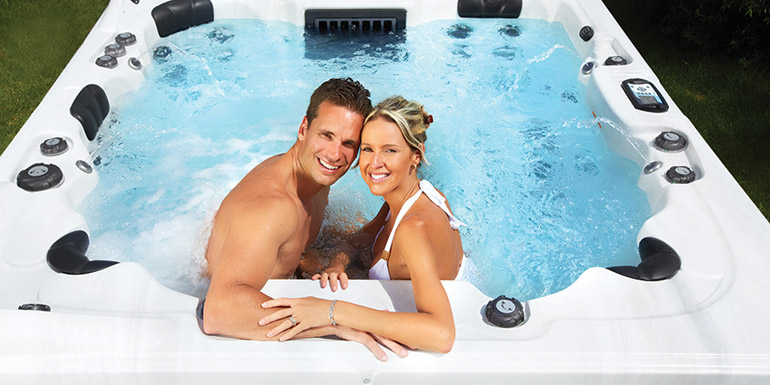 By Christina Braks
The retailing rule of thumb was always 'location, location, location.' While this still holds true, today's more successful hot tub retailers are using more innovative techniques to remain competitive with big box stores and Internet vendors. From mood rooms and wet tests to 'slushies and soirees' with live music, hot tub retailers are getting ahead with outstanding service, education, and personal interaction.
Sell trials
Allowing potential hot tub buyers to 'try before they buy' is one of the top reasons today's hot tub retailers are selling more products. The latter tend to place hot tubs in the middle of the warehouse with a price tag with very little—if any—detail about the cost of chemicals or even how to operate the hot tub. In most cases, no one is around to answer questions either. Successful retailers, on the other hand, go the extra mile to help their customers select a hot tub.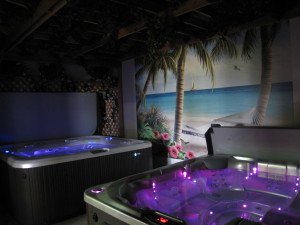 As mentioned earlier, many specialty retailers are not only offering wet tests, but providing their clients mood rooms with ambient lighting, music, and fully functional hot tubs. Couples come with their bathing suits and towels so they can get a true understanding of what it will be like to own a hot tub.
It is important customers find a hot tub that is right for them—the jets target the right places and the water is not too high. Sometimes, shorter bathers have water up to their noses in certain hot tubs where the seats are really low. Retailers who offer this 'try before you buy' option say up to 80 per cent of their hot tub sales come from clients who tried the hot tub in their store's mood room.
These wet tests are what help the consumer make the decision to purchase a hot tub, and in most cases they buy from the retailer which allowed them to do the wet test in their store. Just as most would not buy a car without a test drive, hot tub retailers today feel the same way about the products they sell.
Sell chemical systems
Sometimes the chemicals alone can be a serious objection for a potential hot tub owner. As no one is interested in soaking in a bath of smelly chemicals, many retailers are providing their clients and potential customers the simplest, most natural water treatment options available.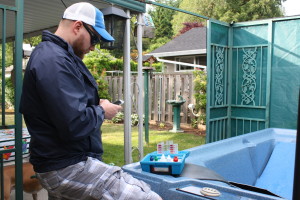 Researching and providing a simple-to-use system that is low-odour or odour-free can definitely help sales. Many retailers keep fully operational hot tubs in their showroom to demonstrate to customers the simplicity of water treatment—if the showroom does not smell, the customer should not experience any odour problems at home either.
Offering a simple, unique chemistry system makes selling a hot tub much easier. Customers really need education and want the complete package, not just a hot tub that later requires them to pick a water sanitation system.
Sell service
Online sales and big box stores offer good prices, but not necessarily service. Therefore, hot tub retailers have a huge competitive advantage in the variety of services they can provide. That said, retailers should make sure staff is well-trained on all of the hot tubs and chemical products it offers, and ensure they give customers a lot of individual attention.
To help with this, it is important to have a fully integrated software program, which allows the inclusion of extensive notes. This permits staff to easily pick up with customers where they might have left off on a previous visit, preventing the customer from feeling like they need to repeat their needs.
Water testing is another great way to connect and engage with customers. For instance, offering hot tub water testing seven days a week, with free drinks while the customer waits, can help to create a loyal retailer-client connection. Water testing services is also a great way to learn more about the customer, their needs, and ways to help them out, which builds more loyalty.
Service technicians are also a great resource
Retailers should also try to equip their service technicians in the field with two-way radios and computers/tablets with Internet connectivity. After making a service call, this enables them to log the results immediately, as well as create an invoice and e-mail it directly to the customer before leaving their driveway.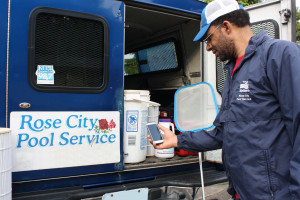 Determining where the hot tub should be placed in the backyard is a beneficial service that is often overlooked when a customer considers purchasing a hot tub. Most specialty retailers will agree, performing a site survey/backyard evaluation to determine the best location for a hot tub is really appreciated by the customer. Not only is it important for service access, but also for privacy and the electrical hookup. As part of this service, consider providing a platform base as an alternative to pouring a cement base (where applicable). Customers like this kind of attention to detail and options.
The price tag on the hot tub at a big box store might be very attractive, but they always neglect to say whether delivery is included in the sale price. In most cases, if it is included, it is a curbside delivery. As an added benefit to dealing with a specialty retailer, for those who are already making their own deliveries, make sure store staff are present so the hot tub can be placed where the client wants and/or answer any additional questions or concerns.
Create a competitive advantage with business integration
Hot tub retailers have an immediate advantage over big box stores simply by being specialized and by offering high quality products that are unavailable at these other retail outlets. Further, specialty retailers also service the products they sell, are better at generating personal relationships with each and every customer, maintaining a local presence in the community, and offering educational opportunities to their clientele. These are the given advantages over the competition, but unfortunately, these only matter if they are provided at a level that is superior to not only big box stores, but every other retailer in the area as well.
How can a retailer achieve this superior level of customer service? Internal business integration (and an outstanding staff) ensures a competitive advantage. However, the three most important elements to superior customer service are confident and engaged staff members, comprehensive and easily accessible business data (from customer history to available inventory), and continuous contact with the customer outside the store.
The onus is on the retailer when it comes to customer service; however, comprehensive business integration will help provide the latter. The combination of powerful software and strong business processes can ensure customer satisfaction. For example, complete business integration would allow follow-up e-mails to be sent to new clients interested in purchasing a hot tub and then a thank you letter once they have made a purchase. Software can also help retailers stay in touch throughout the swim season by sending reminders when it comes time to drain the swimming pool, or change the hot tub filter. Reminders can also be sent to schedule a pool opening, or suggest a heater checkup if a warranty is about to expire.
This communication is vital to a retailer's success, offering them a powerful advantage over big box retailers. Building strong relationships with the client base is important to developing lifelong customers that will remain loyal despite lower prices at the big box store down the road.
Sell to existing customers/building customer loyalty
Retailers are always looking for ways to retain and gain customer loyalty thereby stopping their clientele from looking elsewhere for their hot tub needs. One way of doing this is establishing a customer loyalty program.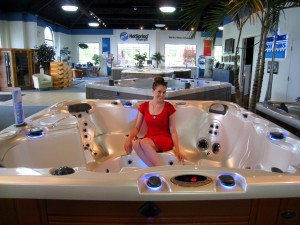 Depending on what wants are to be achieved, the structure of a loyalty program should reflect the business goals. For instance, many hot tub retailers state the first reason for setting up a loyalty program is to keep customers from buying commodity hot tub supplies from big box stores. These retailers want to provide consumers with a reason not to purchase these items at the local supermarket, while they are grocery shopping, but rather at their store by rewarding them for the purchase.
Being an established business with a large base of customers has really helped many specialty retailers survive during the recession. Marketing to current customers for new business is very important. By using an integrated software package, all customer information is housed in one spot, along with all sales and service information, making it easier to drilldown when communicating with customers. With this type of system, it is easy to know who has not purchased chemicals lately, who has not had a service call, or which customers have older model hot tubs. Once the target audience is known, retailers can use direct mail, e-mail, and/or social media to reach out and bring these people back into the store.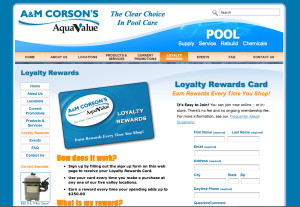 Keeping close ties with customers often leads to them coming back to purchase their second—and some even their third—hot tub. Many retailers will agree, trade-ins and the selling of refurbished hot tubs have also helped their business. An aggressive referral program that brings new customers in from the existing database can be a huge source of business as well.
As customers age, their hot tub needs change as well. For instance, there is a trend in older customers who are looking to relieve different ailments, e.g. arthritis, back pain, high blood pressure, and/or Type 2 diabetes. Therefore, retailers should consider keeping current medical data in their database for customer education purposes.
Some specialty retailers also see success with blogs and newsletters. Blogs that explore today's hot tub lifestyle as well as information about the many health benefits of soaking in a hot tub are all great topics for a blog or e-newsletters. Blogs can be an excellent way to stay connected to hot tub owners. Blog posts should be short as a quick way to update and transmit information such as health studies and product updates. It is an excellent way to stay connected to existing customers.
Finally, face-to-face socializing is also a successful tool for specialty retailers. One of the favourites among most successful retailers is a customer appreciation night, whereby hosting a big party with live music as well as food and drinks. Always consider offering specials at these once-a-year or seasonal events. Use the event to show customers the latest products and help them with questions and concerns they might be having with their current hot tub.
All in all, the spirit of innovation and entrepreneurship appears to be very strong among today's hot tub retailers.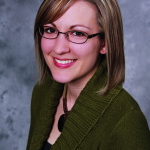 Christina Braks is the vice president of software products for Evosus Business Management Software, a program designed specifically for the pool and spa industry. Braks can be reached via e-mail at cbraks@evosus.com[7] or by visiting www.evosus.com.
Endnotes:
[Image]: http://poolspamarketing.com/wp-content/uploads/2014/10/bigstock-Happy-couplD19325.jpg
[Image]: http://www.poolspas.ca/wp-content/uploads/2015/04/Mood_Room__Photo_courtesy_Spring_Dance_Hot_Tubs.jpg
[Image]: http://www.poolspas.ca/wp-content/uploads/2015/04/IMG_1029.jpg
[Image]: http://www.poolspas.ca/wp-content/uploads/2015/04/Courtesy_Evosus_IMG_1036.jpg
[Image]: http://www.poolspas.ca/wp-content/uploads/2015/04/Spring_Dance_Hot_Tubs_1.jpg
[Image]: http://www.poolspas.ca/wp-content/uploads/2015/04/AMCorsons_reward_page.jpg
cbraks@evosus.com: mailto:cbraks@evosus.com
Source URL: https://www.poolspamarketing.com/trade/unique-ways-to-sell-hot-tubs-and-create-customer-loyalty/
---