Using 3-D design software to increase profits and client satisfaction
February 1, 2013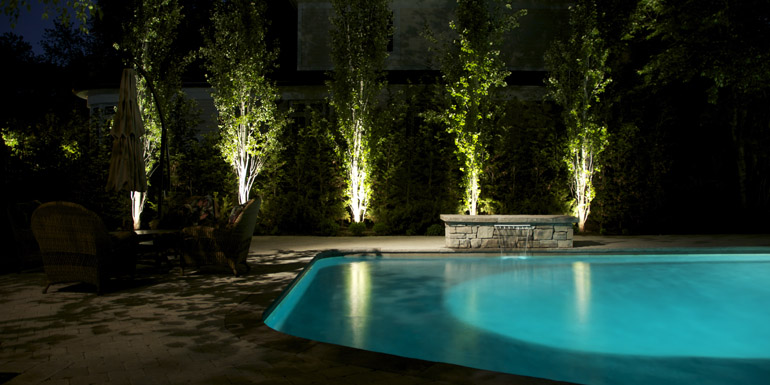 By Gary van Eijk
Many landscape designers receive calls that go something like this: "Hi, we have just put a pool in our backyard and were wondering if you can do a landscape design for us?" The typical response from most landscapers is usually: "Thank you for asking, it sounds like you have already completed the design, I'm not sure if we can help you."
The conversation goes on with the landscaper's explanation that the constructed pool in an average sized backyard has most certainly determined almost everything that goes into the design in terms of additional elements. The elevation of the constructed pool coping has determined the pool perimeter grade elevation as well as the drainage pattern from the top of the pool deck. The pool's size and shape has hard-lined the size and position of the lounge and dining areas, as well as circulation patterns for the rest of the yard, which may determine hazards and safety risks. Patio, deck, and riser sizes have also been relegated as well as the pool equipment location.
Further, depending on the amount of space remaining for positioning planting beds, plant material choices as well as options for additional structures and storage have also been decided. The list goes on.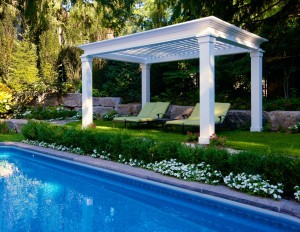 In a situation where a design was not integrated into the pool's installation, the contractor has turned their back on a world of opportunity, including the chance to create a new level of trust with the client by expressing care in positioning the pool, pool equipment, and utilities. The opportunity to show the client a vision that their backyard environment can be transformed into an oasis has also been sacrificed.
Apart from the opportunity to develop good will, the opportunity is lost for contractors to make more money. It cannot be forgotten that the average client who plans a pool installation will often extend a project well past the initial pool installation budget once offered a vision of the complete concept. This not only offers obvious extended revenue opportunities for the contractor but also sends a clear message to the client that the contractor has their best interests in mind. A pool builder that involves or refers their client to a subcontractor or specialist that can execute the construction of the extended design not only extends their service and goodwill to their client, but also helps to reinforce subcontractor relations. Of course, this is not without an increased investment in time (and money) to produce a detailed design. It should also be considered that many landscape and pool contractors currently profess to provide design as added or included services, but have yet to meet a developing status quo by providing clients with descriptive 3-D design presentations.
Design as extension of service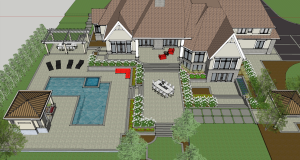 [3]Integrating a landscape design into a pool installation goes far beyond professional and personal preferences in making a landscape 'whole.' It goes deep into the arenas of extending client service with a happy result of higher profitability for everyone; however, it is often wondered why more independent contractors do not provide their clients with a complete landscape design as part of their service. This question comes to mind especially when a design could potentially save the contractor work and expense by integrating it with pool permit drawings and take advantage of the extensive site analysis, as well as layout, and grading information.
Perhaps from a contractor's perspective, one conclusion is the cost of providing a design from a good designer may not initially seem recoverable. Full landscape design fees, including pool permit drawings, can cost between $1,500 to $4,000, which bites into diminishing profit margins for the contractor, especially considering increasing competition and negative economic media reports. Therefore, the question should be asked, is the cost of this information worth the sale of an idea?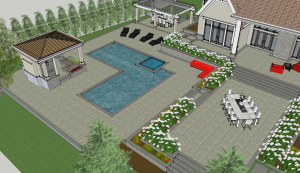 Perhaps offering a design idea leads a contractor into a client relation nightmare. The educated consumer intimidates more contractors by expressing their design and construction education, which has more than likely been gained via the Internet. While there remains excellent advice on selecting materials online, along with creative design ideas on television, the average consumer falls short in understanding the impact of grading, municipal setbacks, and Regional Conservation Authority[5] guidelines, which mandate environmental protection and resource management of water, land, and natural habitats.
Another reason why contractors may not offer professional detailed designs to clients is due to the cost not offsetting the steep learning curve most clients can experience reading 2-D or simple plan drawings. Unfortunately, only after damaging results can the learning process in reading 2-D plans meet with measured success for most people.
For instance, in some situations where clients, if not confronted, might keep secret their inability of understanding the design until the critical point of installation, which could amount to costly results. How can this be resolved? Virtual reality may be the answer.
Design as a tool
Today, there are fewer contractor vehicles with receipts stuffed between the dashboard and windshield. Are more contractors becoming clean freaks? Perhaps, but in actuality more are recognizing the importance of being organized and have found efficiency in tracking their accounts receivables and accounts payables.
Following this logic, should projects be constructed upon the whim of experience and skilled judgment, or rather the reference of documentation and scheduling? Maybe both; however, using a design document as a tool, not only in its graphic presentation of the idea but also its ability to reference scheduling of plant material and material quantities (e.g. paving, soil, face feet of wall, and veneer) has many benefits.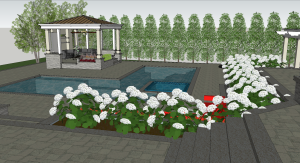 Further, integrated 3-D technology in computer-aided design (CAD) software provides cut/fill calculations, and designed drainage. It also presents exact design ideas that are efficient and flexible to change. Most contractors understand the value of this efficiency when cost of fuel and dumping fill charges escalate or a hand-drawn design concept did not include the retaining wall as a measure of controlling grade change around the pool.
When using design tools such as 3-D modelling products, designers are able to offer their clients a virtual, realistic walkthrough of a complete landscape project. It has all but eliminated initial questions in the minds of clients such as 'What will this look like exactly?' and 'Will there be enough room for this?' These questions can amount to a great deal of time through explanation.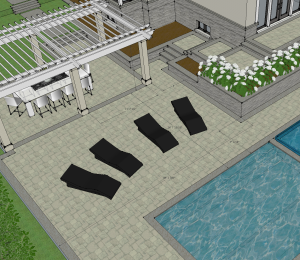 [7]
Upon offering a virtual realistic experience, the 3-D imaging tool can provide dimensioning information when drawn in scale to assist with the exact positioning of planned structures for future development. These software programs are becoming more popular as extensions of other CAD software programs that can provide up-to-date budgeting information, which changes with the design.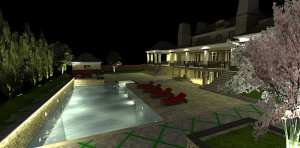 More pool builders now offer 3-D design as an extension of their services to market a vision, even if the project is limited to a pool installation, which proves consumer confidence goes a long way. How can these contractors afford to do this? After many hours are spent explaining to one or two clients where and why a wall will be erected and what it will look like, most contractors will ask themselves, 'How can I not afford this?'
Not all designers are created equal. When chosen carefully, a landscape design/software program should offer the contractor options and flexibility that easily transform a design concept into alternative construction drawings for permit application and quantity takeoff documentation, which allows the contractor to accurately price the project for construction and profitability (e.g. How many square feet of what paving material, how many yards of soil needs to be moved or is required, etc.). Today's technology assists designers by providing them a detailed design drawing with usable and re-useable information that is integral to the success of a constructed project. A detailed design drawing is more than a concept 'cartoon.' As a professional design element, the design becomes inclusive as a contract document and it is relied upon for construction, quotation direction in addition to a point of reference for future work. The design tool is only as good as the content and context that is incorporated by the designer. It is requisite with the consideration of the end user, contractor, design/construction team, and client in mind.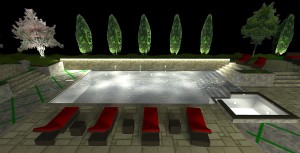 [9]
A perfect world would exist if the contractor has produced for a client (and themselves) a design drawing package that includes the following essential information:
Provides, without question, a clear graphic, detailed description of the conceptual and final built landscape environment in 3-D.
Produces a definitive budget tool that coincides with the graphic presentation and flexes with the design as it changes.
Can be used as a permit application layout drawing and offers expansion into grading, lighting, planting, and irrigation plans, etc.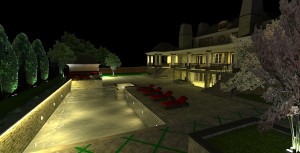 [10]For some, this tool exists but not without cost. However, as long as it does as it proposes, it will surely save, perhaps even make money. The cost of such a tool is not just found in the invoiced amount. It takes time to produce with careful consideration the client's needs as well as consideration of the contractor's resources to execute the work.
Client, contractor relationships
Perhaps perceived as a one-sided designer's view point; however, a proper landscape design presentation cannot be found on a napkin or the backside of an old receipt or flyer. It becomes obvious to the client the contractor has their best interests in mind when a detailed drawing or 3-D representation of the design is presented, which clearly communicates the pool in context with the property is in balance with other landscape elements that are either planned or existing.
A detailed design drawing also offers the contractor protection by referencing limitations that define the pool's placement or shape along with other added design elements by illuminating grading issues as well as controlled areas such as setbacks and easements. Showing these limitations clearly indicates the contractor is protecting the client from present and future issues. Otherwise, the alternative is trying to appease a persistent client only to return to the course of action that would have been taken if these issues could have been communicated more clearly earlier on.
Contractors and clients alike should expect due diligence from a landscape design that illustrates the research of controlled spaces such as Region Conservation Authority defined top of bank setback, easements, and greenspace. Ignoring these can result in costly legal battles, stop work, or court orders to return these environmentally designated areas back to their original condition.
Recent changes to some municipal pool permit processes require CAD drawings that note existing and proposed grading, along with dimensioned references showing the required distances between the pool's edge and the property line are met. All of these elements might already be considered to the experienced practitioner and perhaps deemed by some to be unnecessary; however, without delving into the politics, it is important to expose the opportunity of the design as an object that meets the needs imposed on the contractor by municipalities as one that can be integrated into another that meets the needs of the client and subcontractors. If these requirements exist, the design tools offered via CAD provides more opportunities to record, change, and perform various design modifications when executed correctly.
In situations where the finished grading of an assumed site deems it necessary to include other landscape elements (e.g. retaining wall) to permit the installation of a pool or spa, it can translate into additional opportunities for the contractor.
For instance, rather than walking away from the project, or worse, incurring the cost of the added element without mutual consent of its inclusion or communicating its necessity, the initial investment of time in designing and configuring a backyard oasis with a mutually agreed increased budget would pay off. Further, increasing the project's budget may even offset the added expense of the design, while also add value to the overall project.
If a contractor determines a potential project could benefit from an extensive design presentation, that contractor needs an inexpensive design and fast (usually within two weeks). The design should reflect basic information such as the property lines, proposed and existing grading, setback, and zoning information, as well as the size, shape, and position of the pool in its exact location. Everything else as they say is 'gravy'—expensive gravy, however. For example, a $12,000 pergola, $10,000 in plant material, a $5,000 water feature, and the list can go on (patio, barbecue, hot tub, patio sets, hammocks, fencing, and gates, etc.). If only the contractor knew their client was in the market for any one of these upgrades. The subject would be broached and offered as a complete design package since it was included in the design and experienced in 3-D as if it were already in place.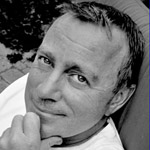 Gary van Eijk is a Ryerson Graduate of landscape architectural technology. He owns and is the principal designer at Uncommon Ground Design Group Inc., in Mississauga, Ont. Van Eijk has been working with homeowners, contractors, builders, and architects in the GTA since 1996, and has been designing residential landscape projects in Toronto, Mississauga, Oakville, Ancaster, Muskoka, and Collingwood. He can be reached via e-mail at gary@uncommonground.ca[11].
Endnotes:
[Image]: http://poolspamarketing.com/wp-content/uploads/2013/02/DSC_4963.jpg
[Image]: http://www.poolspas.ca/wp-content/uploads/2013/02/DSC_0164-Version-3-1.jpg
[Image]: http://www.poolspas.ca/wp-content/uploads/2013/02/Screen-Shot-2012-11-21-at-1.53.28-PM.png
[Image]: http://www.poolspas.ca/wp-content/uploads/2013/02/Screen-Shot-2012-11-21-at-1.58.16-PM.png
Regional Conservation Authority: http://www.e-laws.gov.on.ca/html/statutes/english/elaws_statutes_90c27_e.htm
[Image]: http://www.poolspas.ca/wp-content/uploads/2013/02/Screen-Shot-2012-11-21-at-2.00.02-PM.png
[Image]: http://www.poolspas.ca/wp-content/uploads/2013/02/Screen-Shot-2012-11-21-at-2.26.01-PM.png
[Image]: http://www.poolspas.ca/wp-content/uploads/2013/02/3_30_test_3.jpg
[Image]: http://www.poolspas.ca/wp-content/uploads/2013/02/3_24_test_1.jpg
[Image]: http://www.poolspas.ca/wp-content/uploads/2013/02/3_21_test_3.jpg
gary@uncommonground.ca: mailto:gary@uncommonground.ca
Source URL: https://www.poolspamarketing.com/trade/using-3-d-design-software-to-increase-profits-and-client-satisfaction/
---