Using water, fire, and lighting to enhance residential projects
June 15, 2017
By Bruce Riley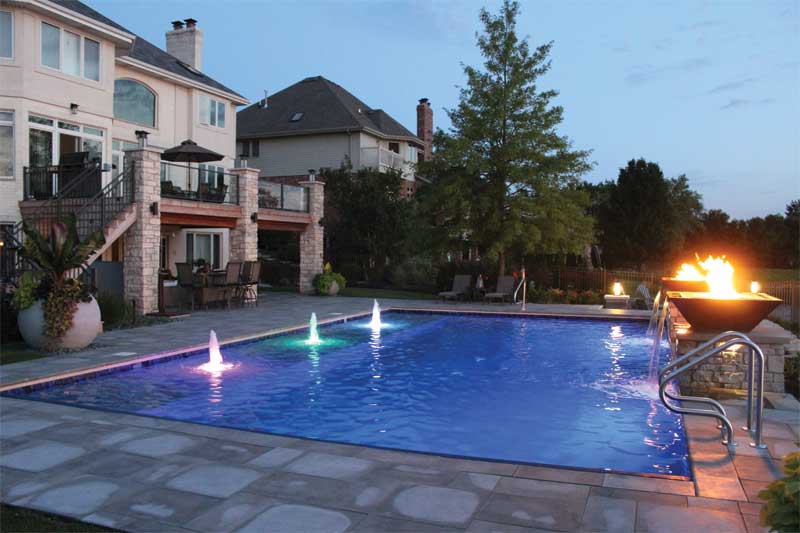 Fire is mesmerizing; for some it brings them inner peace and tranquility. Water has a similar effect—especially the sound of moving water—as it creates a serene, relaxing environment. Therefore, builders who have the ability to combine these features on a pool project will be able to heighten the client's attraction to their new outdoor oasis and, as a result, get more enjoyment out of their backyard.
The trend of incorporating fire and water elements in and around pools is on the rise. In fact, there are many options available (natural gas and propane units) which combine fire and water features for use on pools. Fire (and light) also enhances the effect of water elements—especially at night; therefore, it is important pool builders take the time to present two sides to every project—daytime and nighttime pool use. By doing so, builders will find themselves selling more accessory-related products and, as a result, increase profits while ensuring customers are happy with their backyard investment.
Day versus nighttime pools
Naturally, pool builders discuss the details of the client's project (e.g. the pool's shape and surrounding landscape elements) during the day; however, it is important not to forget what the finished project will look like at night.
"You have to help the homeowner visualize and plan how they will be able to use their pool and outdoor living space at night," says Glen MacGillivray of Aqua-Tech Pools Ltd., in Winnipeg. "For instance, if you do not plan to include pool lighting, the homeowner will have a big black hole in their backyard, which will not be inviting, nor will it be safe."
Some homeowners often neglect to think about how their pool and backyard will function at night so this becomes the job of the builder or backyard designer to add strategic nighttime lighting and other effects that draw the client outside even after the sun has gone down.
"Even if the homeowner does not think they will be swimming at night, they will likely say they plan to sit outside and enjoy conversation or entertain nearby the pool, close to a warming element," says MacGillivray.
It does not matter whether the project is a new build or a renovation, pool builders and landscapers should take the time to include a warming element (e.g. fire pit, fire table, or fireplace) in the design.
Homeowners look to their backyard professional to incorporate these fire features so they get more enjoyment out of their pool and outdoor living space at night.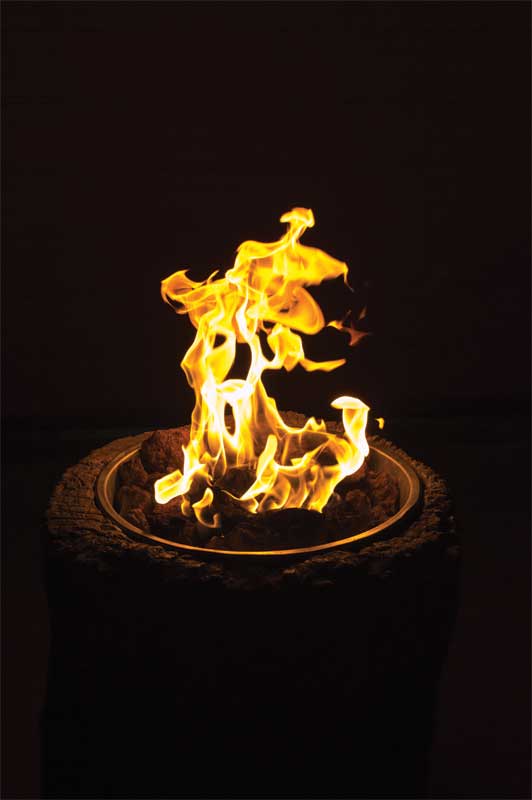 In the past, builders exclusively provided lighting options around the pool to illuminate the backyard for nighttime use. However, fire features have become much more economical over the last five to eight years, many of which now include integral water features that allow pool builders to capitalize on the mesmerizing effects of fire and water around a pool.
Whether natural gas or propane-fired, there are numerous sizes and designs available at multiple price points. This makes it easy for today's builders to incorporate a combination of fire and lighting features to accentuate water elements from various angles.
Installing fire features around water elements, whether on or near a waterfall or grotto, creates a striking visual, as the dancing flames reflect off the water's surface. The addition of fire also adds function and dramatic ambiance when entertaining or enjoying the pool at night.
"When fire features for pools were not as prevalent, we used, and continue to use, lighting built into the water features," says MacGillivray. "Not only do we include underwater pool lights, but we also insert colour-changing fibreoptic light bars into the artificial rock water features by cutting out a slot and tucking them inside to heighten the dramatic effect."
Selling fire
Traditional fire features that require the installation of gas lines are more expensive and tend to be easier to sell on new construction projects. That said, fire features are not for everyone, but overall they are an excellent sales tool.
"When we do a sales presentation for a potential client, we always use 3D design software to illustrate our proposal and the fire elements we include get the client excited about the project—even if they do not end up having one installed," says Dan Lenz of All Seasons Pool & Spa in Orland Park, Ill.
From a sales perspective, fire features tend to pull the client into the proposal, even if they are the first thing they cut from the project when they start to budget how much they want to spend. Fortunately, today, there are also low-cost fire features (fuelled by propane tanks), which can be easier to sell to clients not only on new pools, but also renovation projects. The propane tanks are hidden within the unit and are capable of operating for at least six hours.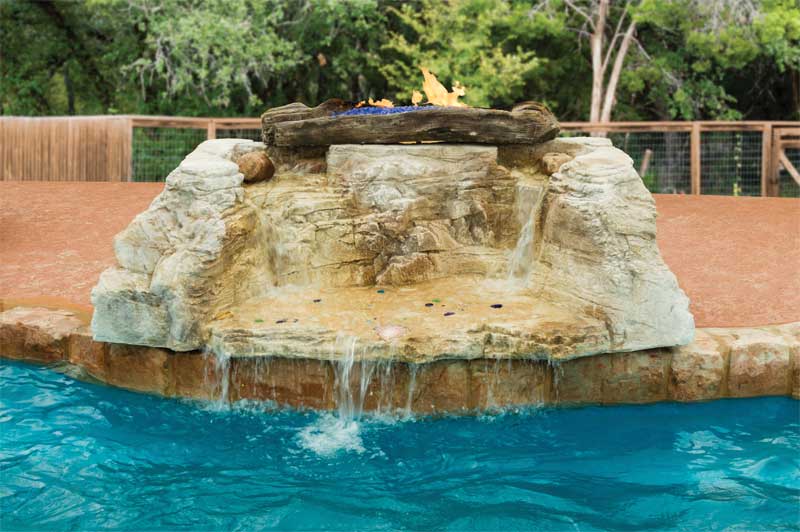 "When we have customers trying to create the ultimate backyard environment, the propane option gets them the fire features they want, but saves them the expense of running a gas line, which would cost approximately $3000 to $4000 to install," says MacGillivray.
Selling and installing fire features gives backyard projects a unique, high-end look—not to mention the homeowner can use them year-round.
"Unlike water features that are shutoff when the season ends, fire elements remain as mesmerizing and soothing in the winter, with snow on the ground, as they are in the summer when surrounded by moving water," says MacGillivray.
Now, with the ability to add water, fire, and lighting features easily on a project, some pool professionals are taking the approach of selling clients the idea of a luxury backyard as opposed to the option of buying a second home or cottage.
"The way we position these water and fire features is a big picture approach," he says. "Many of our clients have expressed interest in either spending $500,000 on a second home or investing $250,000 into their existing backyard so they can come home to an oasis.
"For these clients, a pool project is usually an easy sell simply because of the convenience factor. So many of our clients are short on time; therefore, not only do they spend less by investing in their existing backyard, but they also do not need to drive anywhere. Essentially, they come home to a backyard resort where their kids can have fun and they can relax."
Fire feature installation tips
The fire feature's British thermal unit (Btu) requirement dictates the size of the gas line (e.g. length, diameter, number of elbows, tees, etc.). If the fire feature does not get enough Btus, it will not work; therefore, it is important for installers to calculate the size of the gas line correctly. Further, proper gas-fitting practices should be followed (e.g. keeping the pipe's length and elbow connections to a minimum) to avoid any unnecessary pressure drops. Installers should always check the local codes and use what is required.

Electronic ignition systems
These ignition systems contain valves that regulate the flow of gas to the burner, assuming the gas line is sized correctly. Many builders install main feeds from the gas meter on the house or the propane tank. Installers should never tap off a feed from the mechanical area in the house as these are typically sized for gas consumption in the home and are not able to supply the proper amount of additional gas for any outdoor fire features.

In some cases, pool builders can run a large-diameter main trunk to the pool equipment pad, and then run smaller lines to the fire features. Depending on the project, the use of smaller lines might make more sense, as these can go back to the meter; however, this option often boils down to the total cost.

Installers should remember transformer panels are required for powering all automated electronic ignition systems to convert the incoming power into a useable voltage. Transformer panels and similar electronic control components are typically installed by the pool equipment, if possible, but can also be installed behind the water feature as needed.

Manual shutoffs
Manual shutoffs should always be installed at the meter. If a main trunk feeds the manifold, each line should have a manual shutoff. Should there be an emergency, for example, this enables the user to turn off whatever is necessary.

Further, some codes require a manual shutoff for gas lines that need to be installed within 1.8 m (6 ft) of the fire feature whether or not an electronic ignition system is in place. The manual shutoff is also a great system for adjusting the fire feature's flame height.
Fire, light, and water around the pool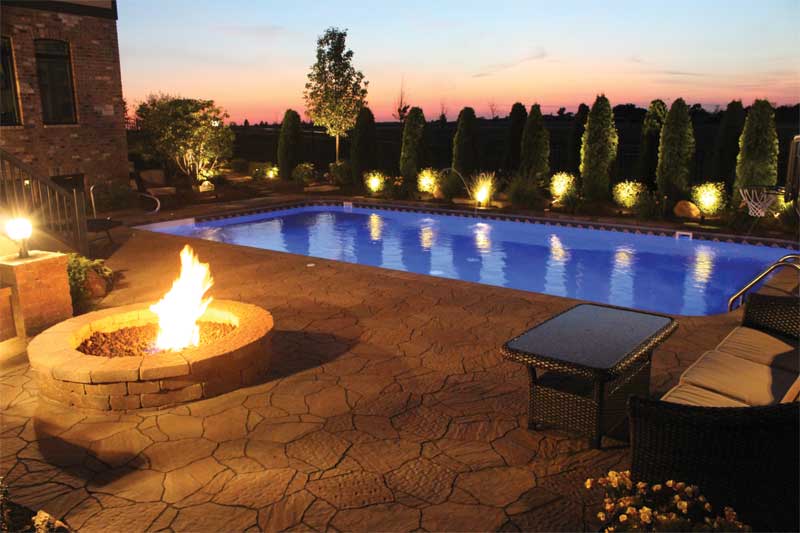 Most will agree presenting fire options as part of a project is essential, but it is important not to go overboard and place them everywhere in the backyard. In most cases, strategically placed fire features—in one or two locations—works best. In fact, placing these features in and around the pool perimeter creates the best nighttime effects—especially when combined with other water and lighting elements.
"We find light-emitting diode (LED) bubblers to be a terrific complement to fire features," says Lenz. "The bubblers offer colour and give the pool a 'fire-like' look within the water so we tend to put a few of them in the shallow end to create a unique light and water effect."
To create a tranquil, resort-like atmosphere in the backyard, water elements should always be illuminated by fire and light.
"We have been adding rock waterfall features on the pools we install for many years and find that incorporating a combination of lighting and fire makes the backyard look spectacular," says MacGillivray. "We use artificial rock waterfalls, grottos, and other water features because they are lightweight—about 10 per cent the weight of real rock—and they provide a consistent finished look, so consumers always get what they were expecting."
By day, the water features provide soothing sounds and terrific play areas for children to climb on, jump from, and sit under. By night, these same water elements create a focal point in the backyard where the rocks and falling water are lit up by fire and lights.
Builders should take the time to rethink the sales presentation to consider daytime and nighttime designs, which include water, fire, and lighting elements. Those that do so will not miss the opportunity to use one of the many product options on the market that can help create a stunning backyard pool project that clients can 
use any time of day.
[5]Bruce Riley is the managing director of RicoRock Inc., makers of cast-concrete rock, including component systems for building caves/grottos, waterfalls, and waterslide products for use in pool applications. Riley focuses on developing new products and managing commercial installations. He built rock-type pools in southern California for 25 years and now uses this experience to design standard waterfall kits for the company. He can be reached via e-mail at bruce@ricorock.com[6].
Endnotes:
[Image]: http://poolspamarketing.com/wp-content/uploads/2017/06/AllSeasons-IMG_1120.jpg
[Image]: http://poolspamarketing.com/wp-content/uploads/2017/06/FIRE.jpg
[Image]: http://poolspamarketing.com/wp-content/uploads/2017/06/Rico-Rock-Laguna-with-Driftwood-Fire.jpg
[Image]: http://poolspamarketing.com/wp-content/uploads/2017/06/All-Seasons-IMG_1038.jpg
[Image]: http://poolspamarketing.com/wp-content/uploads/2017/06/Riley_Headshot.jpg
bruce@ricorock.com: mailto:bruce@ricorock.com
Source URL: https://www.poolspamarketing.com/trade/using-water-fire-and-lighting-to-enhance-residential-projects/
---