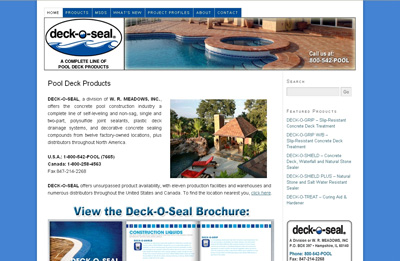 W.R. Meadows, a building materials manufacturer in Hampshire, Ill., has redesigned its Deck-O-Seal pool deck products division and construction company websites to create a more contemporary feel and become a better online resource for users of the company's products.
Although several changes have been implemented—such as the addition of more project photos (including swimming pool deck construction jobs) and new product spotlights—the basic navigation of each website has remained unchanged. New social media features have also been added, including a live Twitter feed so users can follow updates as they happen, in addition to links to the company's Facebook, LinkedIn and YouTube pages.
Access to green building information, product data sheets, Canadian material safety data sheets (MSDS) and project profiles can be easily accessed via clear navigation tabs and drop-down menus. In addition, product inserts, technical articles, calculators and a dealer locator can all be accessed from the home page.