By Jason Cramp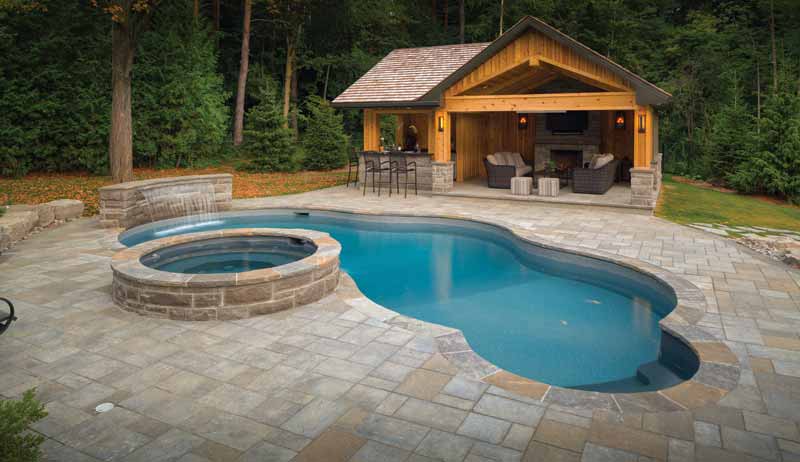 Located in one of the most sought-after areas in Aurora, Ont., this homeowner's large private lot, which backs onto woodland on a dead-end street, was all the more reason for hiring Pool Craft in Richmond Hill, Ont., to revive the decades-old pool.
Originally equipped with a 1.8-m (6-ft) step, one light, and some perimeter patio space, the homeowner wanted a new design. After meeting with the client, and faced with a wish list comprising more than 20 items, it was determined the main priorities were a poolside built-in hot tub, large cabana with a covered seating area, bar area for serving, and a washroom. However, Pool Craft's design team felt the project also needed a water feature. After presenting two designs—one with and one without the water feature—the one with moving water resonated with the client most, thus it was selected.
To give this backyard a new life, the existing step, liner, patio stones, and concrete deck had to be removed. The area then had to be graded to accommodate the new design, and footings for the cabana had to be excavated. Next, a new 2.4-m (8-ft) step, skimmer, side suctions (to aid in the operation of the water feature and hot tub), plumbing lines (from pool to equipment room), two lights, liner and track, and 0.3-m (1-ft) concrete apron (to accept the natural coping stone) were installed.
The large forested area behind the 5.5- x 11-m (18- x 36-ft) humpback kidney-shaped pool inspired the natural look of the design and the combination of cedar siding and roof and Owen Sound tiger stripe ledgerock around the cabana. The same ledgerock was used to surround the hot tub and 1.8-m (6-ft) sheer descent water wall in the pool's deep end to co-ordinate all of the backyard's features.