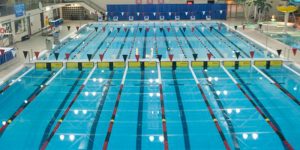 The massive upgrade to Kamloops' Canada Games Aquatic Centre yielded a surprise of coming in $200,000 under budget.
As reported by Kamloops This Week, the city's capital project manager, Darren Crundwell, advised city council members the savings were credited to a new funding delivery model, which he said kept the project on schedule.
The $13.5 million project included upgrades such as creating a new hot tub area and installing new mechanical, electrical, and HVAC systems.
With the project coming in under budget, the city was able to move forward with additional elements of the upgrade including a new scoreboard and bleachers and more energy-friendly boiler system.
As previously reported by Pool & Spa Marketing, the project received $1.37 million from the Government of Canada's Investing in Canada Infrastructure Program and $1.142 million from the Province of British Columbia through the CleanBC Communities Fund Program to support energy efficiency upgrades. It is the first project funded by this grant to be completed.