By Shanley Hutchinson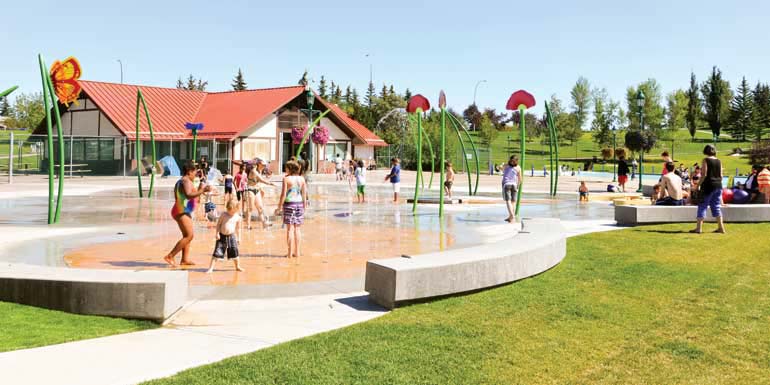 The making of a great aquatic splash pad starts well before the concrete is poured and spray features are installed. A thoughtful planning process is the first step to achieving an extraordinary play space. This is illustrated in the new splash pad at Prairie Winds Park in Calgary, Alta., which has now become a popular recreational destination for local families seeking refreshing summer fun.
How was the builder able to create an attractive and sustainable water play space for the community? This article discusses a number of objectives identified during the planning process to achieve a standout splash pad.
Designing for discovery play
The importance of play in child development has become an increasingly influential design factor for aquatic play spaces. Beyond entertainment value, the modern splash pad plays a positive role in supporting a child's physical and emotional development.
The concept of designing for discovery starts with considering how children learn from play, how they interact with their environment, and the people around them. This knowledge can then be used during the design stage to guide decisions—from feature selection to configuration.
Steps for designing for discovery
Define separate play zones for toddlers, children, and youth. Segregation of age groups in separate zones is necessary for the enjoyment of younger children, who may be intimidated by youths.
Consider the play habits of each zone when choosing features. Children will be automatically drawn to the zone that best matches their play habits. Choose play features that stimulate development at each age level, and evoke thoughtful play. Keep in mind the role of parents or caregivers, giving them easy lines of sight to the children and dry sitting areas.
Space out play features to provide sufficient room to encourage maximum fun. This is important not only for safety and play value, but also to ensure the play environment is as accessible as possible for all ability levels.
Let your dream take shape
As part of the redevelopment of Prairie Winds Park, the City of Calgary requested a water play amenity that would offer rewarding experiences for every park goer. In doing this, they decided on a spacious, organic pad shape distinguished by a central stream feature, along with distinct areas for different age groups.
In consulting with aquatic play specialists and manufacturer Waterplay Solutions Corp., the builder was able to identify dedicated play zones, including a child zone for the whole family to enjoy and a toddler area where younger children (under four) could explore smaller water features in a safe, low traffic area. To accomplish this, Waterplay provided recommendations for optimal placement and spacing of the features to ensure both zones adhere to the highest standards of accessibility.