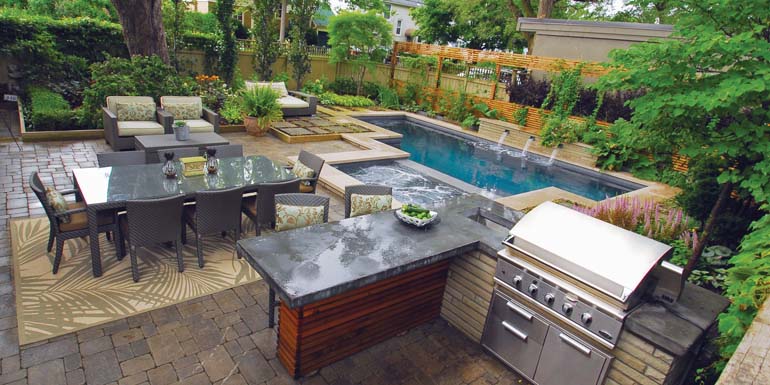 By Sabrina Goettler
A moderately sized residential corner lot in the heart of one of Toronto's tree-covered communities was the setting for Oriole Landscaping to transform a challenging space into multifaceted outdoor retreat. The clients were lovely, open to ideas and ready to push the envelope, as they wanted something that was unique, yet sophisticated and refined. They had been thinking of the project for some time; however, no design had propelled them forward into construction.
The collaboration between Oriole and these clients remains strong to this day, with regular updates on their landscape being shared with Oriole's team. A truly spectacular space was formed from a great relationship between the clients, the designer and the project team that installed the landscape.
Creating the design
Elements in this space were to include a pool, hot tub, dining and cooking areas, lounge space and gardens that would function well for casual family get-togethers and small corporate events.
The existing space had a wide variety of plants, all of which the client loved. The goal of the new construction was to create a space that had fantastic garden areas, full of rich colours and textures. Traditionally, gardens focus on flowers; in this case, however, that was not the goal. The space was to be defined through strong lines in the hardscape areas, which would then be softened through masses or waves of plantings that incorporated interest through their form and foliage.
The added colour and visual interest created by the flowers was to be secondary to the plants themselves. Plants selected for foliage and shape are a constant presence during the growing season, some remain the entire year. When selected properly, these plants harmonize with the hardscape features, creating a seamless and unified environment upon which additional layers of interest can be added, without interference or conflict.
A challenging space
During the initial stages of the project, it was clear many constraints existed on site that would have to be dealt with in order to incorporate all of the client's wishes for their backyard. For instance, there were several large trees, all of which were healthy. The city's forestry department had regulations for paving and grading within each of these trees' large tree protection zones. The property itself sloped towards the home at the end of the existing patio area; obtaining permission to alter grades would not be possible.
The answer was to gradually step the features that were to be placed along the boundaries of the protected areas. Locations for walkways, patios, plantings and the pool would be created by rectilinear patterning, which allowed each area to transition smoothly into spaces that were able to be developed (beyond tree protection zones).
In addition, every available square foot of useable space was incorporated to maximize the yard area. The strong lines developed for the space would easily be softened with the lush gardens that were being planned.