By Matt Remington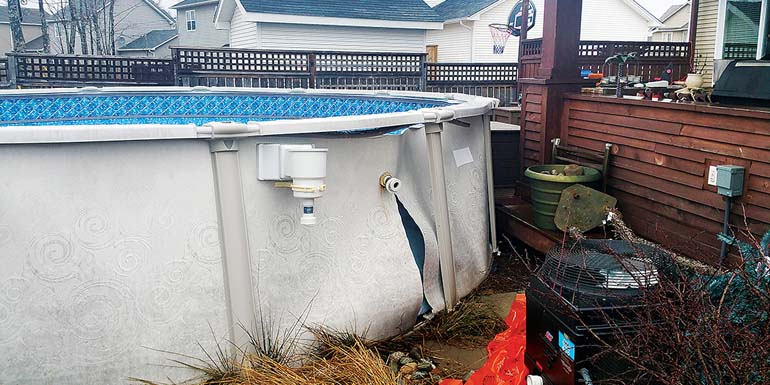 Winter damage to above-ground pools is nothing new in areas that experience harsh weather. Pool builders see this year in and year out one way or another; however, this past winter in Atlantic Canada was like no other—especially in the city of Moncton, N.B. To set the stage, most pools would have been closed in this region by early October. Between October 2014 and April 2015 some parts of Canada's Atlantic Provinces received 579.2 mm (22.8 in.) of rain and 5.05 m (16.6 ft) of snow. These conditions created a winter and spring with a record number of damaged pools.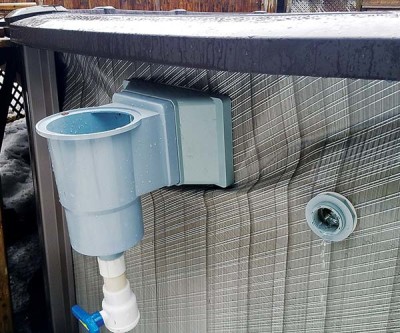 A sinking feeling
By February, this author had a feeling his company was going to be in for a very interesting, and busy spring. One reason for this was because more than 3 m (9.8 ft) of snow fell after January, which would only rest heavy on top of the ice in most pools. The problems that can occur with this much snow worsened when coupled with the fact there were many ferocious storms that were close together.
In fact, most storms were coupled with extremely high winds, making for very high drifts. There were reports of backyards with 2.4-m (8-ft) fences that were no longer visible. For some unexplained reason, Moncton, which is the geographic centre of the Maritime Provinces, seems to be the snow belt of southern New Brunswick. When a storm hits Moncton, it always gets more than its fair share of snow. Last winter, for example, some storms dropped more than 1 m (3.2 ft) of snow before they subsided. As a result, homeowners were asking, "Will my pool be okay under all that snow?" For many pool builders, the response was quite simple: "I hope so because there is nothing that can be done until spring."
Damage control
The main problems this author has come across are buckled walls on above-ground pools, primarily located around the skimmer area. Due to the excessive rain and snow, the ice that typically forms around the pool also formed inside the skimmer, connecting everything together. Then, as more snow falls on top of the ice, causing it to move and sink, the wall buckles at the skimmer area due to the extreme weight. The main cause of this damage is simply the long, hard winter.
In this region, after closing a pool in October, there is a good chance a pool company will need to go back in December and lower the water level again before the hard freeze arrives. In some cases, those homeowners who chose to winterize their pools themselves—rather than hiring a professional—may not have realized this, and it is easy to forget about the pool when it is cold and miserable outside. However, even though the pool water was originally drained approximately 203 to 254 mm (8 to 10 in.) below the skimmer, in many cases, the water level rose in the coming months due to the amount of rain, snow, and sleet that followed the pool closing.