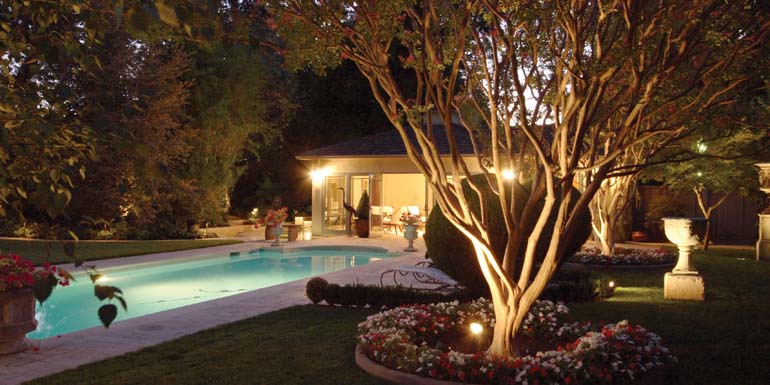 By Gary Scott
Pool controls have come a long way from the simple mechanical timers many swimming pool builders employed only a decade ago. Today's easy-to-operate backyard automation systems offer a myriad of features that help enhance enjoyment, protect equipment, simplify swimming pool operation and reduce ownership costs.
Programming is not limited to just the pool and its equipment or features. These systems can control the entire backyard, thus making them a 'green' investment. This article will outline some strategies for implementing and taking advantage of these simple systems.
Perform any function
For the uninitiated, the simplest automation system allows the user to perform any function one would normally do using a simple switch or valve. In fact, when these products were first envisioned, the idea was to make operating pool and hot tub combinations easier; saving energy was not one of the original reasons this technology was developed. Automation systems eliminated the need to manually operate valves and adjust pool or spa water temperature via analog thermostats.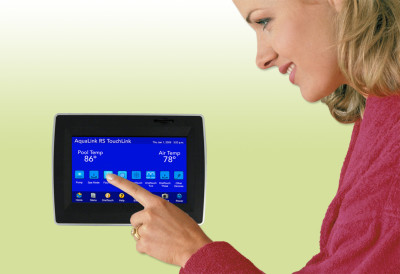 As development progressed, not only could an automation system turn on/off pumps and lights and adjust pool temperatures, they gained the ability to redirect water flow to water falls or other features. They could also be implemented to control sprinkler systems, landscape lighting, fire pits, ponds and water features. More advanced controllers even allow integration with home automation systems and can be accessed via computer, telephone, web or a wireless 'smart' device.
Depending on the controller, specific run times can be set for all mechanical and electrical devices in the backyard. Also, with most controllers, the operator still has the ability to activate any device (e.g. pump, light, heater, etc.) at any time they choose from a wall-mounted or wireless handheld interface (control pad).
Heating and filtration cycles
Pool heating may be one of the functions where an automation system can save pool owners the most money. Current models not only control gas-fired heating equipment, but also have customized settings to activate multiple heating systems, including heat pumps and hydronic, ground source and/or solar systems. This intelligence allows the controller to take advantage of the most efficient heating method for any particular time period or weather condition.
The benefit of controlling a heater with an automation system versus simply turning the heater on in the spring and shutting it off in the fall is that specific run times can be set. Operation can be programmed to coincide with pool use or at the most advantageous time of day to maximize heating efficiency.
One way of implementing this strategy is to heat the pool only when required by the owners. For example, consider young professional couples who work long hours all week and only have time to enjoy their pool on weekends. In this case, the automation system can be programmed to heat the pool on Friday and keep it warm through the weekend. This way, at least in theory, the homeowner can save significantly on heating costs.
Similarly, heating the pool at 2 a.m. is not energy efficient; as heated water enters the pool through returns located at the surface, the energy (heat) will radiate into the atmosphere, therefore heating during daylight hours is more efficient. However, by employing a sophisticated automation system and multiple heating methods (e.g. combined gas and solar), the pool owner can take advantage of the best of both. For example, they can turn on the heater (gas) at any time for heat on demand. Then, when temperature and weather permit, they can use heat generated by an eco-friendly source (solar) to save on energy consumption and operating costs.
Many systems also offer multiple temperature settings. This feature is especially useful during the early and late swimming season, as it allows pool owners to preset a minimum and maximum temperature. This can reduce the time it takes to bring pool water back up to a comfortable swimming temperature while still offering significant energy savings by allowing the water to cool, yet not become cold, when not in use.
Although running the pool heater at night is not recommended, it is an opportune time to filter swimming pool water. Through automation, a pool owner can take advantage of their energy provider's time-of-use (TOU) program and lower electricity rates with off-peak use by programming the circulation system to run for a few hours at night.