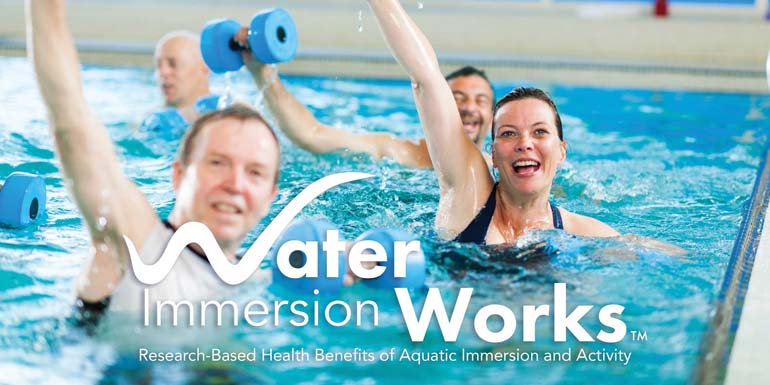 PlayCore, a developer of programs and educational resources on the benefits of inclusive play, along with The National Swimming Pool Foundation® (NSPF®), has developed a research-based publication on the benefits of water immersion.
Released at the recent World Aquatic Health Conference (WAHC), the publication, titled Water Immersion Works: Research-Based Health Benefits of Aquatic Immersion and Activity, provides aquatic facilities, trainers, and community advocates with a resource to help promote, advance, and creatively support and fund water immersion initiatives and infrastructure.
The NSPF®, in addition to the several aquatic scholar contributors, participated in the development of the publication to obtain and publish meaningful research, which documents the benefits of water immersion and activity across a variety of topics, including increasing blood flow to the brain, and promoting cardiovascular, nervous system, and overall health.
The publication features 13 vignettes, written by noted-aquatic scholars, each designed to define and document key research findings in successful water immersion initiatives.
"Only through awareness of the unique benefits of water can we hope to increase opportunities for healthy behaviour, especially among the populations where water offers the most meaningful opportunities for active engagement," says NSPF's CEO, Thomas Lachocki, PhD.
"This resource will help other communities to approach and develop meaningful water immersion programs, build social capital, and enrich aquatic recreation programming and facilities for their members."
For more information or to request a copy of Water Immersion Works, visit www.playcore.com/waterimmersionworks.html.