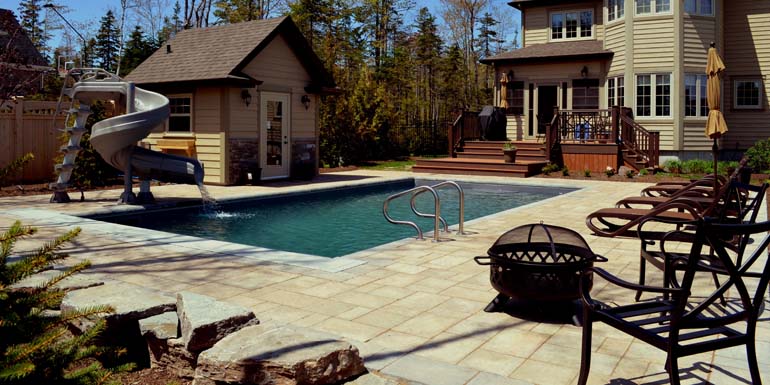 By Brian Burton
Author's note: There are profitable long-term opportunities for pool and spa contractors in the maturing markets for interlocking concrete pavers (ICPs). In addition to excellent appearance and durability, ICPs offer a host of attractive landscaping possibilities as a result of the vast range of colours, textures, and shapes that are available. This article is the first of a series which will provide readers information on these innovative pavements, outline proper installation techniques, as well as appropriate methods to maintain and repair these hardscaping systems.
Interlocking concrete pavers (ICPs) are typically constructed as 'flexible' pavements on a well compacted soil subgrade and compacted aggregate base. Hand-sized concrete paver units are then placed on top of the base on a thin layer of bedding sand. The pavers are then compacted; sand is swept into the joints, and compacted again. When compacted, the pavers interlock to create a 'flexible' forgiving pavement system, which transfers vertical loads from vehicles to surrounding pavers by shear force through the joint sand. The sand in the joints enables applied loads to be spread over a wide area reducing the stresses on the base and subgrade.
ICPs, as they are known today, were developed in Europe in the '50s as a replacement for clay bricks which were, up until that time, typically used to pave most streets. The long-established tradition in Europe resulted in tremendous growth in the North American industry and quickly established pavers with design professionals and consumers. In fact, more than 50,000 ha (123,553 acres) are installed annually around the world.
Indeed, many ICP installations today are nothing short of spectacular. The long-standing perception of this hardscaping material as being 'bland' has been replaced by a new bolder vision. The wide range of shapes, colours, and surface textures now available are revolutionizing the entire scope of hardscaping design and installation.
Bring the client's landscaping up to speed
In the past, most backyards tended to be a haphazard affair with no overall design strategy. Today, however, most homeowners regard their backyard landscaping and pool and spa/hot tub amenities as extensions of their indoor living space. In many instances, these backyard spaces are designed and built to make a unique statement. However, proper paver installation requires skill, experience, and attention to detail on the part of the contractor to achieve the desired effect the homeowner is looking for, while contractors need to develop workable designs and cost-effective installation plans.
When developing and preparing a hardscaping proposal, keep the following in mind:
Inspect the property thoroughly from all angles and discuss the homeowner's lifestyle as well as his/her plans for the property; and
Make a habit of developing a 'conceptual' approach to the design in draft form, which can be used to 'firm up' the quote. When possible, make a formal presentation of the finished proposal to the client.