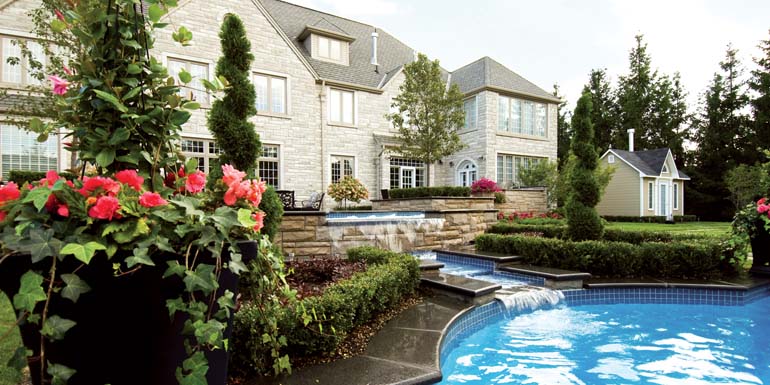 By Baldo and Santo Gucciardi
When the owners of a high-end home in Woodbridge, Ont., contacted International Landscaping about creating an outdoor family recreation and entertainment area in their backyard, few knew just how well the end result would turn out. When all was said and done, the client was left with an impressive space, perfect for even the largest backyard gatherings and events. International Landsdcaping handled the project design, construction, management and supervision, while Solda Pools took care of the pool and spa construction.
The focal point of the backyard is the concrete roman-style 6 x 12-m (20 x 40-ft) pool, which has a graduated depth of 1 to 2.4 m (3.5 to 8 ft). A radiused spa connects the upper lounging area to the pool with a polished black granite spill-over water element, which cascades to the pool level via a terrace canal. The yard also features an outdoor living space was created for entertaining, which includes a split-level dining and outdoor kitchen area and informal central fire table feature.
Grand inspiration
The project was inspired by a wedding ceremony scheduled to take place once the project was completed. As such, the client wanted a very formal design from the outset. The original design challenge was to create a series of entertainment areas and outdoor living room levels for various functions such as dining, lounging and a bar area.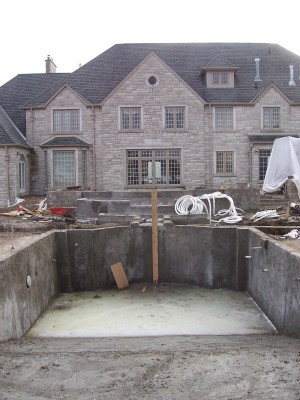 At first, what became the spa area was intended to be a combination of a raised planter and water feature, which would include a colonnade that connected the pool space to the upper terraces. Instead, the client decided to add a uniquely shaped radiused spillover spa; instead of a colonnade feature, a spillover canal would connect the upper and lower levels of the space.
While the overall design changed many times, the roman pool shape was established early on as the focal point of the project. It was decided that the pool would be centered off of the foyer of the main house, which had a vista to the back of the property.