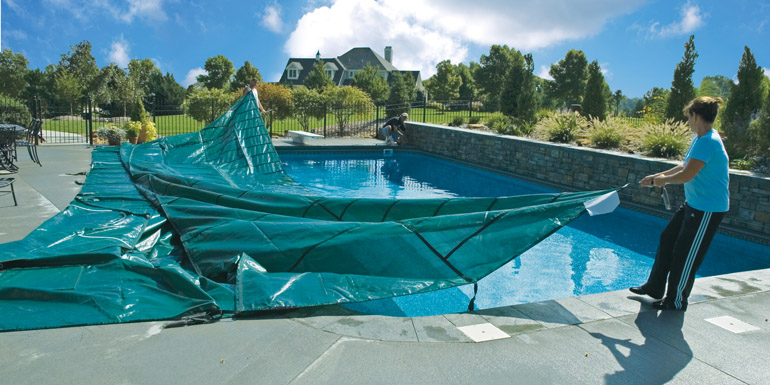 By Terry Arko
When service professionals winterize a pool, they are, in a sense, 'putting it to bed' for the winter. However, while most pool professionals forget all about those pools until the following spring, it might be worth checking in on the pool before its time to 'wake up.' In doing so, you may be able to avoid some challenging openings.
The traditional approach
Winterizing differs depending on the geographic region. The Northeast experiences hard freezes and several important steps are needed to keep the pool protected during these periods. First, chemical balance needs to be checked and adjusted according to the following parameters:
pH: 7.2 to 7.6;
total alkalinity (TA): 80 to 120 parts per million (ppm); and
calcium hardness: 175 to 250 ppm.
Pools should also be super-chlorinated or a chlorine-free shock should be used. After shocking, allow chlorine levels to come down (between 1 to 3 ppm) and then add a winterizing algaecide. Other duties include:
partially draining water;
blowing out all above-water lines;
plugging all returns and drains;
adding a pool-grade anti-freeze; and
covering the pool.
In milder regions, pools will be chemically treated and filtration time will be reduced, whether the pools are covered or not.
The impact of climate change
In areas where winters are severe, like many cities in Canada, it is common practice to open and close pools according to the calendar. Pools are typically opened by Victoria Day and closed by Labour Day. The practice of having pools closed down by September is a long-standing tradition in many parts of North America. Once the pool is winterized and covered it is pretty much forgotten until spring.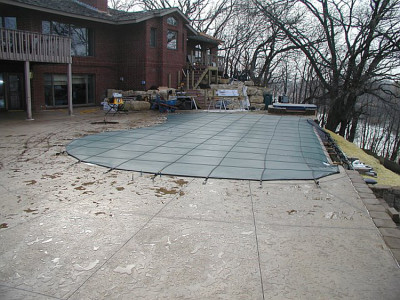 However, in light of recent (and possible future) climate changes, traditional winterizing may need to evolve to a system dependent on temperatures rather than dates. As stated recently in the report Canada in a Changing Climate, the average temperature in Canada has increased by more than 1.3 C (2.3 F) since 1948. Parts of the country have warmed more than others, with the greatest temperature increases observed in the western Arctic.
There have also been changes in precipitation patterns, with most of the country becoming wetter and more precipitation falling as rain, rather than snow. Across the country, the hottest days have gotten hotter and more frequent; in the winter, there are fewer days of extreme cold. Similar trends have been noted in the U.S.
When winter temperatures are warmer, chemicals are consumed faster and may not be as effective into the spring.