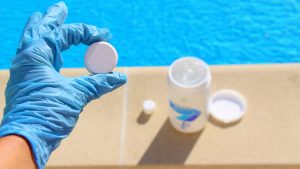 Experts are predicting the cost of chlorine tablets could be the next item to skyrocket during the COVID-19 pandemic.
As reported by CBC News, there is currently a North America-wide shortage of chlorine.
The shortage is linked to a 2020 fire at the Louisiana plant of BioLab, the continent's largest supplier of pool and spa treatment products. It is estimated BioLab produces about 70 per cent of North American's chlorine treatments. The plant is not expected to reopen until next year.
Shelley Melvin of Emmerson Pools in Rothesay, N.B. said the shortage of chemicals, but other pool-related items due to staff shortages at manufacturing plants across North America, have caused a lack of products.
Kelly Hare, co-owner of Premium Pools and Spas, said prices on many pool-related products have jumped from 10 to 20 per cent.
The price increases have led some to predict this may lead to hoarding of chlorine products, among other pool-related items.
Hare said they have seen interest in alternatives to chlorine such as ionizers and saltwater systems.
CBC spoke with Ernie Beau, maintenance manager of the Canada Games Aquatic Centre, who said the shortage will not impact most recreational pools as they use non-stabilized chlorine tablets.