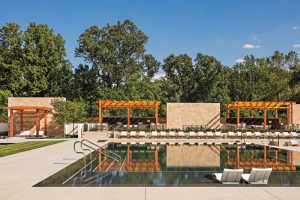 Close to Philadelphia International Airport, Presidential City, an apartment complex offering luxury living in Philadelphia, Pennsylvania, offers everything young, ambitious professionals could want, just outside the buzz of the city. Apartments range from studio to three-bedroom, with expansive fitness facilities, three pools, two hot tubs, five reflecting pools, and a myriad of outdoor entertaining spaces featuring full kitchens.
Post Brothers, a multi-family property development company based in Philadelphia, owns the property, operates several more in the area, and has made a point to set their properties apart with impressive outdoor facilities. As a result, large bodies of water at Presidential City, totalling 682,000 L (180,165 gal), remain heated year-round.
"The operational requirements of our outdoor pool club changed over the years," says Sarina Rose, senior vice-president of development for Post Brothers. "We realized, although our residents and leasing staff appreciated the pools being filled all year, they were not being utilized during the winter. The residents do, however, use the Jacuzzis. To save energy and maintain the pools at just above freezing temperatures over the winter, we explored investing in a new pool heating system."
High efficiency hydronics
Management at Presidential City called Patriot Pool Heating Co., in 2020, explaining the changes they wanted to make, and how the existing pool heaters were underperforming and consuming more natural gas than expected. Inspectors from the heating company found out all the units, which had already been replaced at least once in seven years, were no longer up to the task.
While there is no single key to successfully creating a pool heating system which will function for decades—successful planning must start with design. Choosing equipment built for longevity, eliminating contact between corrosive pool water, and the heating element is of utmost importance.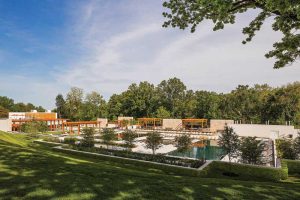 Patriot Pool Heating has extensive experience conducting new and retrofit pool heating projects for retirement facilities, condominium and apartment complexes, resorts, hotels, and water parks. The method they employ, utilizing stainless steel condensing boilers as opposed to dedicated pool heating units, has been proven repeatedly to reduce maintenance, lower fuel costs, and provide improved comfort and system longevity. It is a departure from the norm in the aquatics industry, but it works exceptionally well, as their clients will attest.