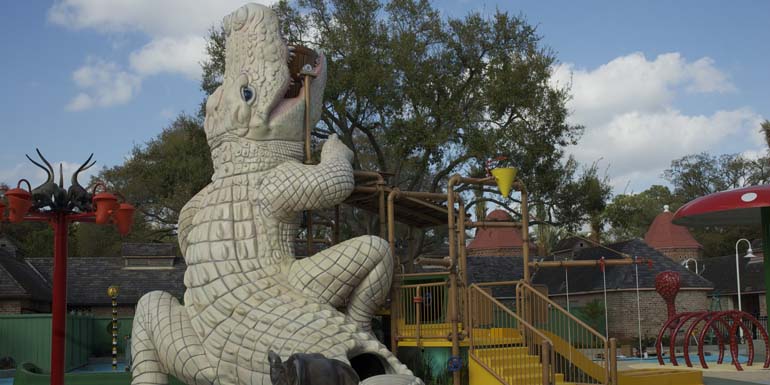 By Colin Atkinson
WhiteWater West Industries, a waterpark and aquatic attraction design/build firm in Richmond, B.C., installed its first North American zoo water play structure as part of the new splash park attraction at the Audubon Zoo in New Orleans, La., which opened earlier this year.
This was not a typical installation, however, as WhiteWater was asked to bring the water park attraction, appropriately named 'Cool Zoo,'  to life, as park officials were looking to add a refreshing new element to the popular zoo. In doing so, WhiteWater designed a custom multi-level interactive play structure with a life-like alligator as its central theme. This was no ordinary alligator, however; as it had to be an accurate reproduction of 'Spot,' the Audubon Zoo's resident albino alligator, which meant incorporating his rare albino colouring.
As WhiteWater's water play centres are modularly constructed, they can be built anywhere. For instance, the water play structure used for this project contains 15 standpipes, which are joined together by horizontal pipes, some of which carry water to feed the various features, including the tipping bucket and fibreglass reinforced plastic (FRP) horizontal platforms and stairs. Modular assembly was extremely beneficial for this project, as it allowed various stages of design, fabrication and construction to be carried out in Richmond and Kelowna, B.C., as well as in New Orleans.
Unique challenges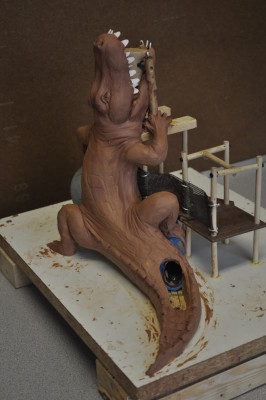 Although the company produces several aquatic play structures in any given year, this project presented installers with some unique challenges. Creating support for the 4,990-kg (11,000-lbs), 8.5-m (28-ft) alligator, which would hold the tipping bucket in its opening-and-closing mouth, was the first challenge, while determining the schematics of the alligator's integral waterslide, which would see bathers exiting through its tail, was another.
Due to these unique challenges and the customization involved, one condition of the contract required WhiteWater's in-house design team to create a scale model of the proposed alligator theme for presentation and approval by Audubon Zoo officials. Once approved, the clay model was then scanned using a 3-D scanner, which would allow WhiteWater to start fabricating the alligator structure.
After collecting the electronic data, which comprised information on the model's shape and appearance, it was then uploaded to a five-axis, computer-controlled cutting machine. Rough shapes were cut from Styrofoam blocks, which were glued together to form the alligator's rough outline. Final shaping and sculpting was then performed by the company's skilled theming technicians.
At this point, however, due to the sheer size of the structure, it was quickly realized there would not be enough headroom nor floor space to pre-assemble the full-sized alligator in WhiteWater's Richmond facility. As a result, pre-assembly was moved to the company's manufacturing site in Kelowna. This was beneficial in two ways, as the cutting machine was located there and the assembly area was isolated from the plant, so it did not interfere with regular manufacturing operations. However, even the ceiling in this building did not provide enough clearance to allow the alligator's head to be pre-assembled to the body. The head was not mounted onto the alligator's body until it was erected in New Orleans.
At this point, all the components for the waterpark, (e.g. water play centre, one of the fibreglass slides and fibreglass decks and stairs), were shipped to the site to start construction before the arrival of the alligator.