Construction begins
Construction began with the arrival of the demolition crew, who removed the existing deck and scraped out the whole yard down by 304 to 457 mm (12 to 18 in.) in preparation for the hardscape elements. Since none of the original landscape elements were to remain on the site, this went quickly.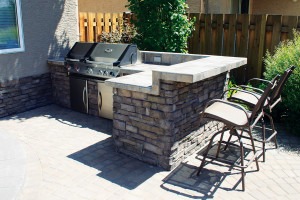 Next came the carpenters who, in order to set the grade at the right level for optimum slope on the patio and turf spaces, built a 254-mm (10-in.) high retaining wall from pressure-treated timbers. This was constructed along the back of the property, with extra care taken to stay out of the overland drainage easement. Next, a concrete footing was poured for the fireplace and rough grades were set for the paver patios, along with trenching for gas lines to the fireplace and kitchen area.
The landing was constructed from modular concrete block (Pisa2), using Revers-a-cap coping for the treads and nosing; pavers were used for the infill and patio spaces. The installers were able to take advantage of the cobblestone pavers' ability to create curves, which resulted in some extra circle and half-circle details. While these added touches took a little extra time, they contribute greatly to the overall finished product.
Polymeric sand was applied to the paver joints, eliminating the maintenance of joint sanding (since the initial construction, it has not been touched and still looks like new).  Pavers work especially well in Calgary due to the city's freeze/thaw cycles, which have a tendency to crack concrete. The combination of pavers and concrete block used for the landing complement the cultured stone and stucco on the house, giving the whole project a unified look that flows together beautifully.
Once the pavers and concrete were in place, the crews from Diamond Fireplace came in to frame the kitchen and fireplace and apply the cultured stone. The fireplace insert is stainless steel and rated for outdoor use. In this case, it is a wood-burning unit with a natural gas log lighter (natural gas units are also available).
The fireplace design included two wings that act as additional seating, while also broadening the base of the unit giving it a more anchored feeling. The base also partially wraps the seating area for a more intimate feel. This has become a fairly regular feature in The Landscape Artist's fireplace designs. The company also now takes the time to design 3-D models so clients can better visualize the finished product.