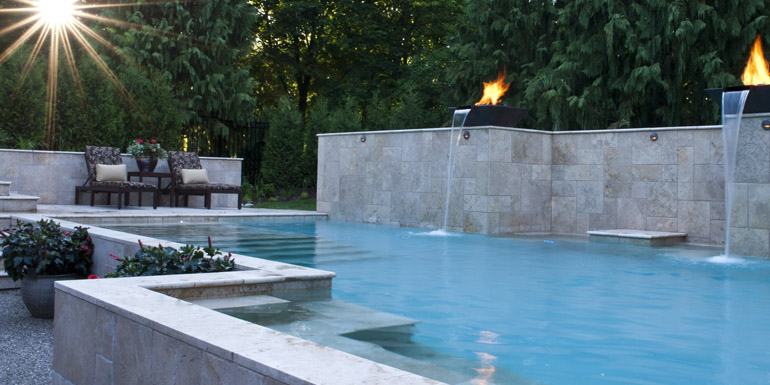 By Barry Justus
Safety and security are prime topics when first meeting a prospective client who is often surrounded by their young children. In fact, most mothers initially want Fort Knox built in their backyards—essentially a water feature without water.
In residential settings (commercial pools are highly regulated), a surprisingly large number of factors come into play when designing and building a safe, friendly, and fun family swimming pool. The same layered approach to safety that is successful in most commercial aquatic settings also succeeds in the residential market. These layers comprise prevention, overall design, worksite precautions, water features, perimeter borders, and training and commissioning standards with the client.
A safe and secure design starts with the first client meeting. Therefore, be prepared to answer all of the homeowner's questions concerning safety. It is important to listen to their needs and concerns, and alleviate their fears, as a potential client will not purchase anything they perceive to be dangerous for their loved ones.
A good way to start is by explaining how the company will go to great lengths to keep their family, friends, pets, and neighbours safe—starting from the initial design to construction and site clean-up—as this will help earn the customer's confidence and trust, and ultimately the sale.
In doing this, address all safety issues up front and convey a proactive message. It is also a good idea to provide proof of the company's liability insurance, crew training certificates, as well as show photos of site and security procedures from previous projects. Also provide the client with a copy of the company's policy and procedures manual for their review.
Consumer confidence in the company and its abilities to successfully manage a safe and professional project can separate a business from the competition.
Work site and job safety
The job site should protect the client, their children and pets, and their surrounding neighbours. A first line of defence is to install temporary, full-perimeter steel fencing with a locking gate. These fences are easy to transport, relatively inexpensive to rent or purchase, and are an effective method for limiting liability.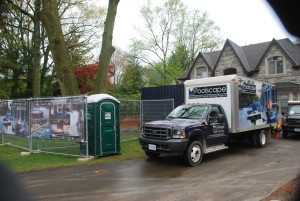 Further, fencing off the job site leaves a professional image, prevents trespassing, theft, vandalism, and curious neighbours and competitors from wandering onto the property. Site materials, equipment, and tools should be neatly organized. Rebar ends should always be covered with protective caps. Standing water should also be eliminated; therefore, a sump pump with a proper discharge hose should be the first item installed in a new dig.
Everyone on the job site, e.g. crew members, subcontractors, and all site visitors, should wear the appropriate safety gear, including hard hats and protective footwear. All subcontractors should also have proof of licensing and liability insurance before setting foot on the job site. They should also be trained in job site safety, first aid, and equipment operation. The company's policy and procedure manual should cover job site safety in detail.
Particular attention should also be given to site cleanliness. Like it or not, the client, as well as their friends and neighbours, will inspect the project in the evenings and on weekends. Therefore, silt safety barriers should be used to prevent run-off from damaging local environments and the need to clean up neighbouring properties. An additional benefit to having a safe site is that busy safety or building inspectors will drive by looking for an easier target, such as a less-compliant contractor.