By Francine Gall and James Whitaker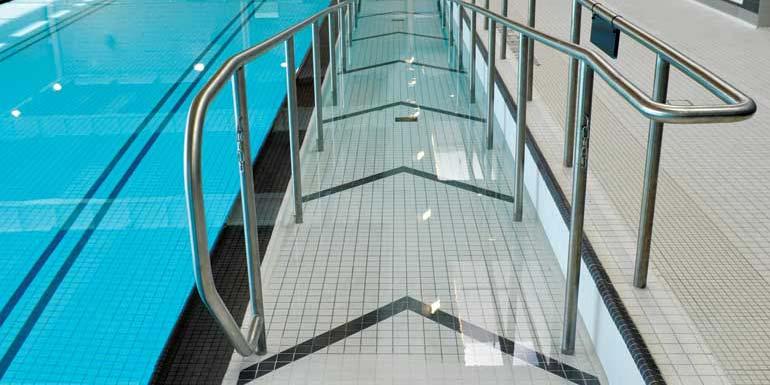 Public pools and spas/hot tubs bring people of all ages and abilities together and, therefore, are designed to be an inclusive space. Swimming, exercise, therapy, relaxation, and water play are all activities that can take place in a pool and/or spa/hot tub and, thanks to the innovative design features and access equipment which will be discussed in this article, people of all abilities are able to participate in these activities in the same body of water.
To make an aquatic facility more accessible, it starts during the design phase. In fact, many provinces and states have made significant changes to building codes when it comes to addressing ease of access to public facilities. For instance, amendments to building codes in Ontario require barrier-free access to, and around, all public pools and some spas/hot tubs. That said, there are several ways to design/build or renovate an aquatic facility to make it more accessible.
Ramps
Ramps are one of the most common and effective ways to make a pool more accessible. Pool ramps provide individuals in wheelchairs a safe way to enter/exit the pool while remaining seated. They also provide a gradual entry point equipped with railing support for patrons who may have other mobility constraints. Bathers of all ages and abilities can use these ramps as a method of ingress/egress from the pool.
Beach entries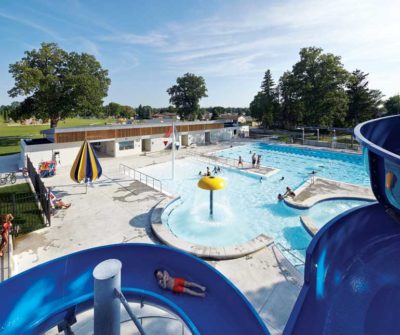 Beach entry, also known as zero entry, is an increasingly popular pool design, especially when it comes to accessibility and overall esthetics. A beach entry provides a gradual slope from the deck into the pool, eliminating the need for steps and/or ladders. This design is similar to a ramp, but spans the entire width of the pool.
This design accommodates a wide range of patrons of all ages and abilities. Beach entries are typically integrated into leisure/lap pool combinations and provide a popular access point for the entire family.
Transfer walls
This pool design comprises a wall or curb along an accessible route to enable a bather to leave a mobility device and transfer onto the wall and then into the pool or spa/hot tub. Transfer walls must have at least one grab bar; however, in most cases there are two. This type of accessibility feature is common in spas/hot tubs.
Ballet rails
Ballet railings are installed along the walls of a pool and, in some cases, in the interior, to provide a hand grip for bathers to hold onto—similar to the railings used by ballet dancers. These railings provide additional support and security for bathers with mobility constraints; however, they are also commonly used for fitness and aerobics. In certain applications, ballet rails can be removed for storage when not in use.