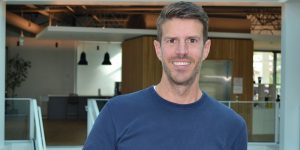 On December 15, 2020, WhiteWater celebrated its 40th anniversary as it continues to evolve itself and how it helps parks thrive.
Like many of the companies in the attractions industry, WhiteWater is a family business, which provides a continuity and focus on sustaining success for future generations. It was the pull of that legacy that brought Paul Chutter to leave behind his global banking career, more than seven years ago, to join his father Geoff at WhiteWater. He started in sales operations before becoming the company's chief business development officer.
He was instrumental in bringing WhiteWater's technology company, Vantage, to market and is a founder of Endless Surf, a foray into the surf pool market.
WhiteWater has announced Paul is succeeding his father as president, while Geoff remains as CEO.
"What we do, together with our clients, is very significant—we make moments that bring families together, something everyone recognizes and values more than ever after the past year," said Paul. "To be able to work alongside my father and ensure that continues long into the future is a huge responsibility and honour I'm excited to take on."
Paul's first decision in his new role was to announce some changes in the WhiteWater's leadership team.
Doug Smith, who has overseen WhiteWater's Asia Pacific region as the regional vice-president for the last six years, will now step into the role of global head of sales. Smith has decades of global sales experience spanning Interactives, Adventure Play, Water Rides, and Water Parks, and has been an active supporter of the TEA as a board member. He is well known and respected within the industry having worked in Europe, North America, and Asia. Smith will be immersing himself back into the Americas, allowing for Franceen Gonzales to take on a new role as chief experience officer.
The Asia Pacific leadership role is passed on to hands of David Bogdonov, who eight years as vice president of business development for China.
"It is with tremendous pride I see Paul step into the role of president… I know we have the best team in the industry and, together, we will continue to deliver the best products and guest experiences possible, working tirelessly to reward the trust our clients place in us," said Geoff. "From the largest entertainment brands to first-time developers, we partner with our customers not just to deliver thrilling experiences, but to support them with operational insights, safety leadership, and enduring quality—because their success is one with ours."