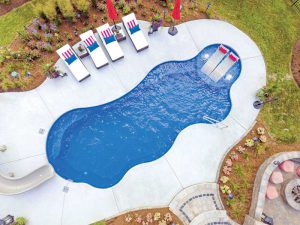 By Annie Brock
One of the biggest challenges in today's marketplace is the shortage of labour. When it comes to the current marketplace, many companies need to find new ways to service and install more pools in less time using smaller crews. As a result, pool professionals are no longer limiting themselves to a single construction type. Even long time inground pool installers of other types are adding fibreglass pools to keep their repertoire competitive.
Another reason for adding a fibreglass pool option is because some companies can install more of these pools over the season to meet the demand, while using smaller crews, and still maintain high-profit margins.
More installations in less time
Fibreglass pools do not require the same skills or nuances found in other types of inground pool installation, nor do they command quite as high of a price tag. Further, today's fibreglass pools virtually offer all the features a consumer could ask for—including large tanning ledges, beach entry designs, and even sunken
living areas.
Unlike fibreglass pools of the past, today these pools not only come in multiple shapes, sizes, and features homeowners want, but also have improved construction features to give builders an easy-to-install pool for maximum profit. In fact, several manufacturers have even added patented features to their fibreglass pool construction specifically to ensure builders are able to install them quickly and without error. For example, a rounded skimmer could be designed to accommodate the draft angle of fibreglass pools, while eliminating the technical errors that come with cutting in and installing a square skimmer. Instead of installers struggling to cut that skimmer hole accurately, this pool would make this task easier by requiring only one hole saw to get the cut right.