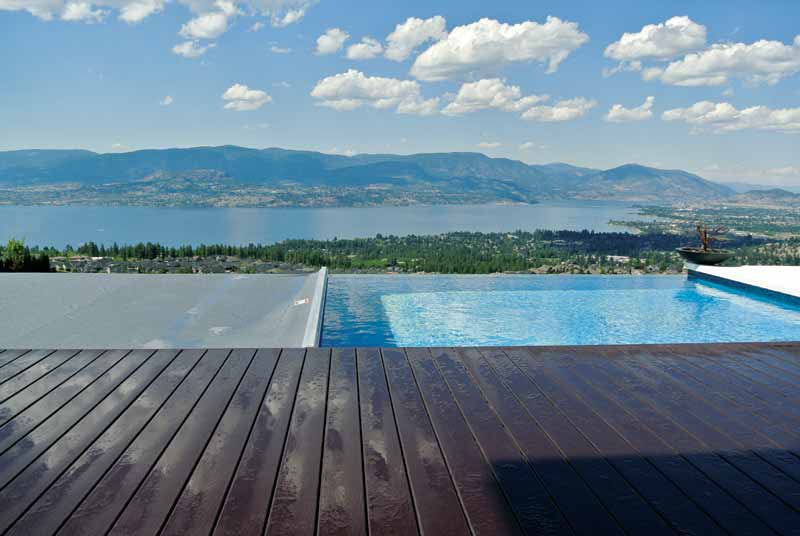 Automatic pool covers are quickly becoming the preferred option in today's marketplace. Not only do they allow pools to be easily opened and closed at the push of a button, but also provide protection for pools not in use. However, the installation of these covers does require a certain amount of technical skill. This is especially true when one is installing covers on vanishing edge pools.
Infinity pools are built for their esthetic qualities, and an auto cover is the perfect complement to the clean lines of water falling over the edge of the pool. However, a few variables must be considered when working with this type of pool design, such as water displacement, track height differential, etc. This article explains why expertise is key to successfully selling, designing, and installing automatic covers on these pool types.
Installation expertise is key
Becoming an expert in auto pool cover installation requires experience; it is hard to develop in-house talent working on just five covers a year. Unlike a pump or a filter, every installation is different.
"The first thing I tell builders and installers is 'yes,' it is possible to put an automatic cover on a vanishing edge pool," says Allan Horwood, owner of Pool Patrol in British Columbia.
Horwood is one of a growing number of professionals who specialize in the installation, service, maintenance, and repair of automatic pool covers. It requires even more know-how to install a cover on a vanishing edge design as compared to a standard rectangular pool.
Auto covers have very tight tolerances when installed on infinity pools. Errors can occur quite easily if the architect, builder, or installer does not fully understand the mechanics and physics of these covers.
"We made a few mistakes when we first started installing automatic covers on vanishing edge pools," says Horwood. "Therefore, it is really important to include your pool cover installer and supplier into the design discussion very early in the building process."
An auto cover complements the esthetics of an infinity design, but function is key to the product. Installers cannot put a cover on a vanishing edge pool and walk away, as it is critical to ensure the cover will function properly in the long run.
"It's all in the planning," says John Moss, pool safety consultant at Poolsafe in San Diego, Calif. "Pool builders must not make any assumptions about how the cover will be installed. There must be complete co-operation between the installer and the builder. This means, planning the structure together. An automatic pool cover is not the type of product that can be built first and fixed later."
Horwood says the first infinity pool auto cover he installed was more than 20 years ago and admits the process was long and involved.
"We stumbled through our first installation, but now we know the importance of providing extensive measurements, photos, and even videos to our cover supplier, so that we get the perfect fit," says Horwood.
Measurements are critical to the installation process, including those of the pool, the height of the vanishing edge, the distance from the top of the wall to the track placed on the vertical wall, etc.