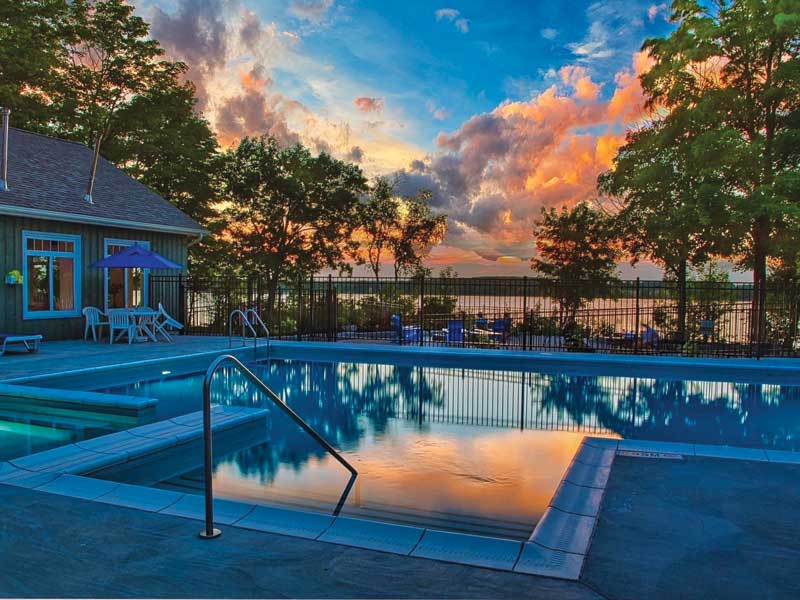 Owning and renting cottages has never been more popular than in recent times because of the COVID-19 pandemic as people are limited to where they can go and what they can do. This article spotlights the new adult pool Acapulco Pools Ltd. built for a resort called East Lake Shores (formerly Sandbanks Summer Village), a hidden gem in Prince Edward County, Ont.
This family orientated resort is one of a kind; it is home to a unique community of cottages owned by individual families as well as several rental units that are available to the public. Set on 32.4 ha (80 acres) of some of Ontario's most beautiful landscapes, this gated condo community is a place to escape the hustle and bustle of the city, to relax and unwind in the peace and serenity of mother nature. Located only 10 km (6.2 miles) from Sandbanks Provincial Park, this destination is one of the most sought-after in Ontario.
Another draw are the amenities the resort offers, including a family pool, adult pool, adult fitness facility, lakeside patio, open-air pavilion, basketball courts, clay tennis courts, shuffleboard, bocce ball, putting green, children's playground, fenced-in dog park, walking trails, boathouse, and pocket parks with fire pits to name a few.
A crucial timeline
Being primarily a summer resort, the completion of the new pool was, of course, crucial to the owners. The old pool had never served the community properly and needed to be replaced. The timeline was tight to get the old pool and hot tub removed, get the site prepped, and build the new pool.
Acapulco Pools was awarded this job in the winter of 2019-20 and, as a result, had to quickly spring into action to prepare the drawings and plan for the project. Work on site started spring 2020, just before the pandemic hit and lockdowns were put into place. Fortunately, the project was able to continue as it was a construction project that had already started—of course, with extra precautions put into place.
The design for the new pool was well thought out and 'massaged' throughout the early phases.  The owners wanted a pool that allowed for lap swimming, an area with benches and jets to encourage relaxing and socializing, as well as a grand staircase entrance facing the beautiful backdrop of East Lake.
Ensuring the pool was accessible to all was another important consideration in the design. To do this, a pool lift was installed on the deck, right beside the stairs. The owners also wanted the pool to be able to support games such as basketball, volleyball, polo etc., which were also factored into the overall design.