By Tim Martin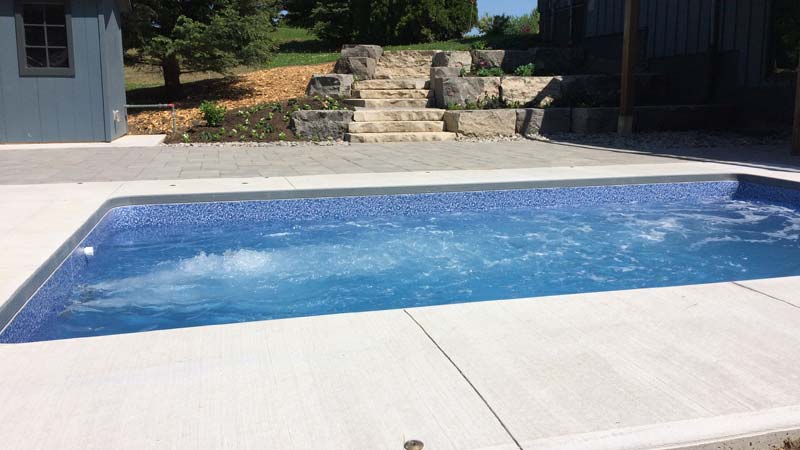 Lately, market trends show there is a large segment of homeowners who are looking for swim spas and/or pools, primarily for the purpose of aquatic fitness. While many homeowners have gone the swim spa route, smaller fitness pools (or hybrid pools), have also become extremely popular. In fact, Preston Owen, owner of Thornbury Clear Choice in Thornbury, Ont., is one pool builder who has met the need of this market segment by building smaller, vinyl-lined fitness pools that are equipped with a swim jet. This system pushes water through jet nozzles creating an initial flowrate of approximately 1500 litres per minute (lpm) (400 gallons per minute [gpm]) near the pool wall. Between 1.2 and 1.8 m (4 and 6 ft) from the pool wall, the flowrate of this water current increases to roughly 18,900 lpm (5000 gpm) to create the ideal environment for fitness swimming.
Recognizing market trends
According to Owen, many people are interested in lap pools, and there is a segment of the market—active middle-aged consumers between the age of 50 and 70—who would like to exercise by swimming. However, most of these consumers have smaller backyards and do not have the space to install a true lap pool, which are generally 12 m (40 ft) long.
"Fitness pools take up less space, take less time to build, and are more flexible in design, as they can be installed in sloping backyards," says Owen. "Further, the heating systems are smaller and more efficient, even the filtration is simpler. It is an energy-efficient pool, which is a trend that most consumers are highly conscious of today."
Owen's experience in the industry has enabled him to recognize these changes in the marketplace he serves. As a result, he recently decided to focus on selling fitness pools when speaking to clients who fit this market segment. The first such project he promoted and sold was a 4.2-m long x 8.5-m wide (14-ft wide x 28-ft long) pool that had a constant 1.2-m (4-ft) depth throughout.
"Having a smaller pool for fitness has many advantages," says Owen. "First and foremost they have a small footprint—in comparison to a traditional inground pool—which makes it easier to fit into most backyard layouts. It is also easier to install landscaping around the perimeter."
Fitness pools can be as small as 4.2 m long by 2.1 m wide (14 ft long x 7 ft wide), allowing them to fit in just about any size backyard, patio, or deck.
Case in point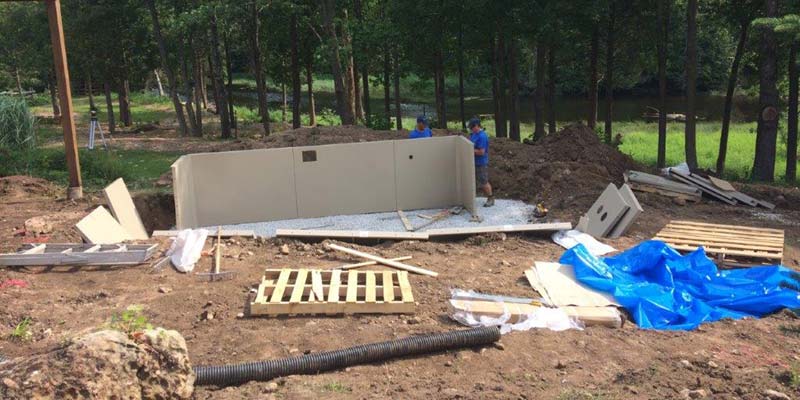 One particular pool Owen installed in Singhampton, near Collingwood, Ont., was very conducive to this type of pool because the property was small and located on a hillside. A large, pre-existing deck was built off the home and into the hillside. Taking this into consideration, the location of the pool was designed around the deck to unite everything with the home. Further, integrating it into the hillside did not present a problem, as hybrid pools offer the same strength as inground models. In most cases, their 1320-mm (52-in.) stainless steel panels do not require the construction of a retaining wall.
"The homeowner did not want to lose any functionality of the existing deck, as it was already central to their outdoor living space," says Owen. "So we built the pool right off the deck and into the slope of their backyard."
In this case, an excavator was used to carve into the ground to lower the pool's elevation so the pool surround would be level with the existing deck. This design avoided the need to add any unnecessary stairs, allowing the homeowner to access the pool from deck level.
"Although this age group is active, stairs can be a trip hazard for aging adults," says Owen. "Further, many people in this demographic are planning ahead with respect to the potential need of a wheelchair and/or pool lift, so it is important to design the pool area and its connection to the home accordingly."