By Jason Cramp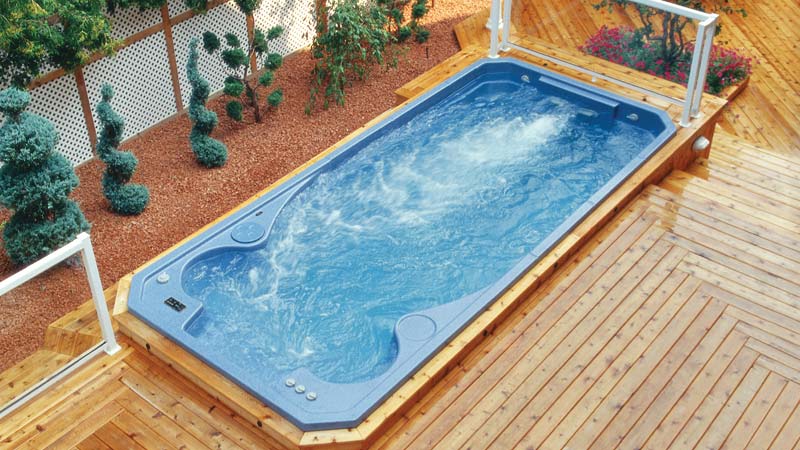 Although this homeowner in the small town of Shelburne, Ont., had a 6.4 ha (16-acre) property, they chose to install a swim spa, as it would enable them to perform a number of aquatic activities, including exercise, leisure, swimming, and a place to entertain outdoors.
To achieve these goals, Hydropool Retail Group in Mississauga, Ont., installed a 5.2- x 2.4-m (17- x 8-ft) swim spa that is equipped with swim nozzles that project an adjustable current from a gentle front crawl to a 100-m competitive swim pace without requiring the bather to turnaround. Adjustable thigh jets also use diverted water from the swim nozzles to keep swimmers centred in the water, while also providing a lower body massage and light resistance, which allows the homeowner to perform aerobic exercises. Ergonomic-jetted seating in two corners of the swim spa also provides a place for the homeowner to rest after an intense aquatic workout.
With young grandchildren frequently visiting the home, the swim spa's safety features, such as its shallow 1.2-m (49-in.) depth and moulded-in, easy-to-use steps and walls that are within arm's reach, were also important to the homeowner.
The flush-mounted swim spa is installed on the highest level of a multi-level wooden deck, which accommodates a 4.5-m (15-ft) drop from the back of the house, and overlooks a topiary garden on one side and a dining area below. Large, transparent safety panels, which mark the edge and side of the deck, offer bathers in the water an unimpeded view of the surrounding landscape.