By Gary Novitski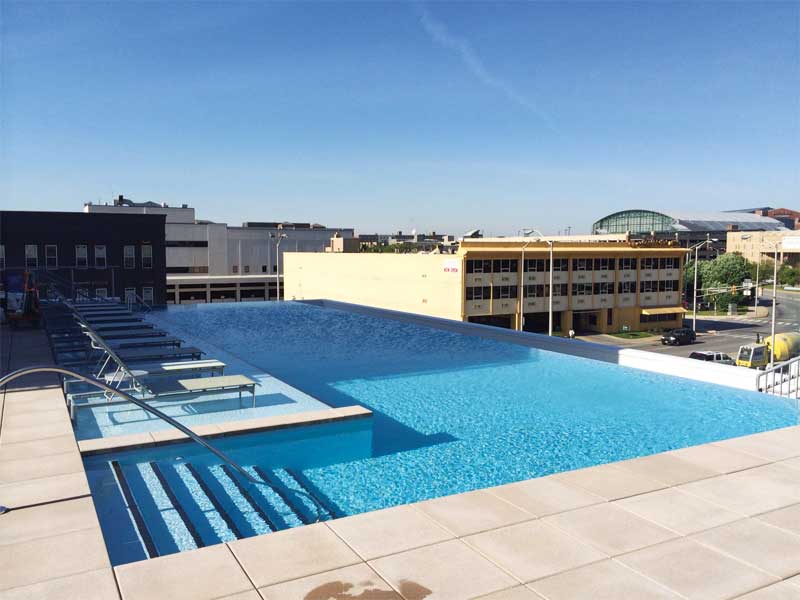 Artistry is a creatively revitalized mixed-use apartment complex in the Cole Noble district of downtown Indianapolis. Its architecture, modern features, and appreciation for the arts come from the community's history of craft and skill. The main building features five storeys of urban apartment homes and 6,317 m2 (68,000 sf) of commercial office space. Two additional buildings provide further living options to suit different lifestyles, including eco-suites for those who need minimal space.
One of the main highlights of this fun and creative development is its rooftop infinity pool, which is accompanied by a sundeck offering sweeping views of the city's skyline. This particular pool was constructed of stainless steel, a building material that was selected for many reasons, including speed of installation, structural strength, and minimal weight. The use of stainless steel also earned the building Leadership in Energy and Environmental Design (LEED) points.
The project
In residential developments, the pool often becomes central to the community. These projects are put out to tender and the aquatic facility portion is generally subcontracted to expert pool builders.
This particular project, run by MS Operation Center Partners, had a strict budget and timeline. The firm knew the client did not want a very large pool, but rather a design that would complement the modern, esthetic of the apartment building.
Milhaus Construction had already installed a stainless steel, elevated pool once before for MS Operation Center Partners on a different project and were pleased with the results. When the Artistry project came up, they leaned heavily on the pool manufacturer to take the lead on the design. After reviewing the overall look of the project and its urban setting, a vanishing-edge pool design was proposed and accepted. Because the residents of the apartments are mostly young professionals working downtown, the pool, which features walk-in-stairs, is more of a social gathering space, rather than a recreational facility. In addition to the vanishing edge, a large sun-shelf area was included where loungers could be placed in 152 mm (6 in.) of water, allowing residents to relax within the pool next to the deck.
The 6.1-m (20-ft) wide by 12.2-m (40-ft) long pool was installed on the building's third floor, allowing residents whose windows overlooked the feature to enjoy the vibrant atmosphere.