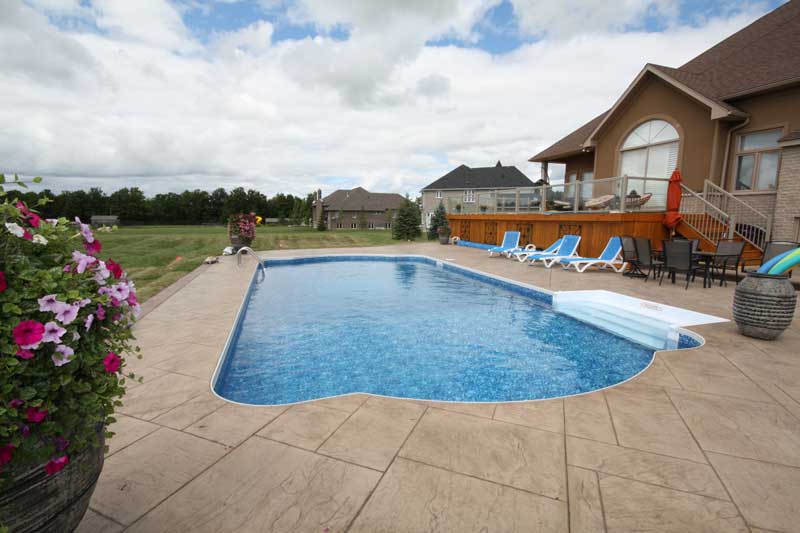 The design of this spacious backyard in an estate subdivision in the rural community of Mono, Ont., was intended to provide beautiful views from the nearby custom-built home, which is situated on a generous two-acre property. The homeowners also wanted a functional yet attractive recreational area, with room for entertainment, exercise and, of course, swimming.
A classic 5.4- x 11.5-m (18- x 38-ft) Roman-end pool was constructed by D&D Pools & Spas of Orangeville, Ont., using steel walls and a concrete bottom with vinyl liner. The walls feature full box support braces every 1.2 m (4 ft), with high-performance stone infill to properly support the large, stamped-concrete deck surrounding the pool. The tiles, which are both subtle and striking concrete, were provided by P.C. Tiles Inc., of Brampton, Ont.
The pool was designed with a 3-m (10-ft) depth to provide added safety for those diving and playing in the water, while the ample length of the pool allows more serious swimmers to do full laps. Steps at the side of the pool, which are also situated close to the back entrance of the home, make access to the house quick and easy.
The completed project serves to add an esthetically pleasing view from the home, while maintaining accessibility and adding a touch of elegance to the large property.
— Jason Cramp