By Jason Cramp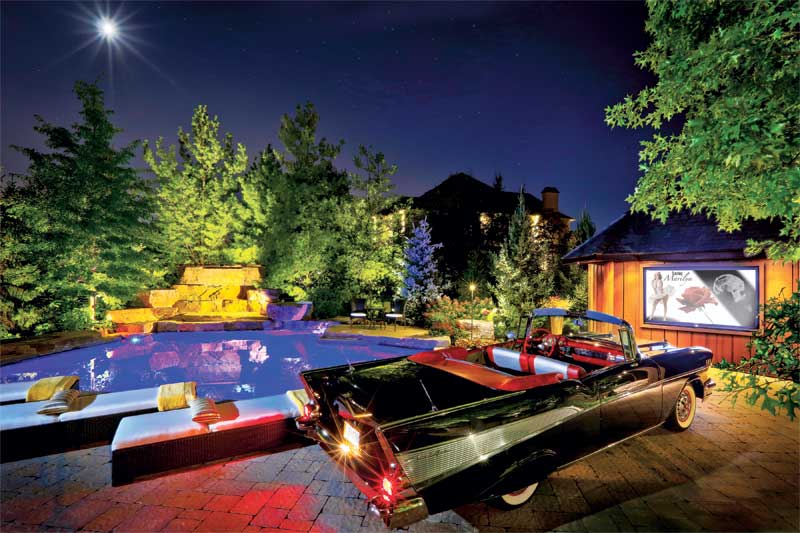 Mazza Landscaping of Kleinburg, Ont., the design and build contractor on this project, made sure it was one of a kind. The inspiration for this backyard landscape is based on the luxurious amenities of Las Vegas, where everything and anything is possible.
To do this, Mazza surrounded the property with several mature pine trees, each approximately 9.1 m (30 ft) tall, to create an intimate outdoor space. Nestled within the foliage is a grand poolside rock waterfall, which heightens the backyard's cottage in the wilderness atmosphere. To complete this environment, a 150-ton (336,000-lbs) crane was used to hoist mammoth 4.5-ton (10,000-lbs) pieces of Kawartha stone over the home to build the poolside water feature.
The waterfall is 2.1 m (7 ft) high and encompasses a 4.5- x 3-m (15- x 10-ft) area next to the 5.5- x 9.1-m (18- x 30-ft) concrete and gunite pool, which was installed by Paradise Pools. At its deepest point, the pool is 2.1 m (7 ft) and features a black floor with light-emitting diode (LED) colour-changing lights. Opposite the waterfall is a large cabana, which not only houses the pool equipment, but also includes a washroom and change room.
Auditory and visual components, installed by Remote Possibilities Inc., were also incorporated into the design to further enhance the functionality of the space. A 2032-mm (80-in.) screen was mounted on the side of the cabana and surround sound speakers and subwoofers were integrated throughout the backyard landscaping to allow the homeowner to watch their favourite movies while lounging on the deck or bathing in the pool. All of the features can be operated by the home's automation system, while a universal remote can be used to control Apple, Android, and HD cable for live sporting events.
As a final touch, the classic car, driven through one of the back garages, is often used to watch movies and is reminiscent of the drive-in theatre era.