By Jason Cramp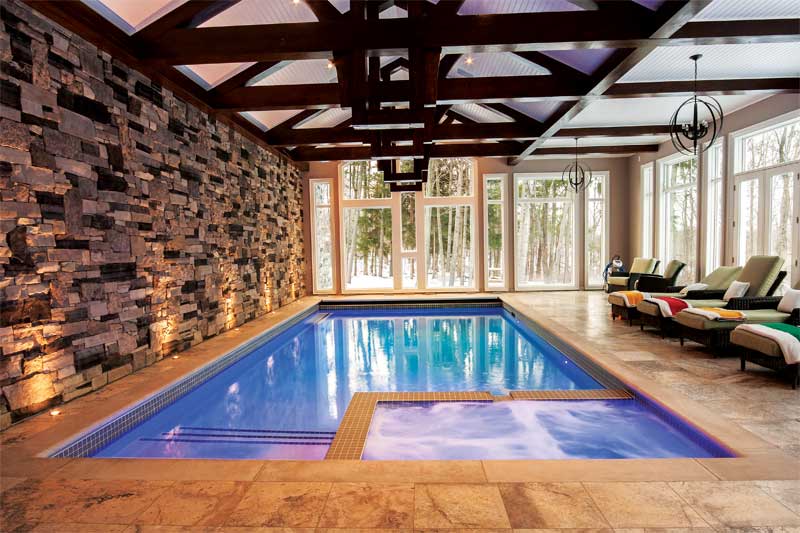 This is not a typical recreation room; this entertainment space includes a 4.5- x 9-m (15- x 30-ft) rectangular pool with a built-in 1.8- x 2.4-m (6- x 8-ft) rectangular spa designed and constructed by Oasis Pools Ltd., of Burlington, Ont.
The project, part of an extensive home renovation in Grimsby, Ont., encompasses a modern look with a rustic feel that took advantage of the wooded estate's surrounding vista. To accomplish this design, one wall—which flanks the pool and extends outdoors—was finished in stone and accented by LED lighting. Large, glass-paned windows and doorways along two sides of the enclosure allow natural light to flood the area, while large wood beam trusses support a vaulted ceiling above the pool.
The spa, which features flat-top walls and a trough spillway, was built into the pool's shallow end to ensure the space had a clean, sleek design. The pool includes a stairway, with one step built as a 660-mm (26-in.) wide lounge shelf accented by a LED-lit fountain nozzle. A swim-out bench was also incorporated into the deep end.
The pool and spa surface comprises a white marbelite plaster, while Porcelain tile was installed along the waterline in the pool, on the spa wall caps, and as a decorative detail on the stairs, swim-out, and spa benches. The pool coping features an Indiana-grey limestone, which complements the travertine deck. A sleek, charcoal-coloured automatic cover blankets both vessels, helping to control humidity and heat loss. A state-of-the art heating, ventilation, and air conditioning (HVAC) system, along with radiant in-floor heating creates a comfortable space. As an added feature, the room is also equipped with a video projector and a 2.4- x 4.3-m (8- x 14-ft) large screen above the pool's deep end, which retracts into the ceiling.
Allen & Chui Architects Inc., completed the architectural and interior design of the home addition, while Phelps Renovations built the pool and spa enclosure, with Four Winds installing the mechanical systems.