By Jason Cramp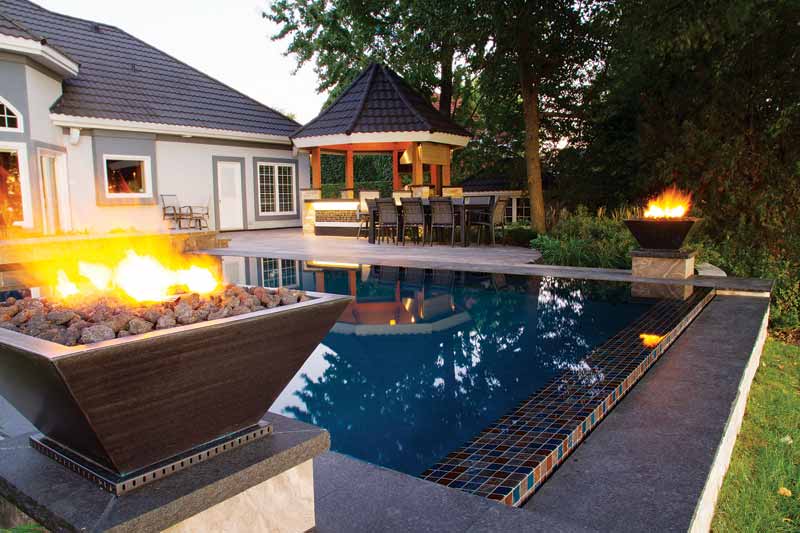 With a backyard located along the shores of the Ottawa/Gatineau River east of Ottawa, this homeowner was looking to update their vinyl-lined pool to take advantage of their property's incredible vista, which overlooks the river and adjacent protected wetlands.
To do this, however, the first task for Roger Willis Contracting, the designer/builder of the project, was to remove the existing vessel to make way for a 4.5- x 8.2-m (15- x 27-ft) cast-in-place concrete pool with a knife-edge perimeter overflow. The knife-edge consists of a pool wall that slopes away from the water's edge at a sharp angle, making it appear as though there is no true visible coping or wall.
Along with the perimeter overflow design, the client's view of the river was enhanced further by incorporating a vanishing edge. Before this could be accomplished, however, the elevation of the pool and patio had to be raised first. The landscape also had to be regraded to ensure the transition between the pool and river was seamless when viewed from inside the home.
The interior was finished with a dark blue coating to increase the reflective qualities of the pool's surface, while imported glass tile was installed along the perimeter, vanishing and knife edges, and step markers. The same tile was used to accent other backyard features to ensure a cohesive outdoor living space.
Energy efficiency and sustainable design were also integral to the project. This saw the pool completely insulated and equipped with variable-speed pumps (VSPs) with built-in timers, a backyard automation system, a rainwater collection reservoir, LED colour lighting, and an automatic floating slat cover.
A 'bridge,' which acts as a walkway connecting the patios on either side of the pool, also serves to conceal the cover. All patio surfaces were finished with 305- x 610-mm (12- x 24-in.) sandblasted Eramosa limestone pavers, while a combination of limestone and flamed black-granite coping stones were used for the steps, bridge top, and retaining walls.
A covered entertainment area, complete with outdoor kitchen, was also installed to complete the outdoor living space.