For this project, the excavator and skid steer had a 2.1-m (7-ft) wide access route between the houses, which is rare as 1.2 m (4 ft) are typically the norm in dense urban areas like this. Filter cloth and a double layer of 19-mm (3/4-in.) plywood was used to protect the existing interlock and flagstone pathways. The accommodating neighbour allowed four panels of their wood fence to be removed, along with a raised timber planter to provide a clear path into the backyard. These conditions existed for a little more than two months, afterwards the planter and fence were restored to as-new condition.
Co-operation amongst the different trades—from the pool builder, irrigation and landscape lighting supplier (Rain Gods), and green roof specialist (Sky Space) to the electrician, plumbers, carpenter, stonemason, tile setters, and landscaper (Pro-Land Landscape)—was essential to the project's success.
The outdoor furniture, designed and manufactured in Montreal, was handpicked from a local showroom. The furniture for the lounge area is made of a marine-grade light grey vinyl material with weatherproof foam, while a modern dining table and chairs complete the space. Additional seating for larger gatherings is integrated throughout the backyard, including space on the raised elevation of the hot tub.
The aquatic features
The 4- x 11-m (13- x 37-ft) custom-concrete pool, installed by BonaVista Ltd., in Markham, Ont., has a 1-m (3.6-ft) shallow end and a 2.4-m (8.6-ft) deep end. A 457-mm (18-in.) deep shelf, in addition to six piers for the stepping-stones, is located along the wall in the deep end. Underwater lights are incorporated into both ends of the pool to provide illumination at night. The pool's equipment pad comprises a 635-mm (25-in.) diameter sand filter, an energy-efficient pump, 400,000 British thermal unit (Btu) natural gas heater, and a salt chlorine generation system. Other features include an automatic water filler and pool cleaner.
The raised, attached concrete hot tub is 3.3 m2 (36 sf) and shares the mechanical equipment from the pool. It can be operated year-round via remote control. Kitty-corner to the hot tub is a 3.6-m (12-ft) long elevated wall, which is 762-mm (30-in.) high and features a 1.8-m (6-ft) sheer decent.
The waterline tile and exterior of the hot tub are finished in a bold, matte black ceramic tile with a black granite bullnose coping that creates an eye-catching artistic contrast with the white tile used for the raised water feature, floating outdoor kitchenette, and bar top.
McCuaig specified the black waterline tile on the interior perimeter with a charcoal marbelite.
Feature-packed small backyard oasis
An award-winning finish
The client spared no expense and asked for the finest quality of all elements. With a generous budget, a talented team of passionate trades, and a designer who recommended beautifully balanced elements complimented by warm, rich finishes, this project not only provided the client with an outdoor experience similar to an exotic resort, but also earned BonaVista Pools Ltd., a 2017 Landscape Ontario Award of Excellence in the 'Construction—water features' category.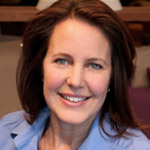 Jennifer Gannon is a second-generation business owner who operates BonaVista LeisureScapes, an outdoor living store in Toronto. She studied English at the University of Western Ontario and has been with BonaVista for more than 15 years before and after a career as an account director at two Canadian advertising agencies. The company is a family-owned and operated business with more than 45 years of experience in custom concrete water projects, backyard spas, and water features. She can be reached via e-mail at jennifer@bonavistapools.com.