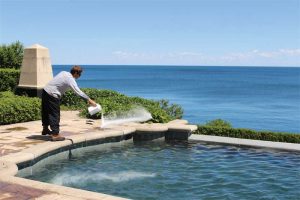 Shocking the pool is a water treatment process every pool owner and service professional has done. Some homeowners who have done it before (whether themselves or had a service professional do it) probably know it needs to be done again. This article not only answers the question of why it needs to be done, but also explains why it is important to do come closing season.
Due for a shock
A daily oxidizer (typically chlorine or bromine) needs to be added to pool water to kill and inactive germs, bacteria, algae, and other pathogens. For the average pool, this level is a super low amount of two to four parts per million (ppm); for spas the level is a touch higher at three to five ppm. If this was all one needed to do to take care of their water, then pool maintenance would be super easy. That said, upkeep is easy for a commercial pool with feed pumps and monitoring systems; however, that is beyond the scope of this article. This article will focus on residential pools and those who aid in their upkeep.
The reality is pools are going to be used and, when they are, a slew of new contaminants and wastes are then introduced into the water. The moment these added wastes are introduced into the pool, the water's oxidizing agent immediately starts to go after these wastes. On top of the mere introduction of these wastes, oxidizing agents will remove them at different rates. For example, 59 mL (2 oz) of sweat is going to breakdown quicker than the same volume of urine.
As the pool continues to be used, pool and air temperatures rise and, as the contaminant load from the pool being outdoors increases, the oxidizer can get quickly overwhelmed. Once the oxidizer (again, typically chlorine) level declines, the pool becomes open to the common unwanted water conditions such as algae or fungal growth or cloudy and smelly water.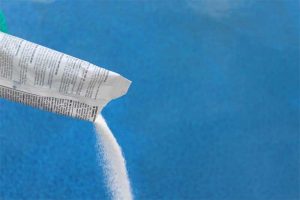 Culture shock
Shocking (often called oxidation, the terms are often used interchangeably), in relation to recreational water care, is the cleaning of water chemically. In other words, shocking is performed to scour the water of bather wastes, outside contaminants, and more. Those contaminants could lead to poor water quality but could also lead to the formation of combined chlorine (chloramine), which may require more shock to remove from the pool.
For many who take care of recreational water, their go to when performing this type of water cleansing is to add a chemical that contains chlorine. Chlorinating shocks are good choices because not only an oxidizer is being added to the water, but also a sanitizer which will knock down bacteria and algae counts.
The downfall of chlorinated shocks is they lack the ability to remove organic chloramines quickly, and frequent and repeated shock treatments can lead to the formation of undesirable disinfection byproducts.
Another option is using a shock without chlorine. Keep in mind, when using a chlorine-free shock no sanitizer being introduced to the water. Since there is a lack of a sanitizer, it is a poor choice for solving more technical or complicated problems such as algae outbreaks.