By Eliatt Di Lieto Jr.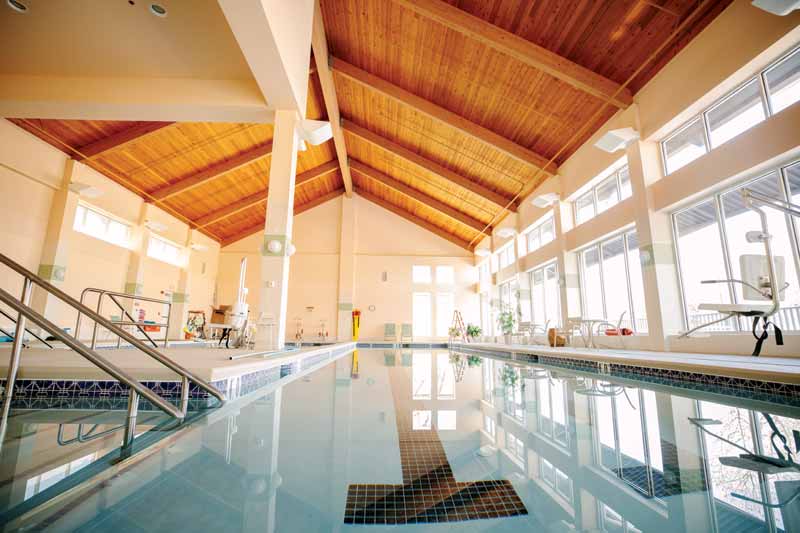 An all-inclusive community moving toward higher efficiency and green technologies came to Tom Soukup, owner of Pennsylvania-based Patriot Water Heater Co., and a specialist in hydronic heating across a wide variety of applications, looking for ways to transform their existing pool heating system. They were very mindful and dedicated to bringing sustainability to their facility. The community installed light-emitting diode (LED) lights and even used geothermal heating and cooling for much of their infrastructure.
One thing they were looking to improve in particular with this upgrade was the efficiency of the pools in their community centre. Although a very small percentage of residents used the pools, they did so regularly: for exercise, therapy, or simply enjoying the amenities they paid for. Given the facility's importance to bathers, Soukup and his team came up with a design, which ensured minimal downtime, redundancy, and energy savings.
Preparing to take the plunge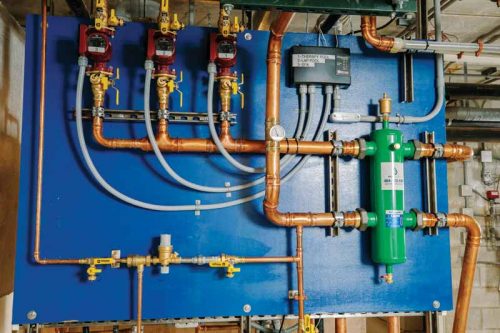 The community administration went over a few steps with Soukup to ensure the new, updated design provided maximum comfort to bathers. They also collaborated with an architect to update the face of the facility and its filtration system.
The community housed a 117,348-L (31,000-gal) lap pool, a 79,494-L (21,000-gal) therapy pool, and a 4921-L (1300-gal) swim spa. Although, the view was perfect and the water crystal clear, the pool heating system often ran into issues.
According to the facility's original layout and engineering, each pool was heated independently. The plan was to replace the existing heaters—one of which was failing—with updated models. This is a standard renovation process, and most communities are willing to reinvest in upgraded equipment.
Along the course of the makeover, Soukup was informed there were further problems with the system. The heaters broke down often, requiring costly, unexpected maintenance every now and then. The system had no backup either. If the lap pool heater failed, the pool had to be shut down, which in turn led to unhappy residents.
The facility's existing system contained proprietary direct fire heaters. This meant the equipment parts were specific to the brand, and it was difficult to find local suppliers to provide those on short notice. As a result, equipment malfunctions led to longer downtimes.
After hearing about these problems, Soukup knew it was time to think outside the box. Not only was it important to help the client upgrade their heating system, but it was also necessary to provide them with the peace of mind and efficiency they were looking for. That said, hydronic heating seemed to be the answer.
Regular pool heaters do not complement cold-climate pools. If a standard unit heats water at a low temperature, the system can fail prematurely. With an indirect hydronic solution, water temperatures are irrelevant—if it is in a liquid state, it can be heated.