By Mike Fowler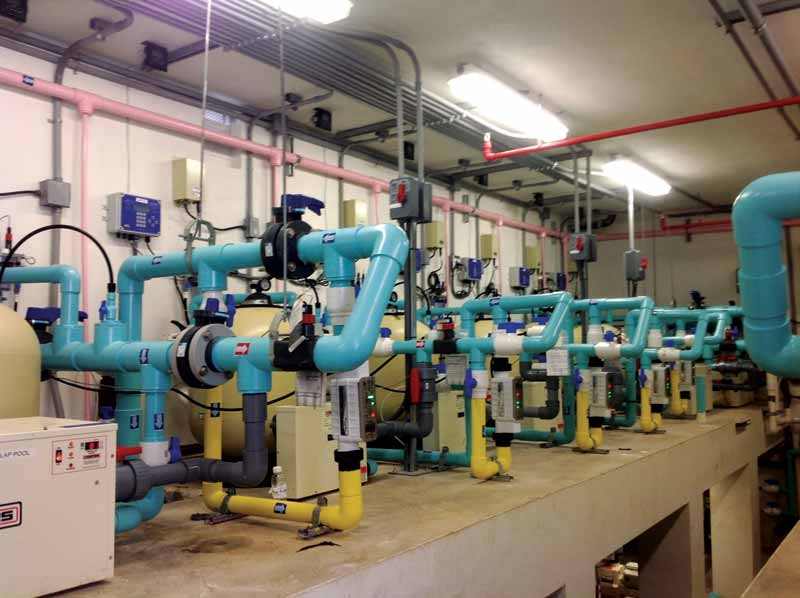 Pumps and filters are amazing pieces of pool equipment that perform critical roles in the successful operation of an aquatic facility. These products are continually being improved upon to offer greater efficiency, which ultimately reduces operating costs and water usage.
To maximize the features and benefits of this equipment, it is important installers select the right size and place each piece correctly—both in relation to each other, as well as to the pool itself and other on-site aquatic features (e.g. splash pads, water fountains). This article will discuss best practices for designing aquatic facility pump rooms, with a focus on efficient operations and maintenance.
Size and location considerations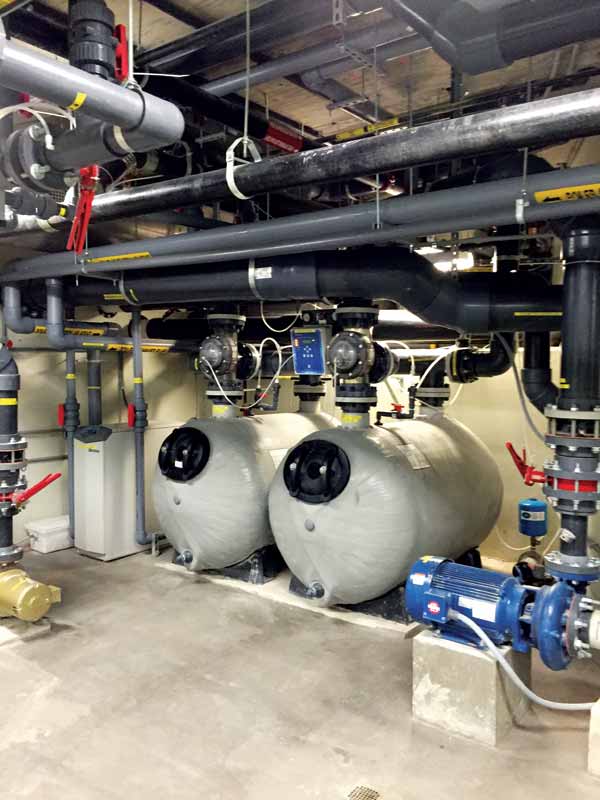 When planning an aquatic facility, designers and installers should create a functional equipment room that provides operators with proper access to all components. It is especially important that there is sufficient clearance around and above this equipment to allow for ease of service. These clearances are also key in ensuring proper ventilation—a factor that is often overlooked during the planning phase and can result in problems that could have been avoided. Further, it is also important to ensure proper ventilation for heaters placed in the pump room for air intake and exhaust purposes.
A pump room's location relative to the body (or bodies) of water being treated should never be overlooked. While some facilities may prefer to hide the pump room far from the pool or splash pad, bringing this equipment closer will make the overall system much more efficient. Keeping the pump room close to the body of water might also allow the facility to use a smaller pump or even smaller gas lines for the heaters. This is because equipment placed a distance away could result in a higher total dynamic head (TDH), creating the need for more or larger pumps. Further, when it comes to heaters, employing longer gas lines requires larger pipe, which leads to higher installation costs.
When planning the location of a pump room in relation to the facility's pool(s), plumbing is also a consideration. If a builder is using multiple pumps for circulation on a project, it is imperative to ensure the pool's plumbing is hydraulically balanced. It is also important to minimize the number of turns in the system and balance all plumbing lines when it comes to suction and return systems.
Commercial aquatic facilities with recirculation systems also have special plumbing considerations, especially when used for splash pads. Again, installers must plan plumbing systems that are hydraulically balanced so the pump can produce the flow needed to reach the body of water. This will ensure the equipment will operate correctly. Additionally, if the commercial system uses ultraviolet (UV) light, which is common for splash pads, builders must ensure this unit is installed correctly and receiving the flow necessary for proper sanitation. Variable-frequency drives (VFDs) often play a key role in pumps used for spray pads to ensure energy efficient operation; therefore, it is important this equipment is sized correctly. Further, VFDs can malfunction if not properly protected from weather, especially when installed outside a pump room.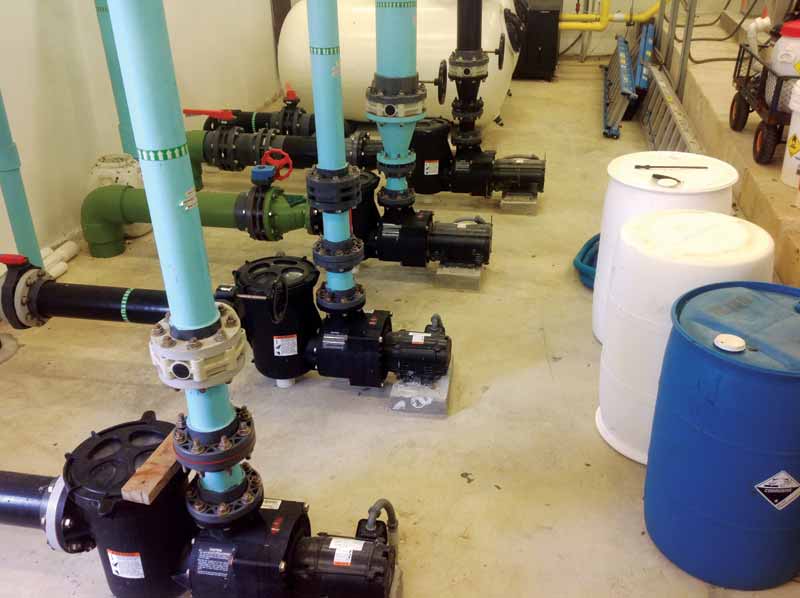 As far as best practices are concerned in terms of types and sizes of plumbing, most professionals use schedule 40 or 80 polyvinyl chloride (PVC) pipe used depending on specification. As a rule of thumb, installers commonly keep flowrates at 0.2 m/s (7 feet per second [fps]) or less.
Filter considerations
The closer the filters are to the main circulation pump, the better. In regards to the filtration system, the key is to size it based on the proper filtration rate, typically 56 litres per minute (lpm) (15 gallons per minute [gpm]) per square foot. Once this has been determined, how and where the horizontal filtration tanks will be placed can be decided. Depending on the size of the pump room, these can be placed side-by-side or stacked to allow for more free space in the room.
The question of 'to stack or not-to-stack' can best be answered by considering future servicing; the room should be designed with enough space to allow for easy access to all equipment. When installing multiple vertical tanks, sufficient space should be left for the filters, as well as their manifold piping. Installers should also be sure the backwash line is large enough (and placed properly) to handle the flow needed for proper backwashing of filters.
Installers should also remember filters sometimes need to be replaced. This access should be considered, as well as the proximity to entryways and electrical outlets.
Additionally, the size of the butterfly valves used on filter manifolds cannot be overlooked. Installers need to know the plumbing sizes to properly size these valves. If the system is a semi-automatic or automatic backwash system, the valves (e.g. diaphragm valves) should be sized to match up with the manifold piping, while any others in the system (e.g. check valves, ball valves, actuator valves) must be sized to handle the flowrate needed by the filter.