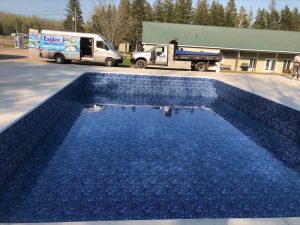 Eagles Pool Services first opened its doors in 2007 and has slowly evolved into a thriving business. With eight more employees jumping into the industry over time, the company has fully committed to providing installation and service for pools, spas, and hot tubs.
Pool & Spa Marketing recently spoke with Cory Eagles, owner of Eagles Pool Services in Riverview, N.B., to learn more about the shop's culture, some recent projects they have been working on, how the industry has been affected by the pandemic, and what he sees for the future of the business.
Pool & Spa Marketing (PSM): What makes your company unique?
Cory Eagles (CE): The one thing I seem to do differently from other companies is, I usually meet up with the customers at their houses, do site checks, as well as talk with the customers from the start. So, we tend to be more personable with our customers. We're more project co-ordinators than just pool installers. We work well with subcontractors and help to co-ordinate the jobs. We seem to have the go-to people who work well with us.
PSM: How large is your shop?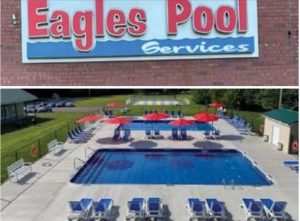 CE: Our retail space is about 78.97 m2 (850 sf), which is sort of a small space. We also have a personal garage space where we keep overstock and those sorts of things. Our service guys are usually the ones who start there in the morning, and two of our employees run the showroom.
PSM: What type of pools and hot tubs do you primarily install?
CE: We primarily install vinyl-liner inground pools, as well as some fibreglass, and for spas we install Jacuzzi hot tubs.