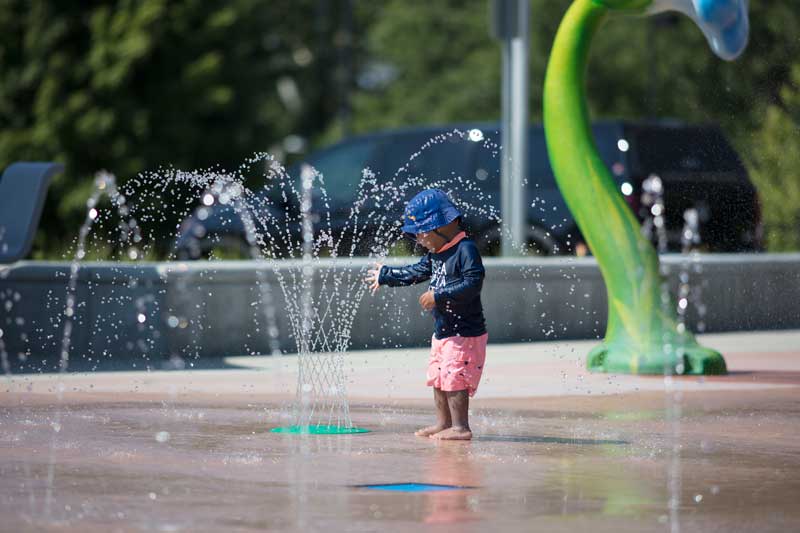 Although many commercial pools and splash pads have been forced to close during the pandemic, savvy facilities have been using this time as an opportunity to do much needed maintenance or even embark on renovation projects.
Forward-thinking aquatic managers realize planned renovations will help them bring patrons back once they can reopen. New spray-and-play water features, slides, and poolside climbing walls provide multiple thrill levels to a wide range of ages. By creatively reassessing aquatic facility space and capitalizing on existing plumbing and pumps, facilities can quickly create a renovation plan to bring back old patrons and reach out to a larger group of new customers to quickly increase attendance and boost profits.
Getting started
In most cases, aquatic facilities start exploring ideas when they know it is time to resurface slides or re-paint water features. In some cases, if there are deteriorated features that need to be removed, it is the perfect opportunity for facility managers to consider what options they must put in its place.
"A large part of what we do as consultants and designers is bring awareness to the many things that can go in the place of aging features," says Cory Anderson, aquatic consultant, and owner of 80 West Group in South Carolina. "We like to provide options that not only fit within the client's budget and timeline, but also give the facility something new with a big 'wow' factor to attract patrons."
There are hundreds of options available, but not all facilities have the space, budget, or time needed to perform huge renovations. It is important to evaluate the site to determine what can be easily incorporated to get the best return on investment (ROI).
"Because of the popularity of large waterparks, aquatic facilities are trying to emulate them by bringing small-scale versions of what people experience at Great Wolf Lodge," says Anderson.
In fact, he believes any renovation should strive to transform the space into a community's central attraction. Aquatic directors realize the 'waterpark' model has the potential to attract patrons of all ages, which can truly revive a facility.
Designing around existing plumbing, pumps, and feeds
One of the best practices in splash pad and/or waterpark renovation planning and design is to begin with a reverse-engineering perspective.
"We often begin working on our designs by determining what water lines, plumbing, and pumps are already there and design around it, when possible," says Anderson.
Maximizing untapped potential is the most efficient way to quickly determine renovations that will provide varying levels of user interaction.
"We frequently find an aquatic facility has a large feed with a feature pump and stable feed line, so we use that as our design launching point," he says.
When looking at older facilities, many will have a single water feature that only serves one age group and no longer provides a thrill for other potential users. One of the fastest, simplest renovations involves removing the older component, but using the water feed to create a multi-level play structure. This includes choosing a series of water features that fit in the same space but cater to various age groups—from toddlers to tweens.
"I've done several projects where I have removed an old water feature that typically pushes 1325 litres per minute (lpm) (350 gallons per minute [gpm], and then we have redistributed the same water to a multi-level water play structure that can be bolted on to the pool deck—using the same existing feed and pump," says Anderson. "We try to minimize the infrastructure costs, use what is working, and provide them with an exciting feature with new play components to promote their facility."
Shelley Robinson, the Northern Alberta & Northern Saskatchewan territory manager of Park N Play Design, an Alberta-based supplier of indoor and outdoor custom play spaces, says her group is seeing new parks are now planning their designs for future renovations.
"In the early stages of planning, new parks are now being engineered and built with future retrofits in mind, which offer the ability to easily change out the toys above-grade," says Robinson, who is also a certified inclusive playground design educator.
For example, the mechanical systems are being designed to allow for a simple ground spray to be updated to a dumping bucket, she says.
"Planning the piping and water pressure allows us to change out the spray elements from the top of the finished surface, reducing possible damage to what already exists," says Robinson. "The majority of splash park manufacturers offer above-grade mounted spray toys which makes this type of renovation simple, without damaging the infrastructure."