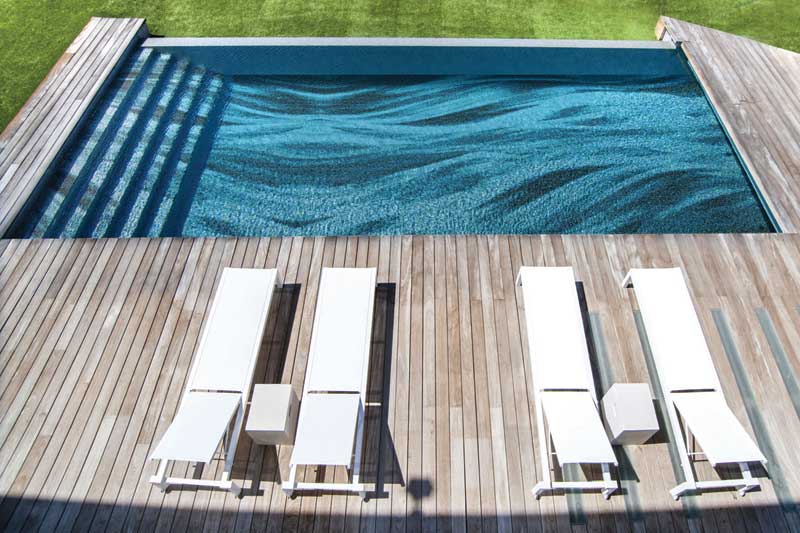 In 2020, and continuing into 2021, everyone spent a great amount of time in their homes due to the COVID-19 pandemic. Through this time, homeowners have become increasingly familiar with the spaces in which they reside. This includes coming to notice features and functions that define the interior and exterior design of the rooms in which one works, as well as the backyard where they relax and entertain. This time has also shown the limits of these spaces as many of the other places one has typically frequented over the years are not available or open at present.
Swim clubs and public pools are no exception, as many are closed entirely or open in limited capacities. These popular aquatic facilities were unable to provide refuge from the heat or offer endless entertainment for families and individuals. The result? An increase in installation inquiries for residential pools, as well as renovation requests for existing pools. The market for residential pool installation and design increased significantly and is on the path for further growth this year.
The future shape of the pool
As with this past year, changes are afoot when it comes to pool design preferences. In contrast to timeless silhouettes, such as the classic kidney-shaped pool, smaller soak or plunge pools have increased in popularity. The shape and scale of these pools will become increasingly desired by clients, as they are ideal for small spaces or for those looking to upgrade their outdoor space without a significant alteration to the integrity of their property. In many cases, this reasoning leads not only to an increase in the desire for plunge-type pools, but also for the design to mirror its surroundings. In the installation, these pools are geared toward large-format tile designs, which blend with an adjacent patio.
For homeowners looking for a larger pool, 2021 will likely see more pools outfitted with thermal ledges. Offering a separate identity within the pool, these ledges, or 'sun shelves,' provide a shallow soaking area perfect for lounges and tables. Thermal ledges, as well as their equally trendy counterparts, rain descents and swim-up pool bars, are set to emerge further into design conversations from a number of angles.
Notably, the shallow nature of a thermal ledge provides an optimal opportunity for a customized tile design. Patterns at the forefront are shifting more toward organic, biophilic-inspired motifs that emulate and celebrate nature. Sedimentary rock-inspired patterns that showcase the contour of geodes are included in this trend, as are designs mimicking the crystalline-structures of agate minerals.
The directionality of this trend is related to a desire for a pool that blends into the existing landscape. The design is seamless and appears as though it naturally connects with the surrounding environment.
Homeowners who are looking for a bolder, statement-like design are moving toward larger-scale, graphic, and geometric tile patterns. These patterns, often modular in concept, are also a popular trend in the aforementioned feature elements of the pool such as thermal ledges, waterwalls, and even hot tubs.