By David Monk
In the past, accessible pool and spa design (along with the related access products) sometimes had a sterile, institutionalized appearance. To some, providing accessibility at these pools and spas may have seemed more like an afterthought. Today, however, this is all changing, as pools and spas at resorts, hotels, city-run facilities, and universities are being designed and built with inclusivity and beauty in mind. Accessible design (entry/exit ramps) and pool/spa lifts are now being integrated to co-ordinate with an aquatic facility's esthetic appearance.
In fact, some aquatic facility designers and builders are able to create accessible pool and spa environments using colour co-ordinated rails and lifts that are compliant with the city of Ottawa's Accessibility Design Standards (ADS), which were developed under the Ontarians with Disabilities Act, 2001 (ODA), the Accessibility for Ontarians with Disabilities Act, 2005 (AODA), the Canadian Standards Association (CSA) B651-12, Accessible Design for the Built Environment, and the 2010 Americans with Disabilities Act (ADA) Standards.
Starting with rails
The 'beautification' movement for aquatic facilities got its start with pool rails. It began when designers put together impressive pool and spa plans, but were limited to using institutional-looking rails and ladders. This was the main complaint echoed by architects and engineers as their modern facility designs looked disjointed when using outdated handrails and ladders.
This quickly became the starting point for the development of designer rails and ladders. The first step in the evolution of new rails was shape, followed by colour. In fact, some designers use materials that are either powder-coated or have a thermoplastic-coating to create a matching colour scheme throughout an aquatic facility. In most cases, the colour is determined by the materials used to finish the pool deck. Many builders and designers throughout Canada and the U.S. were immediately receptive of the powder-coated colour options in granite grey and tan that complement the coping stone and deck colour treatments being used in today's aquatic facility designs. These rail coatings provide other benefits such as being less hot to the touch (at outdoor facilities) and offer additional grip for those using the rails to enter and exit the pool and/or spa.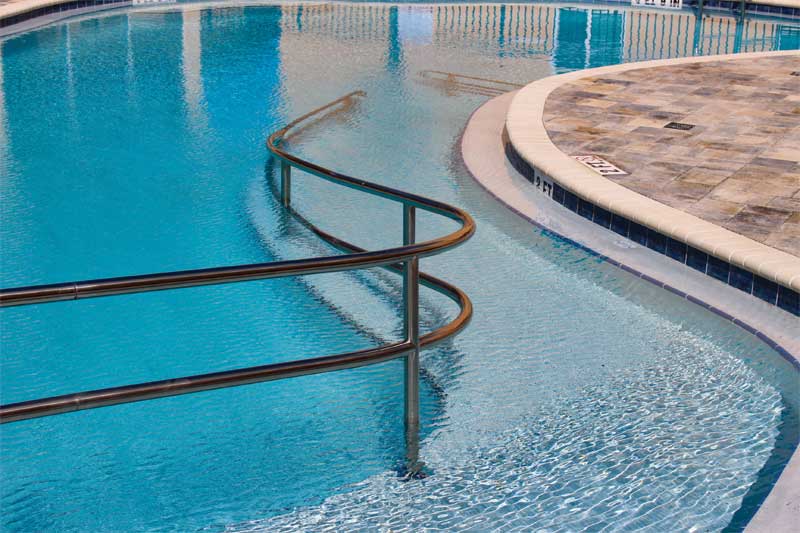 Shortly after the rise of colour co-ordinated rails, manufacturers started offering 'designer' rails with interesting curves and profiles that are visually appealing. These rails fit into standard anchors, making it easy to give a facility a quick face-lift by simply replacing all of the old rails and ladders.
These are perfect for aquatic facilities with rusted pool and spa rails, as they can be easily upgraded to enhance the look of the venue. At the same time, builders can also take the time to examine and enhance accessibility by adding rails to other areas of the pool and/or spa. Accessibility standards, whether national, provincial/state, and/or local, require rails and ladders to be placed in specific locations.
The more important development in recent years was the introduction of 'designer rails' for pools and spas. These rails combine the functionality required of the rails and ladders, but are stylish in their design, making them immediately more attractive. These rails received and overwhelmingly positive response, especially by architects and engineers looking for an attractive rail option to beautify their aquatic facilities. In some cases, installing chic designer rails can be one of the fastest ways to transform the appearance and accessibility of a pool and/or spa. Not only do they provide a modern look, but they are also just as functional and safe as traditional rails. The rail goods specified today are created to enhance the look of the pool, making accessibility stylish as well as functional.