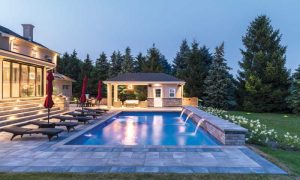 This backyard retreat built by Land-Con Ltd. of Concord, Ont., comprises a massive pool complete with elegant water features, and a fully furnished cabana, evoking the 'wow' factor the client was seeking.
The Kleinburg, Ont., homeowner wanted an entertainment area for their large family, where they could relax and unwind—a space that allowed a seamless transition between the interior and the exterior. After a thorough brainstorming session with the owner, the Land-Con team adjusted the initial design presented by the client to create one that aligned with the latter's needs, and also assisted in selecting materials and finishes.
What started out as a three-season loggia extension, soon grew into a much larger project as the team started to build. During the construction process, the client decided they wanted the structure to be a four-season room. This meant insulating and heating the floor, as well as the roof, and increasing the thickness of the bi-folding glass doors to keep in the heat.
The project involved a lengthy permitting process achieved through multiple revisions and engineering stamps. The site, too, presented a few challenges, such as difficult house contours, which made it tricky to fit the roof against the house. However, with careful planning, the Land-Con team was able to successfully work around those problems.
The highlight of the landscape is the 60.4-m2 (650-sf) loggia, which makes for a magnificent backdrop to the other design elements. The planters flanking the sides of the 9.1-m (30-ft) wide staircase frame the extension and create a grand entry.
As one walks in through the front door of the house, they are immediately greeted to the warmth of a double-sided fireplace. The bi-folding glass doors of the loggia offer unobstructed views of the 6.1- x 12.2-m (20- x 40-ft) pool. A low-lying stone wall, which separates the pool from the lawn, features three sheer descent waterfalls that complete the look of the installation.
The deck surrounding the pool features both covered and open spaces, perfect for lounging and intimate gatherings. The 5- x 10-m (16- x 35-ft) sheltered cabana offers an additional seating area and features a bathroom and shower. The outdoor living space also includes a kitchen and a firepit.
—Jason Cramp