By Jason Cramp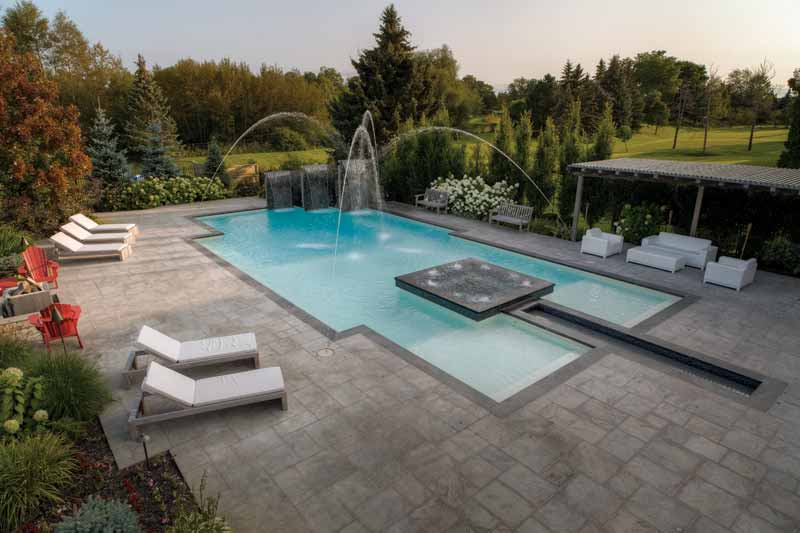 To bring this homeowner's vision of the ultimate outdoor living space to fruition, Lido Pools in Markham, Ont., was enlisted to design this project where style meets function.
Unencumbered by budgetary, spatial, or design constraints, the underlying motive was to showcase the beauty and perfection of math and physics. The design integrates the proportions of the golden ratio (a common mathematical ratio found in nature, and when used in design, it fosters organic and natural looking compositions that are esthetically pleasing to the eye) to feed curiosity, while stimulating the senses with audible and visual cues.
To accomplish this, Lido Pools designed/built an 8.5- x 17-m (28- x 56-ft) multi-form geometric vinyl-lined pool with perimeter laminar deck jets, built-in spillover concrete hot tub, and detailed surround. On approach, one's eye is drawn to the fast-moving water rushing towards the hot tub in a channel constructed of uneven flamed granite. The channel appears to feed the hot tub to create the effect it is raising the water level to overflow 360 degrees.
The hot tub is finished in glass tile and features book-matched granite slab seating, a peppered-granite coping weir top, and colour light-emitting diode (LED) lighting. The pool interior includes symmetric entry steps and ledges, 9.7-m (32-ft) long seating bench, variable water depths, and a jumping pit deep end flanked by safety ledges.
A water feature comprising three giant slabs of vertically mounted granite, each increasing in height (1.8 to 2.1 to 2.4 m [6 to 7 to 8 ft]) as each piece is positioned forward, anchors the far corner of the pool. Each slab extends 254 mm (10 in.) into the water and has an illuminated sheer descent waterfall pouring from atop.
Other amenities in the backyard include a natural stone deck, firepit and surround, detailed wood pergola, and a large, multi-room cabana all accented by strategically placed LED lighting.