By Jason Cramp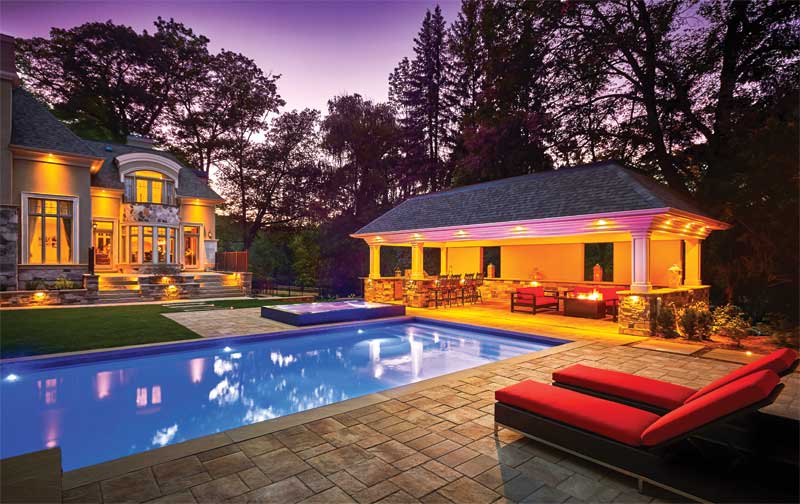 This pool and backyard landscape was designed and built to complement the new home that was being constructed on the mature property. With this in mind, the pool builder collaborated with other landscape design and build firms to ensure all elements of the project had a classical, timeless design.
The pool and spa are the heart of the backyard, which are complemented by a large cabana, featuring an outdoor kitchen, barbecue, and bar area, along with a lounge area equipped with an iron fire feature. As these elements were to serve as the family's entertainment hub, they not only had to be functional, easy, and economical to maintain, but also visually appealing.
To install the 4.8- x 11-m (16- x 36-ft) rectangular gunite pool and attached 2.1- x 3-m (7- x 10-ft) spa, an old existing vinyl pool had to be removed first. Part of the pool structure also serves as a retaining wall to facilitate grade changes on the property.
The new pool was designed and built with a gradual depth—from 1.1 m (3.6 ft) to 2.4 m (8 ft)—and features full-width elegant stairs across the shallow end and a 1.5-m (5-ft) long swim up bench constructed in the deep end which also serves as an exit point, in lieu of a ladder.
The pool's coping comprises natural stone and the border consists of porcelain tile, while the interior features a Quartz plaster teal crystal finish. All finishing aspects of the pool and surrounding landscape were carefully selected to create one cohesive space, while giving each element some character and contrast from one another.
An automatic safety cover was also installed, which offers the family the added benefits of increased safety, ease of maintenance, and increased energy savings (by preventing heat loss and water evaporation). When closed, the cover is housed in an underground vault, which is cleverly disguised by lids finished with natural stone that match the pool coping.
The spa is elevated 406 mm (16 in.) above the pool grade and features a four-sided vanishing-edge to create a stunning visual focal point in the yard. It is equipped with an auxiliary booster pump and an air blower for the jets. An automation system allows the homeowner to easily control every backyard feature via smartphone or tablet.
Oasis Pools Ltd., worked with Greer Design Group (Dundas, Ont.) and Seferian Design Group (Burlington, Ont.) as well as The Beaudry Group (Burlington, Ont.) to complete this installation.