By Jason Cramp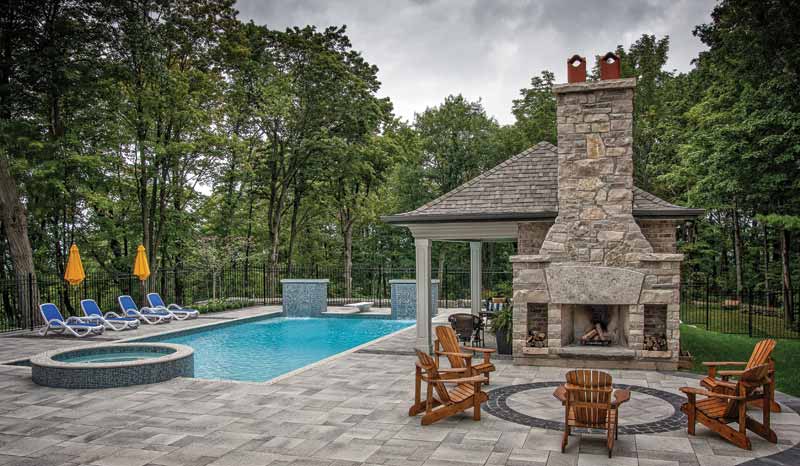 This sleek, simplistic, and streamlined backyard project by Oasis Pools Ltd., in Burlington, Ont., was carefully designed to provide this Grimsby, Ont., homeowner an enjoyable, three-season entertaining area, complete with outdoor kitchen and fireplace, making it perfect for dinner parties, and large gatherings.
To do this, Oasis Pools collaborated with the client and other contractors involved in the project to create various elements, which all work in harmony to create a regal-like setting nestled within the heavily wooded property. In fact, the 6.1- x 12.2-m (20- x 40-ft) rectangular gunite concrete pool, along with its many features, exquisitely contrasts with its surroundings without looking out of place.
The pool, which has a 1-m (3.5-ft) shallow end that slopes to a 2.6-m (8.5-ft) deep end, also features an attached, elevated 2.1-m (7-ft) circular hot tub. Pool entry staircases are located on either side of the hot tub, which includes a waterspout that pours into the pool's shallow end. Opposite the staircases, two semi-circular benches can be found in each corner of the pool's deep end, where bathers can relax in the water or use them to assist with ingress/egress.
The tile's various shades of blue co-ordinate with the expansive interlocking concrete paver deck and complement the cast-in-place, buffed aggregate pool coping.
The same tile was also used to highlight two raised, symmetrical pillars, which rise up from the pool's deep end on both sides of the diving board. Each pillar contains a 1-m (3-ft) water sheer and fire features. Light-emitting diode (LED) lighting with a colour wheel option also allows the homeowner to illuminate the pool area according to the mood they want to set.
Automated controls integrated with the existing house system, along with a handheld remote, make it easy to control the pool's mechanical systems and other features such as the hot tub, lighting, and waterfall/fire bowl pillars.