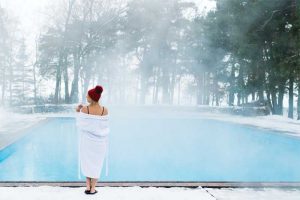 By Jamie Novak
As the pandemic continues and people remain quarantined at home this winter, many of those who are lucky enough to own a pool are looking to continue using it or open it earlier regardless of the outside temperature—especially those homeowners who just had their pool installed and are experiencing 'new pool syndrome.'
These homeowners really want to get the most out of their new investment while the neighbourhood looks on with envy.
As a result, many homeowners are cranking up their pool heaters to keep their kids (and themselves) active in the water. However, as the air temperature plummets below the water's temperature, some will start to see steam rise off the surface of the water. When this happens, it is not just the pool water evaporating into the atmosphere. In fact, so, too, is the heat and the money the homeowner will need to spend to rebalance their water chemistry upon introduction of new source water. That said, many pool owners—new and old—may not realize that heat loss and evaporation can be quite expensive.
Therefore, limiting water evaporation is one of the most cost-effective ways a homeowner can reduce unnecessary top-offs, chemistry adjustments, and heat loss. Recommending an easy-to-use liquid cover solution is also one of the simplest methods by which pool professionals can help their clients save water, money, and energy.
What are liquid covers?
A liquid cover is an evaporation suppressant that creates an invisible barrier at the surface of the pool to help trap heat and reduce evaporation. These products create monomolecular layers, or barriers, primarily composed of cetyl alcohol, stearyl alcohol, or ethyl alcohol (ethanol).
The product is added to the skimmer with the circulation system running to disperse the monomolecular layer on the surface.
When explaining how these products work to customers, pool pros can use the analogy that it is like putting a lid on a pot of boiling water. The layer is a single molecule in thickness and creates additional surface tension. It contains fatty alcohols that readily float on the surface to block direct interaction between the air and the pool water. Dispersants are also used in the formulas to spread the material across the surface of the water.
This type of technology was originally tested and applied in the drinking water reservoir industry. What was learned from using these products in the reservoir industry was the combination of both cetyl and steryl alcohol proved to be very effective at reducing evaporation.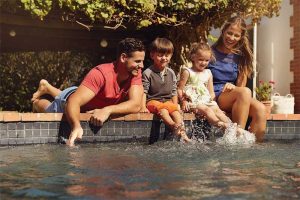 How do liquid covers work?
When liquid covers form the monomolecular layer on the pool water, extra surface tension is created on the water, helping to prevent the release of water vapour into the atmosphere. While the surface tension is broken when swimmers are present, the tight molecular arrangement of the layer causes it to quickly reform.
The number one difference between a physical solar cover and a liquid cover product is that a physical cover does nothing if it is sitting bunched up in the backyard. If someone forgets to put the solid cover on when the temperature drops on a cool night, there will be considerable evaporation loss. On the other hand, liquid solar products are always in the water if it is added consistently according to dosage instructions.