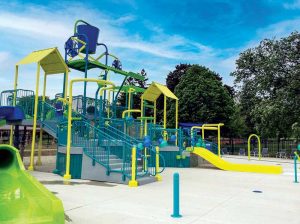 The advantages of converting kiddie pools to splash pads
By Sue Koch
Kiddie pools in public parks were popular a few decades ago and were installed for toddlers who were too small to swim in larger pools. They had less than 0.3 m (1 ft) of water and a low wall for parents to sit on the edge, and children could safely and easily enter and exit the pool.
Unfortunately, with the rise of new aquatic trends, these areas have become dead zones in many parks. Kiddie pools tend not to draw a lot of interest, as they are just stagnant bodies of water with little playability. There is not much for users to do, and they usually look old and dated. With these spaces going underutilized, parks and recreational facilities are looking for better ways to bring new interest and new patrons to aquatic play areas. As a result, converting kiddie pools to splash pads has become a popular renovation option.
Creating inclusive play options
In recent years, the aquatic play industry has made creating inclusive areas a priority for parks and aquatic facilities. Many recreation departments, homeowners associations, and community centres are replacing their kiddie pools with splash pads. These aquatic play spaces welcome users with a wide range of developmental, cognitive, and physical abilities, as well as different age groups—including older generations acting as caregivers to children. In fact, this "inclusive play" has garnered even greater importance, as outdoor spaces have become preferred in light of the pandemic.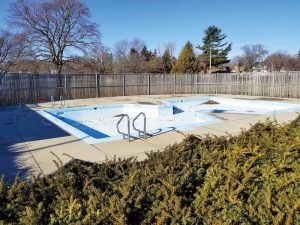 Manufacturers and designers are seeing a trend in all playgrounds—whether dry or aquatic—to design an area which includes all community members, regardless of their age or abilities. Splash pads are no different, and they need to have sections which attract and encourage a wide range of patrons. Also, using a variety of water features, water flows, spacing, sizes, and colours can make the facility even more accessible to its users. The inclusive play trend coupled with the needs of a community together dictate specific requirements within a splash pad.
Generating revenue for recreational facilities
In general, pools tend not to be money-makers, especially for park districts. Ultimately, the more people the park attracts, the more likely it will be to break even on expenses. Since splash pads attract a larger portion of the population compared to kiddie pools, parks tend to bring in more patrons—from babies and toddlers to tweens and grandparents, and especially those with disabilities. If a facility is interested in creating a more inclusive splash pad, manufacturers can help select features and provide design and placement guidance, to really make the splash play area attractive to much larger segment of the population than any kiddie pool could ever attract.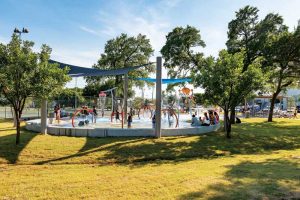 The author's company helps with the design and renovation of aquatic areas, whether it is renovating or removing a kiddie pool and replacing it with a splash pad or helping an aquatic facility by adding a much larger splash pad area. They make recommendations based on space, budget, and the vision for the facility. For example, they might recommend ground-level spray features when budgets are tight, as the bigger the spray feature, the higher the cost. If a facility has a smaller budget, they can help choose ground-level features which are still fun and interactive. The author's company creates designs for the facility, as well as designs for landscape architects. They work to understand what the aquatic facility has for a vision and its goals for attracting patrons in the community.