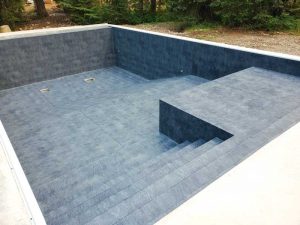 With a surge in residential demand, professionals are looking for solutions to allow them to build and renovate the most pools possible, while still being able to control their construction schedule. Rather than dealing with long lead times for pool kits, fibreglass pools, or custom-made pool liners, membrane materials are readily available for these installations. Weld-in-place membranes are rapidly being added to pool builder offerings, as they provide an attractive solution for renovations and new construction.
New colours and textures
Weld-in-place membranes have been on the market for many years and used primarily in the commercial industry throughout Canada and the U.S. They provide an excellent solution for pools with chronic issues such as peeling paint, fractured plaster, or leaks.
The colour choice used to be limited to plain colours and printed patterns, but some manufacturers have started to provide new 2 mm (80 mil) membrane material that is not just printed but textured as well. In fact, this new textured and printed membrane material imitates the look and feel of stone and marble.
"These new colours look phenomenal in the pools," says Greg Solmundson, owner of Ark Custom Pool and Spa in Kelowna, B.C. "The texture and colours now available really lend themselves to residential pools, as they provide a modern, high-end look that complements today's architectural designs."
Solmundson says his business has had a record year and attributes much of this growth to the improved variety of weld-in-place membranes. The new options work so well in residential pool settings, as well as in hotels, private club pools, wellness centres, and health spas.
Another contributing factor to the increased popularity of the membranes is the versatility of their material. Phil Rintoul, owner of Rintoul's Pools & Hot Tubs in Owen Sound, Ont., says they are uniquely able to provide a perfect fit for custom pools, even when installed on the most challenging shapes.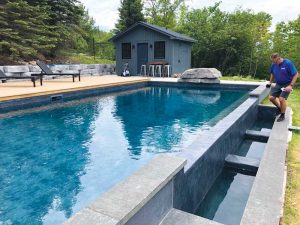 "The weld-in-place membrane really lends itself to fitting custom pools or older pools with unusual shapes and designs. Weld-in-place liners offer a huge advantage to get an exact fit, and of course, being thicker mesh reinforced PVC (polyvinyl chloride), the longevity is the benefit certain customers really want to have in their pool, as they last a lot longer than traditional vinyl liner."
Since customers are investing more in their backyards, they are interested in installing the best product out there, explains Rintoul. He thinks there is a real opportunity to sell to those customers who are willing to spend more on their pools.
"Consumers are really attracted to the new 2 mm textured membranes where you can feel the texture that feels like actual stone—it's not slippery—and they are very attracted to the new earth tones. They feel and appreciate the aesthetics and the high quality of the membrane."